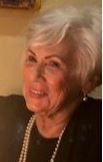 Martha L. Mollo 81, of Napa, California, passed away unexpectedly on April 9, 2020. Marty, as she was better known, was born in Benton, Illinois to Walter G. and Doris V. Connor December 21, 1938. When she was 3 years old, her family moved to California so her parents could work at Napa State Hospital. Her grandparents Silas and Virgie Dudley came along to Napa with all their adult children. Marty shared many happy memories from her childhood growing up with her cousins. She recently reconnected with her cousin Rebecca Dudley Davis who resides in Alaska.
Her father and mother built a cabin at Salt Point where she spent plenty of weekends and it became a place for many more memories. As an adolescent, she was a member of the Napa Pepperettes and played softball at Kiwanis with her father as a coach.
She graduated from Napa High School in 1957. On March 6, 1959, she married Ernest G. Mollo Jr. She was a homemaker for many years, a beautiful seamstress and a fabulous cook. She was active in the Altar Guild at St. Apollinaris Church, at school serving hot lunches on Thursdays and began helping the nuns sewing their habits. She was a seamstress for Marty Wong in the beginning of his tie business. She became a registered dental assistant and later changed careers and went into retail where she worked at City Sweats. When the owner closed his store, she followed him to Orchard Supply Hardware where she became the manager of the Napa store. She then wanted to learn to drive the school bus and went to work for the NVUSD and eventually drove the bus for Justin-Siena high school.
After retiring, she and Ernie bought a motorhome and made many trips to the ocean where they loved to spend most of their time.
Marty is survived by her children Melinda and Mark Downing, Chris and Linda Mollo, of Napa. Her sister, Shirlie Akers; niece, Tami Connor; nephew, Michael Shuck, all of Bodega Bay; nephews, Will and Denise Akers of Napa; Jeff and Tami Akers of Dillon Beach. Grandchildren Andrew and Bailey Downing, Tad Mollo, Kelly Ann Downing, all of Napa, and Dillon Mollo of Bend, Oregon. Great grandchildren, Audrey and Mack Downing.
Obituaries Newsletter
Sign up to get the most recent local obituaries delievered to your inbox.