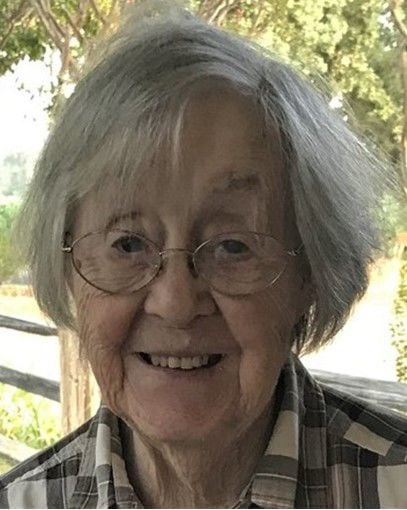 Our mother, Mary Jane Rossi, passed away after a brief illness on October 7, 2019 at the family home where she had resided for over 80 years.
She was an only child born on December 14, 1929 in Richmond/Crockett, California to her parents, Guiseppe (Joseph) and Irma Giacomini. Her father suffered from asthma and moved the family to a small vineyard in St. Helena seeking a drier climate in 1938. She attended Ursaline Academy in St. Helena. After her graduation, she started work at Beringer Brothers Winery as a secretary.
In June 1951, she married our father, Andrew Rossi, and our parents remained with our Nonna (grandmother) at the same home on the vineyard. Soon afterward, children followed, and Mom stayed home with us for many years. As we grew older, she returned to work at St. Helena Parochial School. Later, she worked at a Sears Catalog store in St. Helena, returned to Beringer Winery as a buyer for the gift shop, and finished her working career at Beaulieu Winery.
Throughout those years, she stayed busy with St. Helena Catholic Church and other community activities, but always found time for family and friends. Mom was an accomplished seamstress who also enjoyed knitting and travel. Her greatest joy was her family.
Mom is pre-deceased by our Father and our brother, Tommy. She is survived by her children and their wives, Ed Rossi and wife Mari of Scotts Valley, Cathy Cline and her husband Larry of Napa, Dennis Rossi of St. Helena, and Susie Bushey and her husband, Greg of Petaluma; her grandchildren Tristan Cline and his wife Courtney of Napa; Kelly (Rossi) Aikin and her husband Sean of San Diego, Sarah (Rossi) Johnson and her husband Daniel of Monterey, and Timothy Rossi of San Francisco, Shalan Crysdale and his wife Geneveve and children Charlotte & Jack; and the delight of her final years, her great grandchildren Andrew, Mackenzie, and Madelyn Cline.
A visitation will be held on Thursday, October 24th at 7:00 PM at St. Helena, Catholic Church with a recitation of the rosary. A funeral mass will be celebrated Friday October 24th at 11:00 AM at St. Helena Catholic Church in St. Helena, followed by interment at Holy Cross Cemetery in St. Helena. Following the interment, a reception celebrating Mom's life will be at the hall at St. Helena Catholic Church.
In lieu of flowers, we suggest donations to St. Helena Catholic Church, St. Vincent de Paul or a charity of your choice in Mom's memory.
Obituaries Newsletter
Sign up to get the most recent local obituaries delivered to your inbox.