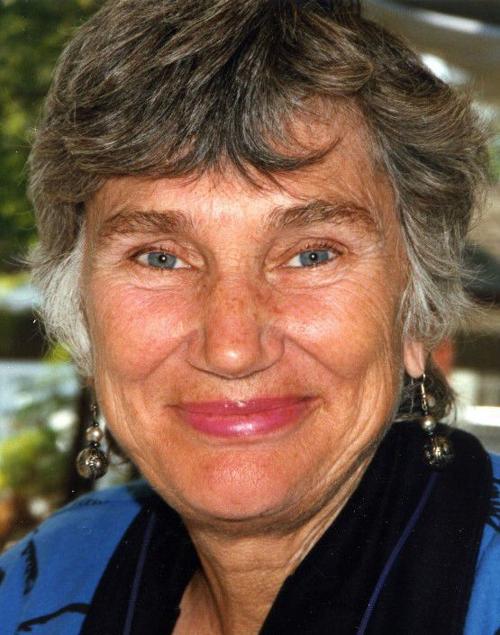 Amid familiar sounds of Scrabble, clinking wine glasses and the Giants game, Nancy Kidwell Jungerman passed away quietly at home in Davis on July 30, 2019 at age 93. Friends and family were gathered by her bedside.
Nancy was born December 22, 1925 in San Francisco, the second child of Norman and Julia Kidwell. The family moved to San Jose when Norman secured a tire distributorship, but lost the business in the Great Depression. In the ensuing hard times tomboy Nancy followed her mechanical genius dad around as he fixed things in the neighborhood. Eventually her father became a successful real estate broker, paying off all his debts. Absorbing his values of honesty and independence along with a good dash of stubbornness, she worked hard to become valedictorian of her high school class and entered UC Berkeley on an academic scholarship at age 16.
While earning her way through college Nancy took pride at being hired as the first female "maintenance man" in the history of the UC Berkeley Co-ops. Initially a dutiful English major, it dawned on her that she liked public speaking more than writing and found her calling in psychology.
She was in the clinical psych Masters program when she noticed John Jungerman, a graduate student in physics. Their chance encounter at a lecture in April 1948 led to a whirlwind romance and marriage that October. After more than 65 years together, John died in 2014. They are survived by sons Mark (Molly Miller), Eric (Katie Meadow) and Roger (Stephanie McAllister); daughter Anne (Ed Weber, deceased); granddaughters Joanna Jungerman and Aeryn Jungerman; and grandsons Reid, Grady and Owen Weber.
Their first child was a few months old when John received an offer to join the fledgling physics department at the growing UC Davis campus in 1951. They bought a new tract house on the edge of town. Working on the home and raising her children kept Nancy busy but she wanted a professional job. In 1954 she was hired to perform pychometric assessments in a converted garage on the UCD campus that also housed the physics department, later becoming a licensed psychologist who co-founded the UCD Counseling Center with Sumner Morris in 1958.
A staff leader, Nancy continued to work there for 25 years, all the while maintaining a vibrant family life with four kids, a husband and travel all over the world. In 1968 Nancy opened a downtown office for her own practice. One of the first private psychologists in Davis, she was a pioneer professional, mentor and trainer to young counselors both on campus and in town. Nancy was a much loved and respected leader in the Davis therapeutic community.
Keenly interested in dreamwork, she led a dream group of devoted participants long after her formal retirement in 2000. Also deeply involved in her own professional training over the years, she frequently traveled to Berkeley for groups with mentor Stanley Keleman in somatic psychotherapy. Nancy spoke with delight and admiration of the friendship she developed with Joseph Campbell, often a co-leader at Stanley's Winter Institutes.
With her magnetic presence, listening skills and cracking sense of humor, Nancy naturally drew people in and was loyal to life-long friendships and her extended family. Those friends and family cut her some slack during baseball season. Maybe it was because of her beloved maternal aunts who followed the Seals in the Pacific Coast League, but Nancy was from the start a die-hard San Francisco Giants fan.
Her little transistor radio was always tucked away but at the ready. Many a lull in a conversation could be traced to her slipping on the earbuds when it was game time.
One day 4-year-old son Mark came home after talking theology with a neighborhood kid. "Does God bite?" he wondered. That was a cue for Nancy and other volunteer moms at the cooperative Davis Parent Nursery School to dream of alternative religious instruction for their children, leading to the founding of the Unitarian Fellowship (later the Unitarian Universalist Church) of Davis in 1955. Nancy and John were active members throughout their lives. In 2005 Nancy and John and several close friends built one of the first senior co-housing developments in the country, Glacier Circle in Davis, where they lived until their deaths. The family is deeply thankful for the loving and devoted caretakers who watched over both parents as long as they lived.
Celebration of Nancy's life will be held at the Unitarian Universalist Church of Davis on September 28 at 1 p.m. It was Nancy's wish that any memorial donations go to Yolo Hospice or the Unitarian Universalist Church.
Obituaries Newsletter
Sign up to get the most recent local obituaries delivered to your inbox.