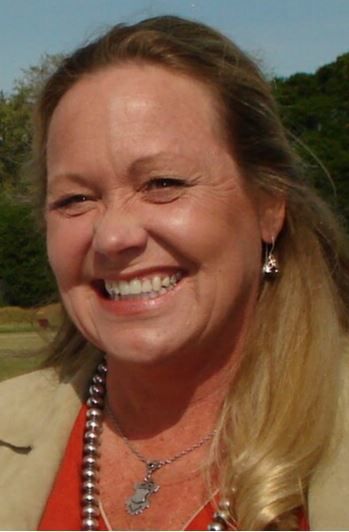 Tammy Kathleen White passed away quietly at her home in Old Town Napa last on Thursday, June 4 after a long illness.
Tammy was born in 1958 in San Francisco and moved with her parents to the Napa Valley in 1962 where she grew up in a country house on the Silverado Trail. She attended the Soda Canyon School, a two room schoolhouse. She graduated from Napa High in 1976 and soon worked at Napa State Hospital as a lifeguard where she learned American Sign Language (ASL) to communicate with the Deaf children. Though she had no deaf family, ASL came naturally to her, and she became the first student to earn an ASL Certificate from Vista College in Berkeley. She also interpreted many classes for deaf students at Napa Valley College (NVC), eventually teaching the ASL night class there for over three decades. Her gregariousness and fearless attitude led to her interpreting for potential Democratic presidential candidates, including Joe Biden, in 1982.
In 1984 she started working for Hospitality at Beringer Winery, eventually attaining the newly created title of Wine Educator before she moved to Chateau St Jean in Kenwood, Sonoma County. She had been at Beringer for 16 years and remained at Chateau St Jean for the next ten. If you were lucky enough to see her smile and learn from her, you remember that wonderful, positive blond woman.
Tammy then moved again within the Treasury Wine Estates Company to manage the tasting room at Etude Winery. After five years she transferred to Stags' Leap Winery where she remained during the renovation of the Manor House. She ended her 35 year career with Flora Springs Winery in St Helena, and through all of it she worked her magic.
Throughout her time as Wine Educator she was a premier tour guide and teacher; she held classes for staff at other wineries and worked many distant events for Beringer, Chateau St Jean, and others. Among her adventures, she traveled to New York, Chicago, the Caribbean, Australia, Connecticut, Atlantic City, North Carolina and elsewhere. Locally she presented at Women in Wine, a series of scholarly talks held at the American Culinary Academy. She developed and presented tastings for classic and newly developed wines at Beringer, Chateau St. Jean and Etude for dignitaries from China, Soviet Russia, and South Korea. Locally she shared her knowledge with representatives from Pixar (her favorite), and many others.
But even with these two consuming professions, Sign Language and Hospitality, she had other interests, and she developed a love of baseball that led her to play catcher on many different softball teams. She traveled to tournaments, and some years she played on three teams. When in the 1990's she had a six-week rest period to recover from an operation, she decided to use the time to learn another new thing: how to read and interpret Tarot cards. Her mother, her aunt and her grandmother had all read cards (usually just standard playing cards), so she felt she had it in her lineage, which, of course, she did. She had a natural gift with people, and soon she was invited to parties to read cards, which led her to create "Tarot for Tots". At these events one could "purchase" a reading by donating a toy to for children's Christmas. She then gave the toys to Napa Fire Department Number 1.
In addition to traveling for the wineries, she vacationed in, among other places: Great Britain, France, Costa Rica, Cuba, Panama, and Washington DC. She traveled all over the western US and visited most of the national parks including the Grand Canyon (where she came nose to nose with a desert bighorn sheep on a narrow switchback halfway down into the Colorado), Yellowstone (where she saw a grizzly and her cub, a silver lone wolf, and a few folks with a death wish try to get selfies with a full grown bison), Yosemite (where a black bear was choosing to raid only Cameros because someone in that model car had earlier provided a picnic basket in their back seat), Santa Fe (just before the Indian Week when the art selection is best), Olympic National Park (where we "snuck up" on a wild mountain goat to get a picture only to find it was tame and couldn't care less), and the Pit River while Rob Reiner was filming Stand By Me.
Always willing to try something new, she also reveled in annual celebrations, especially Halloween where she passed out candy to over a thousand children each year. Many people remember Tammy's garage door murals where she painted the new annual theme: Pirates, Peter Pan, The Wizard of Oz and others. She also decorated the yard in the same theme, always innovating always interesting, spending a month and enlisting the help of the great guys at Zeller's Hardware to make things like The Tin Man look right (distinct and original to that year, but nevertheless, "right").
Through all of this interaction two things were always abundantly clear: Tammy White was an uncommonly kind and generous person who brought her own light and it shone through everything she did.
Tammy leaves behind her sister Marge, niece Jodi and her husband Juan, great niece, Yazmin, great great nephew Niko who all live in Napa, Sister In-law Shirley Tohill and six successful adult children including Debbie, Tammy, Michael, Sean, Kevin and A.J. and their children who all live in Southern California, her cousin Jerry and Sharon Ennis, their son Steven and daughter April Camancho who live in San Marcos, California, her cousin Julie Goodenough and nephew Stephen who live in Pittsburgh, Pennsylvania, and niece Nora Goodenough who lives in San Francisco, Uncle and aunt Lucky and Leona Goodenough, cousins Bruce and Brian Goodenough and Michelle Swingle.
It goes without saying that she will be missed by everyone, especially her husband of forty years, Roger Hartwell. And we will miss her every time a rookie hits a home run, every lightning fast funny exchange between friends, and every original and clever Halloween costume that would earn a Bootie Bag (i.e., extra candy "for effort") from Tammy White.
In lieu of flowers, please donate to The Junior Giants or The American Cancer Society.
Obituaries Newsletter
Sign up to get the most recent local obituaries delivered to your inbox.