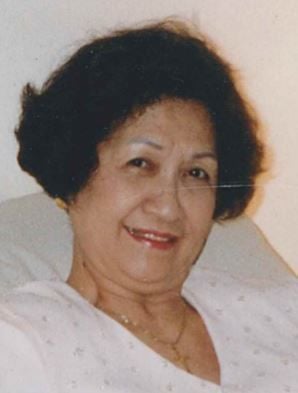 Teresita de Jesus Butterfield was born in Tarlac, Philippines on Jan. 27, 1933. At age 87 years old, our good & loving God had taken her into rest on Feb. 29, 2020. Her parents are Eliodoro De Jesus and Franciscan Navaro. At a very young school age, Tessie became orphaned & further adopted by the De Jesus relatives in Tarlac until she got married. Her schooling was in Holy Ghost College in Tarlac. Her friends are very devoted & very religious just like Tessie. Her best friend and classmate based in Paranaque, Philippines, Sister Lourdes Lumibao, a nun of Daughters of Charity, was in constant communication with her.
Her life was always evolved around giving & serving the Lord through different religious organizations. Mother Butler's Guild in Philippines & Altar Guild at St. Thomas Aquinas Catholic Church in Napa were few of her organizations. Her expertise was arranging flowers at the altar.
Tessie never missed a day praying the Holy Rosary multiple times a day including Novenas to the Sacred Heart of Jesus, Our Lady of the Miraculous Medal, etc. She always held a Holy Rosary in her hand. Such a very devoted Catholic. Either her candles in her altar or light in the Blessed Mother Mary were continuously illuminated. Around the clock in watching the Catholic TV station, EWTN.
Survived by children & in-laws: Laura & Joseph Taylor with grandchildren Laurice & George,
Donnie de Guzman with grandchildren Denise Joy, Dane & Dustin, Raffy & Joyce Teehankee with grandchildren Alvin, Alex & Lance, Stella & Eming Guinto with children Sophie & Glen.
Mom enjoyed going to Church & frequent visits to the Blessed Sacrament. It was the love of her life. Her close friends are primarily her religious organizations & religious clergies like Fr. Sarmiento (Philippines), Fr. Thomas Kyallo (presently assigned at St. Mary of the Angels, Ukiah), & Fr. Gary Sumpter (St. Thomas Aquinas Catholic Church). Her pride & joy was when Tessie sponsored Fr. Thomas Vellappallil into priesthood. He's now the Mission Director of the La Salette based in Missouri.
Her daughter even dreamed two nights before Tessie passed away asking daughter for "More prayers please." We therefore request family members, relatives & friends to fulfill her wish to pray for her & for the poor souls in Purgatory in lieu of flowers & monetary love gifts.
1. Holy Rosary & Requiem Mass with celebrants: Fr. Gary Sumpter & Fr. Thomas Kyallo. Eulogy: Fr. Thomas Vellappallil, MS on March 5, 2020 at 1:00pm at St. Thomas Aquinas
2. Prayers for the Dead & Holy Rosary: Fr. Gary Sumpter at Claffey & Rota Funeral Home. Eulogy: Fr. Thomas Vellappallil, MS on March 6, 2020 at 9:30am
3. Burial Rite: Fr. Thomas Vellappallil on March 6, 2020 at 2:00pm at Tulocay Cemetery
4. Gregorian masses for 30 consecutive days by Fr. Thomas Vellappallil starting March 8, 2020 through April 8, 2020.
5. Different Holy Masses had been offered by different priests all over the world with special mention of Fr. Joseph from La Salette, Parakkadavu in India, Fr. Jacob Vettahu from Southern California and Fr. Chris Iloha at St. Pancratius Pl, Lakewood in CA.
6. Sis. Pauline Bacani, Mother General of order of The Angelic Sisters of the Annunciation have promised forever daily prayers & Holy Rosary.
Obituaries Newsletter
Sign up to get the most recent local obituaries delievered to your inbox.