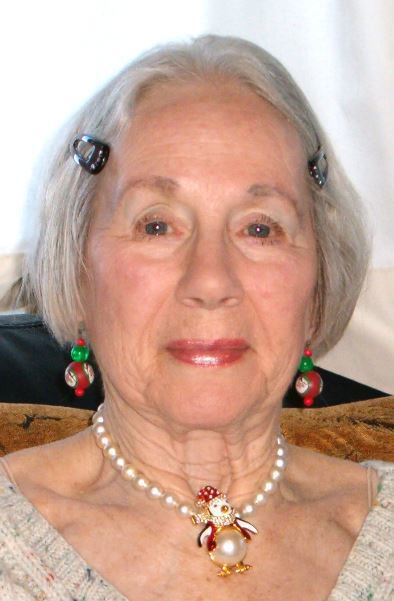 Virginia "Jimmie" Payne Wildman passed away peacefully in her sleep in her Napa apartment on June 10, 2020. She was born in Philadelphia on July 18, 1921 to Olney Randall Payne and Dorothy June Stanchfield. She moved to California in 1947, upon her marriage to Robert Francis Wildman, whom she had met on a blind date in Berkeley. They lived in Oakland and Piedmont for many years while Bob and partner developed Wildman and Morris Engineers in San Francisco. Over the years, Jimmie was active in Junior Alliance, Opera League, Femineers, Bellevue Club, and all the while, knitting with a passion.
She moved to The Springs of Napa when she was 90, following open heart surgery from which she fully recovered, stating "I'm a tough old bird!" At The Springs, she was known for her friendly greetings, feisty independence, and numerous necklaces (often wearing six at a time, and always color coordinated to her outfit).
Jimmie loved her family, all animal and people charities, card playing, table tennis, teddy bears, dark chocolate, champagne, her '74 Olds Cutlass Supreme, bling jewelry (including anything pearls), knitting, Jeopardy, shopping, and dining out (she celebrated her 97th birthday at Ristorante Allegria, thrilled that it was also accordion night).
The family wants to convey their heartfelt gratitude to her favorite "left handed" doctor, David Pratt (also Stacey, Alma); the Rodriguez family (Anna, Ruben, Michael, Melanie) for their loving care, and The Springs staff for their unconditional kindness. Mom was happy and quick-witted to the very end...
Jimmie is survived by her son Michael (Toshiko) of San Lorenzo, daughter Kim (John) of Napa, and grandsons Chad (Emily) of New York City, Reed (Courtney) of Mill Valley, Jeffrey, Daniel (Yuka), Joshua, and Joseph all of the Bay Area. She was predeceased by twin brothers, Stanchfield and Olney Jr (Bud).
A private remembrance was held at Chapel of the Chimes on Piedmont Avenue in Oakland. If you wish to make a donation in her memory, please consider the Oakland SPCA.
To leave an online condolence for the family, please visit our website at:
Obituaries Newsletter
Sign up to get the most recent local obituaries delivered to your inbox.