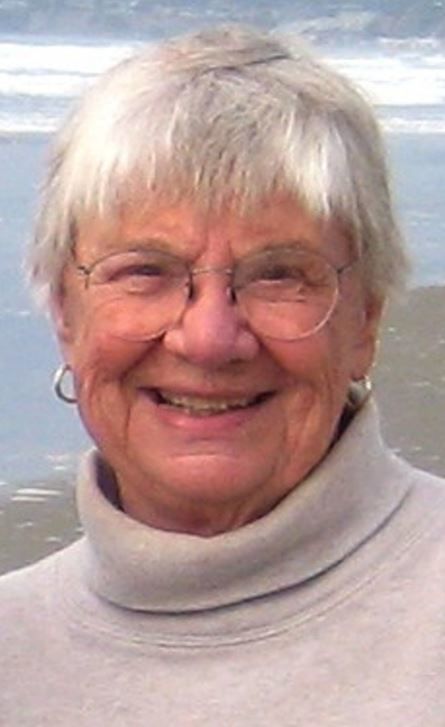 Wanda Irene Weber passed away in Oakland, CA on December 4, 2019 at the age of 96. She was born on November 3, 1923 in Yale, Oklahoma, the youngest of four siblings, and the only daughter of Ira Brandon Minnick and Goldie Arretta Huff. Joining her band of brothers, she learned to be scrappy and independent. In high school she worked in her father's printing office, hand-setting type for the local newspaper. She played cornet in the marching band and studied with a biology teacher who encouraged her to apply to nurses' training at Michael Reese Hospital in Chicago. There, she met Eugene Arnold Weber, a stellar medical student, and they married in 1950. By 1958 they had five children and had settled in Covina, California with an ever-changing menagerie of pets.
After many happy years as a full-time mom, Wanda began a long commitment to volunteerism, offering help most notably to Pacific State Hospital, Planned Parenthood, Red Cross blood drives, and Napa's Community Projects. Wanda passionately pursued antique furniture refinishing, weaving, organic gardening, cooking, knitting, and travel. She was a lifelong "news hound," beginning with her early experience in the newspaper business.
You have free articles remaining.
A person of strong convictions and certainty about her sense of right and wrong, Wanda was not afraid to act in the face of injustice. One example was her one-woman picket line (at the age of 85) on the highway outside a Napa car dealership that had, in her opinion, not honored its promises.
Tragically, Wanda was pre-deceased by daughter Elizabeth Haynes (Ken) of Lexington, KY and son Edward Weber (Anne Jungerman) of Napa, CA, as well as her husband, Gene. She is survived by daughters Susan Weber of Oakland, CA, Jane McCabe (Tom) of Georgetown, TX, and Marilyn Kleinhein (Jason) of Los Angeles, CA.
The importance of family connections was foundational for Wanda. As their children became adults, she and Gene began a tradition of organizing and funding an annual family reunion. These gatherings, now attended by more than thirty family members including ten grandchildren and five great-grandchildren, continue to this day. Wanda's family lovingly remembers her as their devoted and inspirational matriarch.
Obituaries Newsletter
Sign up to get the most recent local obituaries delievered to your inbox.