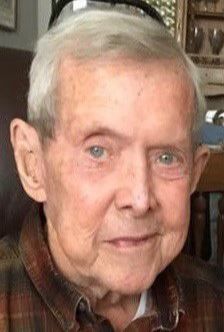 Willis "Bill" Taylor Howland 1924—2020
Willis "Bill" Taylor Howland, 95, of Napa, husband of Ann Oldham Howland and the late Evelyn Weins Howland passed away early Sunday morning January 12, 2020. He was born October 2, 1924 in Janesville, WI to Jerome J. and Mabel A. Howland.
Right out of Janesville High School at 17 years old (1942), he enlisted in the Marine Corps and served 22 years with honor and valor during WWII in the South Pacific in torpedo bombers (TBF's). He also served as an artillery officer in the Korean Conflict and endured the Battle of Chosin Reservoir. He retired from the Marines (1964) with the rank of Major with training in logistics and management. He then worked another 17 years in manager positions for Crocker Nationalells Fargo Bank and then several local credit unions. After his second retirement, he volunteered his time to help less fortunate persons by working with the Rural Communities Housing Development Corp. in the Ukiah, CA area. By doing this, he helped hundreds of low-income families realize their dreams with self-help affordable housing. Even in his later years he volunteered helping seniors do their tax returns.
He was preceded in death by his parents, brother, Jerome J. Howland, Jr., sister, Hazel Howland Sorenson, former wife of 68 yrs., Evelyn "Evie" Weins Howland and daughter-in-law, Pam (Gary) Howland. He is survived by his wife, Ann Oldham Howland; his 3 children: John (Lynda) Howland, Barbara (Bill) Mayer, and Gary (Lea) Howland; 6 grandchildren and 6 great-grandchildren; nieces and nephews and many friends. He will be remembered for his generosity, work ethic, value of the dollar, discipline, organization and perseverance.
Services will be held at Arlington National Cemetery. Full obituary available at claffeyandrota.com
Obituaries Newsletter
Sign up to get the most recent local obituaries delivered to your inbox.