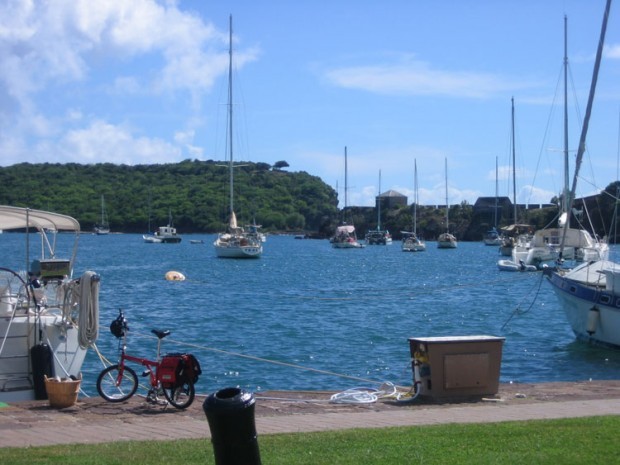 Before I moved to Napa Valley 14 years ago, I followed a lifelong dream. I bought a sailboat in the Caribbean and lived on it for a couple of years. 
My plan was to sail the Caribbean from the start in Antigua, but my plans went seriously awry. Between crew problems, a blown engine, the boat sinking and other problems — you know you shouldn't change the name of boats, and I did — I never left the island.
Nevertheless I had a grand adventure living in a foreign country. 
Not surprisingly, I lost my taste for owning sailboats, and hadn't been on anything aquatic but a ferry since, except for a week-long charter in the Grenadines, an adventure in itself.
I thought about returning to Antigua, but feared the old worry: "You can't go home again." I figured all my friends would be gone and the place completely changed.
Last fall, however, an old friend from Antigua came to Napa, and after visiting with her, I resolved to return. I did in January, coincidentally planning to be there for my birthday.
I was amazed to find that I had little trouble finding good free flights via the American Airlines AAdvantage program, though not at the lowest number of miles. Before I knew it, I was on my way.
The flight was delightfully uneventful, and I was able to make it with just a plane change in Miami. 
Antigua is surprisingly far away, four time zones to the east, and I arrived grateful that Liz picked me up for the 20-mile drive (on the wrong side of the road) over roads even worse than Napa's.
She has a classic Caribbean bungalow on a hill overlooking Falmouth Harbor, a large protected bay that's become the home of yachting in the Caribbean.
I had my own suite with a bath — but it came with warnings not to waste water on the dry island, for the public supply often failed and she had to depend on a cistern. 
The four-poster bed also had an ominous mosquito net around it.
I had rented a car for the next day. I planned to spend a few days as her guest and then travel on, maybe to charter a boat for a few days, maybe to fly down to Grenada or some other island I hadn't visited (there aren't many).
As it turns out, she had arranged a number of dinners with other ex-pat friends, and I realized that about half my scheduled time in the Caribbean was committed. So I had a Carib beer, walked to the nearby beach and relaxed. 
Liz is English, as are most of her friends — the now-independent island was once an English colony. She runs a successful business arranging high-end yacht charters. She doesn't deal with little boats like the 41-footer I owned, but crews yachts — mostly power — starting at 70 feet. Many are owned by wealthy people who charter them at outrageous rates for tax purposes or because they use them relatively little.
She spent much of the day on Skype and her computer talking to prospective clients, yacht crews and other brokers, so I went off alone to explore by old haunts.
When I lived there, English Harbor, a small, sheltered harbor, was the center of the yachting life. The locus had shifted to Falmouth, a five-minute walk away over a narrow neck. Nelson's Dockyard at English Harbor has become a quiet museum, although a few restaurants, hotels, bars and shops remain.
Otherwise, almost nothing had changed. There was one small new inn, but other than a few proprietors changing and a few new businesses, it was just as I had left it.
To compensate for staying at Liz's — particularly for longer than I anticipated — I insisted on taking her out to lunches and dinners as much as possible. 
Fortunately, she was able to break out at lunch many days and we enjoyed many of the local hangouts. Like many ex-pats, she doesn't really eat local food that much, but there is plenty of lamb and roast beef available. 
The food was much better than I remembered. I ate as much local food as I could at the relatively fancy tourist-oriented places we frequented. Needless to say, I ate everything with fins or shells I could find. We had local lobsters, grouper, wahoo, shrimp and more, and when I snuck off for lunches alone when she was busy, I had conch, flying fish sandwiches and searingly hot rotis, the Caribbean's version of a burrito.
The dinners she had arranged were great fun, and at them, I discovered many people I had known a bit. It turns out the local business community is quite stable; only the boat people move on.
I ran into a woman who sold me my boat, who is now running a great bookstore. I had meals with the man who installed my engine after it blew up, the man who raised my boat when it sank, the woman who made the cushions to replace those ruined by the sinking and many others. They were all delightful and gracious, welcoming me to a world that I couldn't enter when I lived on my little 41-foot boat.
I was even able to help Liz by writing some material for her web page and promotional material. 
Too soon, I had to head back to Napa, itself a dream to most people. My return to the paradise I'd left was a trip that few could duplicate, but it's still a great place to visit. I'd be happy to offer advice to those who want to experience the attractive isle.
Postscript: Sadly, just after I returned, a San Francisco woman was killed at the very beach I frequented. No one knows what happened, but she apparently wandered away from a beach party into the rough terrain behind the beach. The police found the culprit, a transient from another island, quickly, but the news was unwelcome and certainly not typical of the fairly crime-free area.