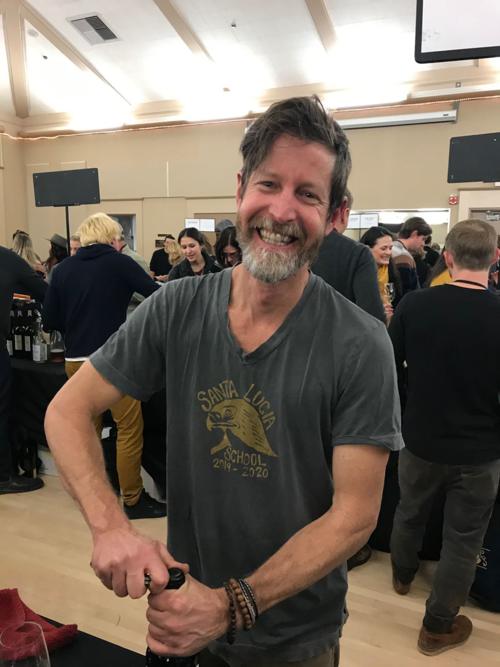 Atascadero, located on California's Central Coast, was abuzz with international and Central Coast winemakers as they showcased an impressive line-up of their offerings at the World of Wines grand tasting.
With a focus on Old- and New-World wines, the three-day industry summit, called Wine Speak Paso featured several vineyard tours in Paso Robles' wine region, hospitality workshops and seminars held at Atascadero's historic City Hall.
Marking its third year, Wine Speak Paso was co-founded by Master Sommelier (MS) Chuck Furuya and Amanda Wittstrom-Higgins, vice president of operations for Ancient Peaks Winery in Santa Margarita. Targeted for the industry, the trade-focused event brought together sommeliers, wine industry and hospitality professionals to share knowledge and foster camaraderie and collaboration. It also offered California winemakers a chance to network with distributors.
"In my case, I found a distributor," said Guillaume Fabre, owner/winemaker of Clos Solène, located in Paso Robles' Willow Creek District. "This is for industry and consumers and brings together a high level of wineries. There're no events in Paso that bring in people like this."
Stephan Asseo, founder/winemaker of Paso Robles' L'Aventure Winery, has also been impressed by Wine Speak's education outreach, "Every year, they have different seminars," said Asseo who shared the panel with MS Emanuel Kemiji on "Crazy Red Blends" seminar. "They also connect you with trade and consumers. People can share wisdom and create camaraderie."
It was Kemiji's first attendance at Wine Speak and he, too, was moved by the camaraderie. "I loved the warmth and casualness and interaction with the audience," he said. Kemiji who is based in Puerto Rico is not only an MS but owns Clos Pissarra winery in Priorat, Spain and produces wines in Sonoma under his Miura Vineyards label.
At the Crazy Red Blend seminar, for instance, Kemiji presented his entry-level Clos Pissara, a grenache-focused wine blended with Carignane, Cabernet Sauvignon and Syrah. Meanwhile, Asseo's L'Aventure Estate trumpeted its signature Paso blend of Syrah, Cabernet Sauvignon and Petit Verdot.
"Both wines were balanced, but ours was more accessible," Kemiji noted. Indeed, L'Aventure's bold blends are made to be aged. "We were showing two completely different animals," Kemiji mused.
The Wines of the World tasting offered a rare window into varieties not common to the American consumer — Italian varieties such as carricante, neilluccio and falanghina and from Portugal aristo and baga. Most of these wines were represented by their importers or distributors.
At the Kermit Lynch table, I discovered Lato Sud, a delicious straw-hued Sicilian white wine made from carricante variety grown on the volcanic slopes of Mount Etna and Faustina, a robust red Corsican wine made from the neilluccio variety.
I savored impressive Portuguese wines offered at the Duoro Vino Selections —2016 Casal Da Coelheira, a vibrant blend of chardonnay and arinto (a high-acid variety with citrus notes), and the 2000 Luis Pato Quinta Do Moinho, a deep-hued red wine made from baga, an indigenous grape of the Bairrada region. Then there was the 10-year-old Tawny Port from Quinta Do Mourao, layered with buttered toffee and tropical fruit compote flavors.
In the current landscape of proposed tariffs on imported wines, there was concern among some attendees. "We've stocked up a lot of inventory," said Joe Kysela of Kysela Pere et Fils. The Winchester, Virginia-based company was founded by his father in 1994 and represents 250 producers offering 1,800 brands, mostly from France and some from Spain and Italy.
"We don't think it [tariffs] will last four to six months, but who knows?" he shrugged as he offered one of his wines, a Côte du Rhône rosé from his Rhône-style portfolio that included a Lirac, a Cornas and two 2015 vintages from Châ-teauneuf-du-Pape, the mourvedre-driven Domaine Grand Veneur, Vielles Vignes and Domaine de la Mordorée. Kysela is now focusing on other countries and is confident that the tariff situation will open doors to other New World regions. "It will be good for South Africa, and there will be more shiraz from Australia."
I found an eclectic collection at the WineBow distributors' table, Tolpuddle, a Pinot Noir from Tasmania; Quarz, a Sauvignon Blanc from Alto Adige; and Anwilka, a Syrah, Cabernet Sauvignon, Petit Verdot blend from South Africa's Stellenbosch region. At the German Wine Collection, I savored a silky 2017 Fürst spätburgunder and a good selection at the Villa Italia table where San Francisco-based owner Lorenzo Scarpone offered wines from Campania, Sicily, Tuscany and Abruzzo regions.
Among the 40-some wineries, there was an impressive lineup of Paso wineries. Attendees got the rare opportunity to savor Saxum, the exalted cult wine that has a long wait on its allocation list. Owner/winemaker Justin Smith poured the 2017s Paderewski and Broken Stones and a 2016 The Hexe, a muscular blend of Syrah co-fermented with Tempranillo and Zinfandel.
There were some outstanding Paso Rhône blends such as L'Aventure's For Her, Law Estate's Aspire, Denner's Ditch Digger, Villa Creek's Truvador and a bold Tannat from Seven Oxen. Also participating were wineries such as Caliza, ONX, Linne Calodo, Adelaida Vineyards, Halter Ranch, Thacher, J, Lohr, Booker, Epoch, Falcone, Alta Colina, TH Estate and Turley among others.
In a sea of red wines, there were some refreshing whites — an aromatic chenin blanc from Sandlands Vineyards produced by winemaker Tegan Passalaqua, Do-maine Faury's St. Joseph, a fragrant blend of roussanne and marsanne and a minerally fiano from Paso Robles' Giornata Wine.
More than half a dozen seminars spread over two days ranged from insights from Napa' Valley' distinguished winemakers such as wine Yoda Bruce Neyers who was joined by Lionel Faury of Northern Rhône to reflect on Old World wines and Thomas Brown who along with MS Fred Dame shone a light on California Cabernet Sauvignon. Local winemakers Mike Sinor, Jordan Fiorentini and Steve Peck joined Jason Haas of Tablas Creek to give an overview of Paso Robles.