According to Lake County Marketing & Economic Development, the county has California's cleanest air and approximately 265 days of sunshine annually. Its primary lake, Clear Lake – California's largest freshwater lake – is around 2.5 million years old. It is North America's oldest lake.
Clear Lake has also been called the "Bass Capital of the West," rated by Bassmaster as a Top 10 bass fishing lake in the United States. Lake County is also California's largest supplier of pears since the late 1880s, when the first commercial Bartlett orchard was planted.
In addition to fishing, Lake County's other outdoor activities include biking, boating, camping, cycling, off-roading, road riding, and bird and wildlife watching.
Lake County is also home to more than 30 wineries and 9,000 acres of vineyards. However, when speaking with those in the hospitality industry during its annual Barrels & Verticals event, the opinions were unanimous: They want visitors to know what they have to offer. However, they also do not want the congestion and traffic of other popular wine destinations.
There lies this journalist's dilemma – whether to share the wine, food, and travel experience of 24 hours in Lake County – but, there is so much good happening in Lake County that it is worth revealing seven gems from Lower Lake to Lakeport to Upper Lake.
Winery, and VineyardsThe first impression of Six Sigma Ranch, Winery, and Vineyards in Lower Lake is the two-mile, unpaved drive from the Spruce Grove Road to the winery's cabin-like tasting room, the site of a former stagecoach stop. There are wildlife warning and livestock crossing signs, along with mile markers and reminders to keep going.
Kaj and Else Ahlmann, originally from Denmark, purchased the 4,300-acre property in 2000 and relocated from Kansas to the ranch permanently in 2008. Six Sigma is a full working ranch, which includes livestock – cattle and pigs – as well as 40 acres of vineyards from which approximately 5,000 cases of wine are made annually.
Kaj always had an interest in farming but spent most of his career in the corporate world. The ranch's name is a nod to his background in mathematics, statistics and actuarial science. Kaj applies Six Sigma methods of data refining to all aspects of the business and calls the winemaking process a "marriage of art and science."
Kaj and Else are joined by the second generation of Ahlmanns: Christian Ahlmann, vice president, and Rachel Ahlmann, livestock manager. Six Sigma produces a number of varietal wines, such as the Cabernet Sauvignon poured for Barrels and Verticals, but it is the Christian's Reserve Tempranillo ($48) for which it is most known, and for good reason.
Winemaker Sandy Robertson makes a delicious rendition of Tempranillo, whose grapes hail from the ranch's Diamond Mine Vineyard. One might call this wine a black diamond, dark in color and rich in flavor – yet, it also shows balance and restraint with its 13.6% alcohol by volume (ABV) and soft, integrated tannins. On the palate, the Tempranillo reveals layers of black and red berry flavors, caramel, sweet baking spices, a kick of pepper, and a chocolate finish. Pair this wine with the Ahlmann family's Frikadeller, Danish-style fried meatballs, made from the ranch's own pork and beef (recipe below).
Fults Family Vineyards is two-generation, family operation — son Dustin Fults and his father, Kendall — who eventually made their way from a farming life in Nebraska to Lower Lake, California.
Working behind the tasting bar was Kendall, who recounted how he and Dustin were sitting on the deck overlooking the 45-acre property they had purchased in 2001, when Dustin said, "Why don't we plant some grapes?" In 2005, father and son planted the grapevines themselves, using Jeff Cox's book, "From Vines to Wines: The Complete Guide to Growing Grapes and Making Your Own Wine," which Kendall described as "Vineyards for Dummies."
Today, the Fultses make about 1,500 cases of wine, with a focus on proprietary red blends, such as the Super Tuscan (Cabernet Sauvignon and Sangiovese), Twilight (Petite Sirah, Petit Verdot, Malbec, and Grenache) and their Wildfire (Zinfandel, Petit Verdot, Syrah, Barbera, Cabernet Sauvignon, and Petite Sirah), "dedicated to the men and women who battle the blazes not only locally but around our great state."
The Fultses donate $5 for every bottle of Wildfire sold. The Fults also make Two Girls Rosé, an unlikely blend of estate Pinot Gris and a small amount of one of their reds to give it color, named for Dustin's two daughters, Lola Thu and Kenlee Blake Fults.
As one drives from Lower Lake to the west side of Clear Lake is Kelseyville, where there are number of wineries, tasting rooms, restaurants, coffee shops, a wine bar, and a brewery. A must-visit is the historic Saw Shop Public House, which used to be – you guessed it – a saw shop. Since 2001, the restaurant was known as Saw Shop Gallery Bistro and owned by Marie Beery. The restaurant's sale was a speedy and fortuitous turn of events for new proprietor, Weston Seifert, who used to work at Saw Shop and was a frequent patron through the years.
Seifert said after the restaurant closed under Beery's ownership on Dec. 31, 2019, he completed his purchase Jan. 2, and reopened as Saw Shop Public House on Jan. 7. Asked for a business card, he did not have them, so he quickly wrote his contact information on a piece of paper and explained that Saw Shop is still in transition – including the restaurant's logo, design, décor, and menu. In the meantime, Saw Shop offers a variety of seasonal dishes made from locally sourced ingredients, including dairy-free, gluten-free, vegan, and vegetarian options, which Seifert plans to expand due to customer demand. For those who are both dairy free and gluten free, Saw Shop will also customize orders, such as their burger platter – made with beef from Six Sigma Ranch, Winery and Vineyards – to include side dishes such as zucchini noodles and potatoes.
A long, steep driveway leads one to Olof Cellars in Lakeport, also known as St. Olof Vineyards, a 20-acre property with 16 acres planted to grapevines and the residence of proprietors, Cindi and Eric Olof. Their winemaking philosophy is on the winery's website: "We began with only 500 cases, 20 barrels. We plan to remain making small, limited productions; some wines as little as one barrel. Our varietals are unusual, and we want our customers to enjoy the uncommon."
The emphasis is uncommon indeed, with the Olofs producing primarily estate reds like Barbera, Malbec, Malbera (Malbec and Barbera), Nobleman (Nebbiolo), Petit Verdot, and Signature (Nebbiolo and Barbera). The Olofs also make a late-harvest dessert-style Viognier named CEO, named for Cindi and Eric Olof, as well as Cindi's initials.
A must-taste is the Adelsdam (noblewoman in Swedish) White Nebbiolo, a rosé made from the juice of whole-cluster, pressed grapes, then fermented in French oak barrels. The wine is visually pleasing, a light copper-salmon color. The nose is both floral and herbal. However, do not be fooled by the pale color and fragrant aromatics – the palate is creamy and mouthcoating – and the flavors reminiscent of honeyed apricots and peaches. Because of its herbaceousness and stone fruit characteristics, the wine inspired Cindi to create her Adelsdam White Nebbiolo Mango Basil Flatbread. Her mango and basil concoction includes the wine and also works as a topping for her air fryer and instant pot fried chicken. She also recommends pairing the Adelsdam with grilled peach caprese. The Olofs only make two barrels (50 cases) of the Adelsdam annually, and priced at $20, it is a consumer favorite.
— O'Meara Bros. Brewing Company
O'Meara Bros. Brewing Company is Lakeport's only microbrewery and gastropub. Proprietors, O'Meara brothers Tim, the brewer, and Alex, the general manager, recently launched their catering business as well, rendering the company a "all-in-one, easy, one-stop shop" for local food, brews, and wines. Tim brews beers of many styles, such as Idle Irishman Stout, Chai Wheat, Saison Atticus, Bevins Street Honey Brunette, and a plethora of ales – amber, blonde, pale, red – as well as a multitude of IPAs.
A tasting flight is a good way to sample his current selections. O'Meara Bros. also serves Lake County wines. The gastropub lunch and dinner menus include bistro, pub, comfort and Asian-inspired dishes, like Ahi Poke Martini, "Bombay Brewer" Tika Masala, Brewpub Fish N' Chips, and Backyard Babyback Ribs.
The Saturday evening after Barrels & Verticals, one of the dinner specials created by Chef Jerry Phillips was a pan-seared Chilean sea bass, accompanied by seven-grain risotto and truffle, which he was thrilled to reinvent with grilled bok choy and his fennel and heirloom tomato hash to accommodate a gluten-free diet.
— The Blue Wing Saloon and Café at The Tallman Hotel
The Blue Wing Saloon and Café in Upper Lake is located in a building inspired by its namesake predecessor, an 1880s-era stagecoach stop and watering hole that was demolished during Prohibition. Under the helm of Chef Pablo Aguilar, Blue Wing serves California comfort cuisine made from locally sourced foods, and has a full-service bar of Lake County wines, microbrews, and craft cocktails. Blue Wing is open for lunch and dinner, and its Sunday brunch is recommended by locals and tourists alike, who line up at the door waiting for it to open. A few brunch must-tries are the sweet potato fries, eggs Benedict (pork belly, poached eggs, hollandaise, English muffin), and gluten-free vegetable quiche on a potato crust, with house salad and optional pork sausage. All of the aforementioned pair with one of Lake County's traditional-method sparkling wines, Cache Creek Vineyards Celebration Cuvée Blanc de Blanc ($40, winery direct), a refreshing, low-alcohol (11.73% ABV) wine, whose fine effervescence, yeasty aromatics, and tropical fruit flavors delight the senses.
— The Lodge at Blue Lakes
The Lodge at Blue Lakes in Upper Lake is home to Northern California's largest fleet of electric yachts and boats for rent. Described as "Your personal paradise in Blue Lakes," the lodge, owned by Maryann and Peter Schmid, dates back to the 1870s and includes 22 charming and cozy guest rooms with either lake or mountain views, a few with Jacuzzis or kitchenettes, and a variety of bed sizes like king, queen, and double. Also available are one executive room and one suite. A notable plus is that the rooms have wood or tile floors, not carpet, which is better for allergy sufferers. Amenities include complimentary breakfast daily – an array of fruits, breads, pastries, yogurt, and hot items like eggs and sausage – free parking, in-room refrigerators and microwaves, Wi-Fi, and the usual coffeemakers and hair dryers. The lodge also welcomes corporate events and weddings.
Six Sigma Frikadeller, An Ahlmann Family Recipe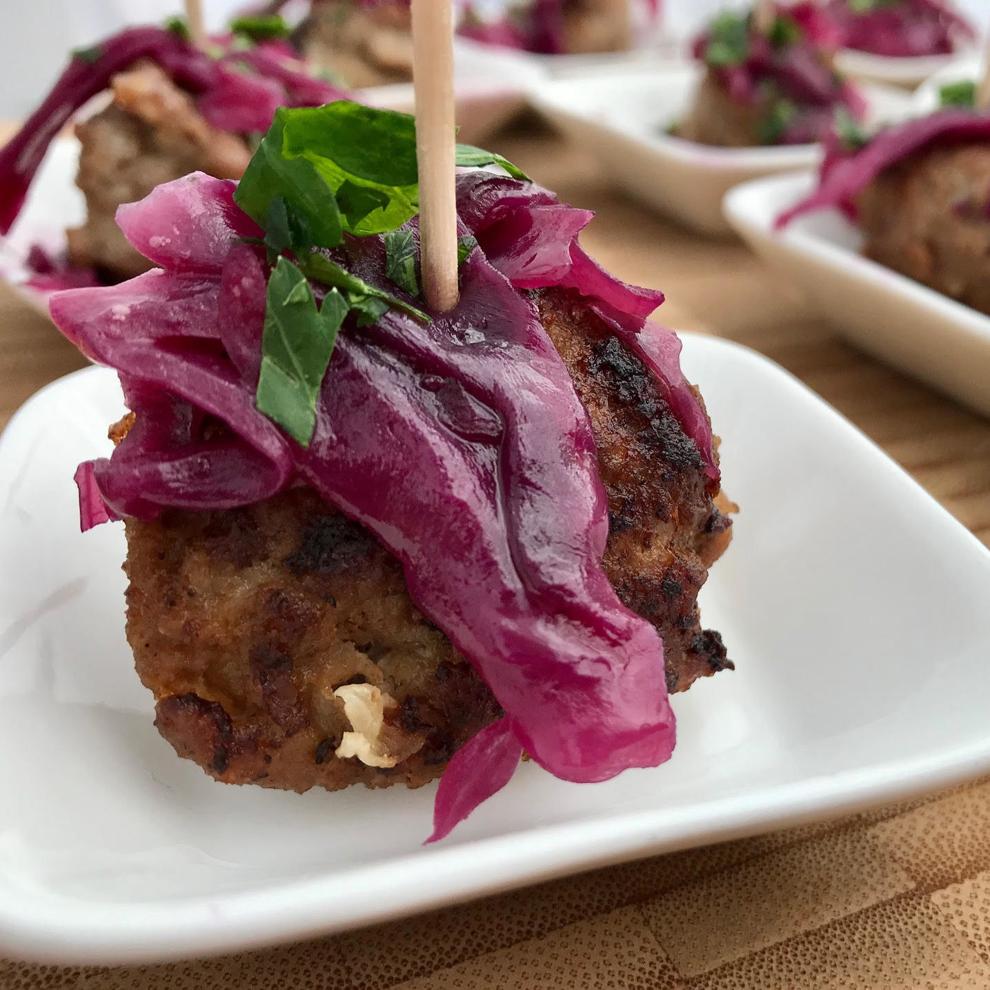 1 lb. Six Sigma Ground Beef
1 lb. Six Sigma Ground Pork
Mix the ground meat in a bowl with eggs, onion, salt, pepper and flour. Stir in milk until the mixture is easy to shape with a spoon, but still firm. Cover the bowl and let rest in the refrigerator for ½ hour. Heat the oil in a frying pan. Form the meat mixture into balls with a spoon and fry for about 20 minutes. Serve with boiled potatoes and pickled beets or red cabbage.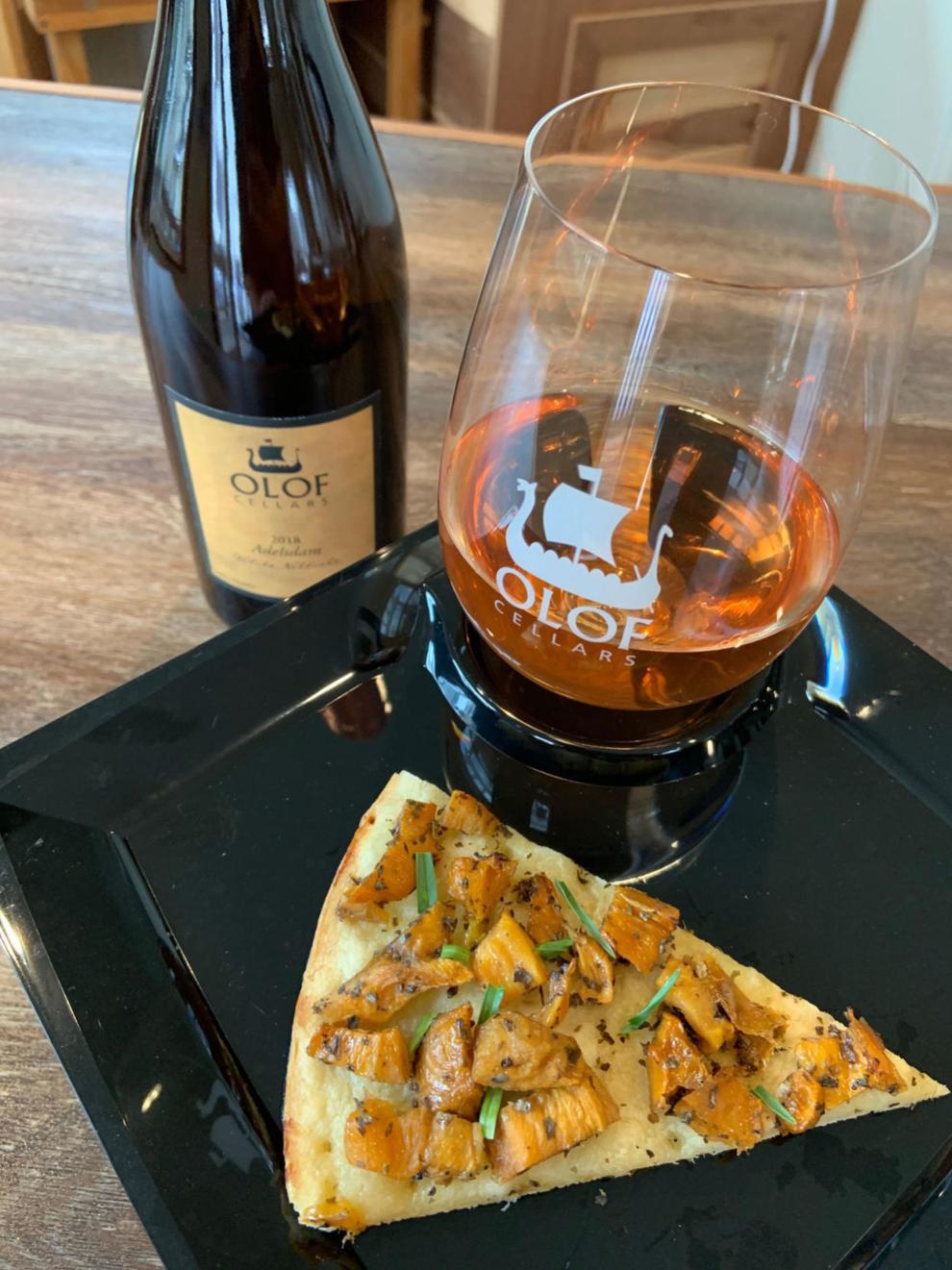 Cindi Olof's Adelsdam White Nebbiolo Mango Basil Flatbread
Makes approximately 12 slices
1 cup dried, chopped mango
1 cup Olof Cellars Adelsdam White Nebbiolo
One medium frozen cauliflower crust (gluten free) or three to four pitas
Mix the mango, basil, and wine and allow to marinade overnight. Drizzle the crust or pitas with approximately 1 tbsp of olive oil, then spread the mango mixture on the cauliflower crust or pitas
Bake for per crust directions or for seven minutes at 350 degrees for the pitas.