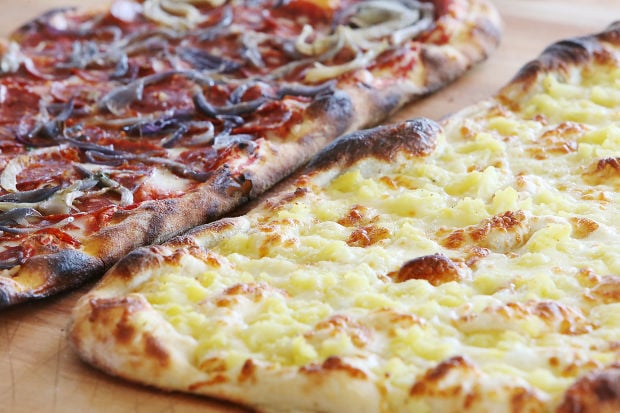 Nearly everyone I talk to is worried about keeping their favorite Napa Valley restaurants in business during these crazy, changing from minute-to-minute times, but knowing that we can't live on take-out alone, these same chefs are reaching out to share favorite recipes that home cooks can try.
The first is from Giovanni Guerrera at Foodshed Take Away in Napa, which has been one of my family's go-to take-out stops since they opened. It grew out of Chef Guerrera's Italian sabbatical in Rome where he learned of projects that gave at-risk young people a chance to learn kitchen and hospitality skills. Back in Napa, Guerrera decided to replicate the idea, offering young people transitioning out of foster care a training do help them become independent.
It has evolved into a restaurant known for its wonderful Italian comfort foods to take home, including home-made pastas, sauces, main dishes, pizzas, and their distinctive toscas, pocket breads with fillings like meatballs or chicken.
When we go to visit my son in Los Angeles, we have to bring him Foodshed's Sunday Sauce and a container of Chicken Cacciatore, and I've lost count of the number of guests who have been blown away by the Foodshed's potato or burrata pizzas. What we've become particularly attached to, however, are the creative seasonal salads — an ever changing variety. And so healthy you can also enjoy a piece of polenta cake or other desserts.
Right now, they are offering free delivery on orders over $30; and are open for take out at 3385 Old California Way, Napa, (707) 255-3340; foodshedpizza.org.
From Chef Guerrera: We first made this salad about four years ago and it was a hit right out of the gate. So much so, that we now run it when the first Brussels hit the market in late fall until spring. The biggest trick is to slice the Brussels as thin as possible. We use a commercial food processor with a paper thin cutting blade. A mandoline works but be careful not to cut yourself.
4 cups shaved Brussels sprouts
¾ cup grated Pecorino Romano cheese
1 cup toasted walnuts, roughly chopped
In a bowl, mix Brussels, cheese, walnuts, lemon juice and olive oil together. Adjust salt, acid and oil to your liking. Garnish with a sprinkle of Pecorino.
Be the first to know
Get local news delivered to your inbox!