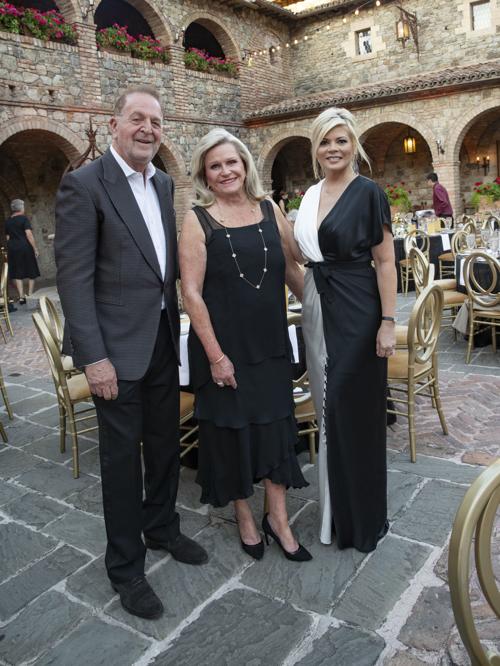 Collabria Care's 13th annual benefit gala, Hollywood & Vine, held at Castello di Amorosa on Sept. 6, raised more than $740,000 to support its programs for those with serious illness including Alzheimer's disease, and end-of-life care.
Honorary Chairs of the event were Rich and Leslie Frank. Valerie Peebles was the gala chairwoman.  
The evening's festivities included a live auction of collectable wines, vacations, and other experiences. Notable auction items included specially etched and individually numbered magnums of Frank Family Vineyards Cabernet Sauvignon that raised funds for Collabria Care's Grace Fund, which provides respite and support for caregivers.
Other lots included a Stan Peterson barbecue paired with the wines of Rombauer Vineyards and a live performance by country legend Junior Brown; a Roaring 20s Speakeasy Dinner at Trinchero Family Estates and seats at the 2020 American Film Institute Life Achievement Awards as guests of Rich and Leslie Frank.
The annual benefit gala is the agency's largest fundraiser. 
"This year's gala celebrated our 40 years of service in Napa County and was extra special," said Celine Regalia, executive director. "The funds raised allow us to continue to provide critical services throughout the county, during the most difficult periods of one's life. We are deeply grateful for the support and generosity of our community."
Collabria Care's next gala will be held on Sept. 11, 2020.
Be the first to know
Get local news delivered to your inbox!