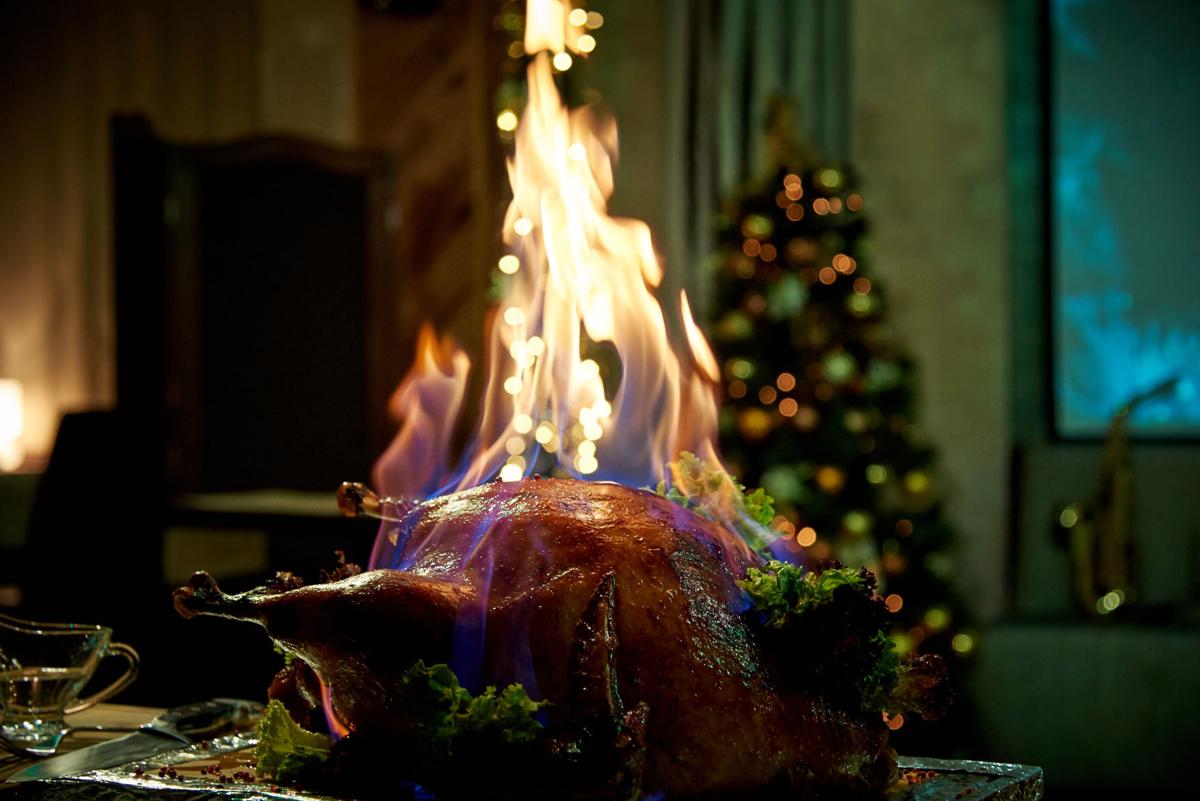 For this Thanksgiving week, I was thinking of writing about the history of the first celebration in the colonies. Most American historians say the first Thanksgiving was celebrated in 1621 at Plymouth, Massachusetts by the Pilgrims who arrived on the Mayflower and the Wampanoag people.
It is believed that among the Pilgrims was John Howland who survived the voyage, married a fellow passenger, had 10 children, and left about 2 million descendants. I only know of two direct descendants of John Howland who live here in Napa. One is Sandra Hoover, the current president of the Napa Valley Genealogical Society and the other is my husband, Judge Phil Champlin.
But I also think it is fun to write about the many holiday disasters my large family has experienced, probably just like yours. My general motto in life is "be flexible and adjustable." It has worked for much of my life. And I need it even more when the unexpected happens when I am entertaining.
For many years, my husband wanted to shoot a wild turkey at our hunting club for our Thanksgiving or Christmas dinner. I have always thought wild turkeys were skinny, gamey tasting and hairy. But the worst part is that they do not come with a "pop-up" thermometer, a favorite cooking gauge. So every year I say no thanks to his gracious offer. But he is actually happy to smoke them for our guests to taste so he can brag about the hunt.
In our former Montecito Boulevard home of 30 years, I had only one Tappan oven, as our home was built in the early 1950s. Many a meal was prepared in that kitchen. The one I remember most was a Thanksgiving dinner for the entire family. The turkey wasn't cooking or turning brown. I took it out and my dad checked the oven to discover that a coil was broken in the top section. Half the oven was not heating up. I can't remember how we cooked and fed turkey to about 30 people that day. Maybe I used the BBQ.
When Philip retired in 2000 we restored our 1872 bungalow in Old Town Napa, and now I have a new fancy double oven. Even with a new oven I still had a major holiday problem one year. I started cooking the turkey. All was well for the first few minutes. Suddenly, I noticed a smell. Billowing smoke was coming out the closed oven door. The fire alarm went off. The dogs started barking and running around the house. Everyone was yelling. I rushed to turn off the alarm and turn on the kitchen exhaust fan. Doors and window were opened. I always remember our son-in-law sitting there and enjoying all the confusion. He was smiling and laughing.
After letting the oven cool off a little, I discovered there was a huge old black spill under the foil and it was still smoking. I spent the next hour cleaning out the oven. I finally got the turkey in again but this sure delayed our meal. I have never forgotten to look under the foil since that day. I am sure this has happened to many cooks.
Like many other women, I followed my mother's tradition of getting up about 5 a.m. to stuff and bake the turkey on Thanksgiving and Christmas day. Now I have a new, faster routine. I purchase boneless turkey breasts. It's easy to bake them the day before or on Christmas morning, and we still have enough left-over turkey for sandwiches. I have never put a whole baked turkey on the dining room table like you see in commercials.
Before holiday meals, women usually clean out the refrigerator to make room for shopping and storing food. My sister found a few cups of very hard, leftover spaghetti hiding on a lower shelf. She stuffed it down her garbage disposal and turned it on. In her haste she forgot to turn on the water. The garbage disposal jammed and would not work. This old disposal had been a problem for a while but of course, now on Thanksgiving Day, it was dead. Company was expected in a few minutes and her husband was under the sink. Guess what she got for Christmas that year?
Our niece, Tiffani, used to baby-sit a neighbor's little boy in her parents' home. Late one Christmas Eve, the toilet in their one bathroom home got plugged up. In a panic Tiff's mom, my sister Janis, called our father. He and our two brothers came over right away. About 20 family members were coming for the big gift exchange and dinner the next morning at her home. They tried everything: plunger and a sewer rooter. They soon decided the problem must be further down the sewer line. Dad told my brothers, they would have to dig up the sewer line in the front yard early on Christmas morning.
At dawn they dug out a three foot wide and six foot deep trench in the front yard. Before they started to take the pipe line apart, Dad checked the toilet one more time. Whatever he did, this time it worked. A ball point pen suddenly bubbled. "Cover the hole, boys, all is solved." They just had time to get cleaned up for Christmas day. We arrived from Napa, just as my father and brothers were leaving Janis' front yard. My husband was happy he missed all the digging. We later learned the little boy admitted he had thrown the pen in the toilet. My niece never baby-sat this little boy again in her family home.
I can remember a few other little entertaining mishaps too. A sneaky family dog ate the fancy groom's cake from Butter Cream Bakery at our daughter's wedding. An overnight guest unplugged a ham in a crock pot for dinner instead of the toaster one morning at breakfast. We invited Philip's partners on the Bench, Judges Snowden and Walker and their wives for dinner. We had just finished eating and were still sitting at the dining room table. Our Dachshund Bismarck started scratching at the sliding door. I let him in and he ran under the dining room table. He was rolling around on the rug and soon skunk scent filled the room. He apparently had been sprayed. Everyone immediately got up from the table and decided it was the end of the evening.
Then there is my classic Easter egg story that I still get teased about today. We were just married and having my family up to visit our little Napa apartment for the first time. I boiled eggs the night before, and Philip and I decorated and hid them around the apartment. My younger brothers and sisters found them and took them home to Pleasanton. On the way home, in my father's new Plymouth, they discovered they were soft-boiled eggs. My dad was cleaning runny yellow yoke from the car for days.
The key thing when holiday disasters strike is to stay calm and keep your sense of humor. It may seem like a big crisis at the moment but those are the holiday moments you will remember with a laugh.
Watch now: How To Have A Polite Pandemic Thanksgiving Dinner
Check out the Napa Valley Turkey Chase
Be the first to know
Get local news delivered to your inbox!