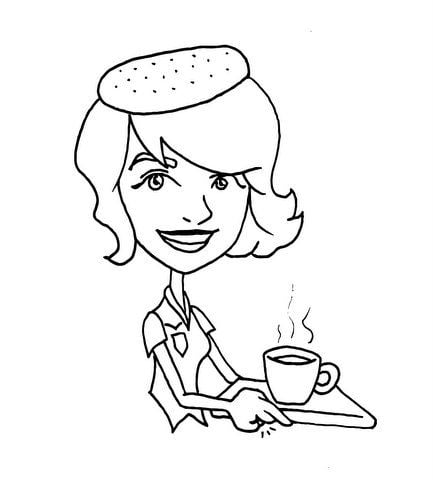 I am pulling out all the stops for Christmas dinner this year. That means I am using my best of everything to make this a festive holiday. I am getting out my good dishes, using grandma's silver, ironing my best tablecloth and napkins. We will even enjoy my favorite white wine, Volker Eisele Gemini, out of our fancy Riedel wine glasses.
Many of us in Old Town Napa have been sharing our stories about the terrible earthquake we suffered in 2014. Most of us lost things we were saving for best. Ever hear that line? I lost things that I never used or enjoyed. Special dishes, family pieces and famous crystal wine glasses. Did my lips even touch those Irish Waterford brandy snifters? Never. Well, I am not one to enjoy brandy but I could have filled one with something else.
I think part of my "saving for best" might go back to my childhood upbringing. My parents grew up on farms in Minnesota and North Dakota. I remember going to church wearing our Sunday best and then changing immediately when I got home.
"Go to meetin' clothes" was our folksy theme and way of thinking. I was reminded of this when I was talking to our friend Dr. Tom Hildreth, another Minnesotan. It meant you were all dressed up to meet the Lord at Church. I still save my best clothes and dishes for later and sometimes until it is too late, as we discovered on the morning of Aug. 24, 2014.
I have clothes in my closet with the original price tags on them because I am saving them for best too. I forget that I am living my best (and maybe my last) right now. I often find these tags when I shop in my own closet. Then I worry if they still fit me. Are they out of style by now and is it even the right season to wear them? My husband is totally opposite from me. He buys something new and wears it the next day. I wish I could be like him.
I might never have my closet issues solved yet but I am determined to start using my good dishes and silverware. Why can't I serve scrambled eggs on my best china? They can live in the kitchen as well as in the china cabinet. I should use a few of my nicer table cloths instead of those old place mats I use every day. Do you use your good candle stick holders with real candles for your weekday dinners? I sure don't. It is added work.
When I was in Shackfords the other day, the clerks and I had this very discussion. I couldn't believe there was a quiet moment. They usually have a flood of customers. We started talking about using good family things. One of them told me that because we live in this world-famous wine valley, we should have glamorous nightly dinners.
You have free articles remaining.
She was all smiles and teasing but she felt she and her husband deserve to use their nicer things and it doesn't matter what you serve. Food always tastes better when served on expensive dishes. Why should we save our good things for best or the tomorrow that might never come? She makes her dinners appealing and special with nice table cloths, candles, good china and expensive wine glasses. So why not? It is easy if you keep everything handy and not packed away like I do.
We used to entertain more before my husband retired. In those days, our dinner parties were more glamorous than they are now. It took me days just to set the table. Most of our good things were in a storage cabinet in the basement. I ironed the tablecloths and napkins until they were perfect. Only new tapered candles were used. When I watched the TV series, Downton Abby, and saw how the silverware was being measured on the tables, I thought of myself, as I was almost like that. Well, not exactly, but it was straight and in the proper place. In fact, I have a picture of a place setting I used as a reference. Wiping each wine glass was usually the last job to ensure there were no spots on the glasses.I was pretty fussy and paid attention to every little detail but still had fun playing dress up.
Even fancy dinners, however, can be unpredictable. No matter how hard you try to be elegant, life sometimes has a way of interrupting.
During a Christmas season many years ago, we entertained our two other Superior Court judges, Scott Snowdon and Wes Walker, and their wives. Of course, I used all my special things. Everything was going along swimmingly and we had just finished our dessert, when all of a sudden our dachshund Bismarck starting barking loudly at the door. When I let him in, he immediately ran under the dining room table and frantically started yelping, whining and rolling around on the rug. We quickly realized that he had been sprayed by a skunk who lived in our ivy-covered back yard. Suddenly the whole room had that terrible skunk scent. The party was immediately over and our guests beat a hasty retreat. I gave Bismarck a tomato juice bath to get rid of the skunk scent. I had read somewhere that was a remedy. I don't remember if it really worked.
My elegant dinner party atmosphere had changed to more of a barnyard theme. So it was fitting that later that evening after the house had aired out, Wes Walker's wife, Susan, was back at our home knocking on the front door with their son's rabbit in her arms. During dinner I had entertained the group with a story about clipping the front teeth of our daughter's 4-H rabbit with toe clippers. The Walker's rabbit's teeth were growing so long that he could not eat and she was very worried about him. I was trimming the rabbit's teeth until 11 p.m. Our guests remembered and giggled about that evening for years.
I think that today's younger couples have a more relaxed way of entertaining and giving dinner parties. I bet not many young people even have those theme dishes for the Christmas holidays. Most are probably happy with one set of Pottery Barn White, which can serve for every occasion. The expensive silver, good china and fine crystal have disappeared in many homes and are now for sale at consignment shops or places like Community Projects. I miss the fancy place settings, but I don't miss those evenings in the kitchen after the guests had gone doing dishes and cleaning up the kitchen into the late hours.
Sure, we should remember that it is not the fine china, your holiday decorations, your fine silver, or wine goblets that are important on Christmas Day. It is not the gifts, big or small wrapped in Santa paper. It is the sharing and giving of the holiday season for your family and friends and remembering the true meaning of Christmas.
I learned another lesson too. When you are sitting at your dinner table serving an elegant dinner during the holidays and your dog starts barking at the door, ignore him.