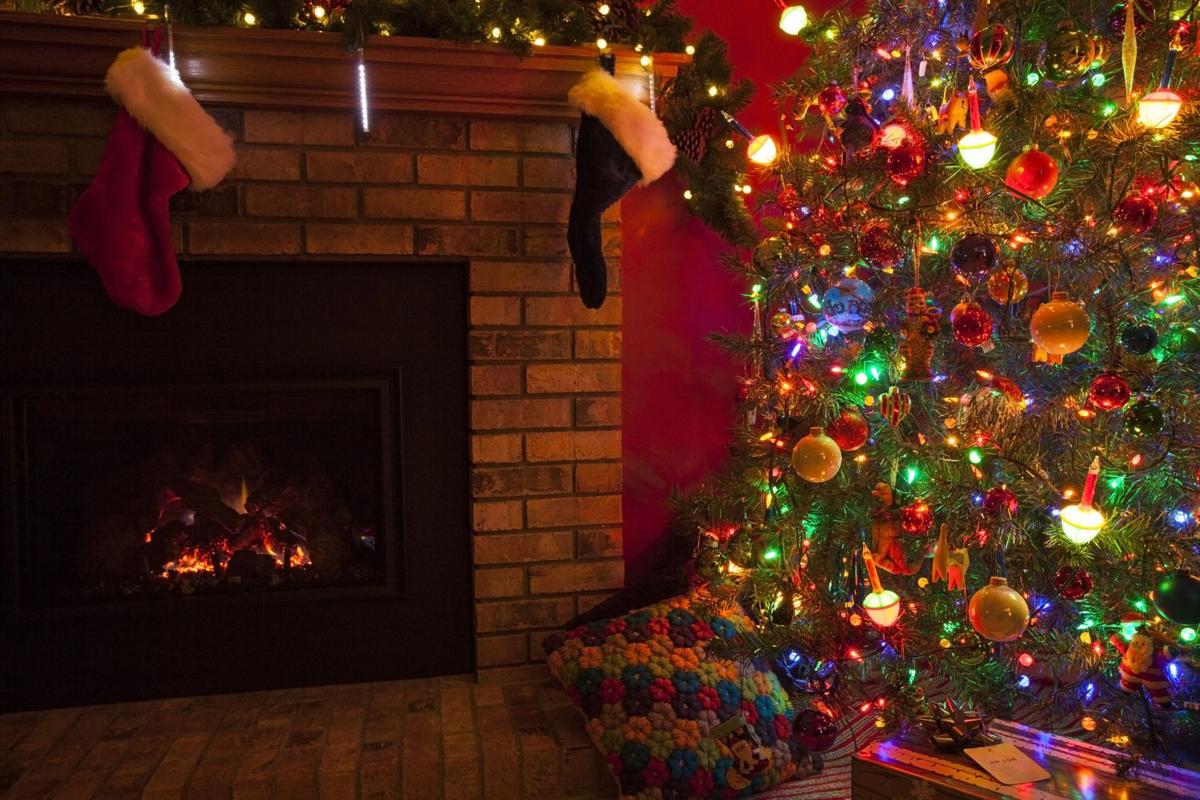 For little children, and maybe some big children too, having a beautiful Christmas tree and a fireplace where Santa comes down the chimney with your gifts are a major part of the holidays.
When I sold real estate in the 1970s, I often heard women saying under their breath, "Let's see, where does the Christmas tree go?" Well, I asked the same question when we downsized into our 128-year-old rental when Philip retired from the bench in 2000.
We were moving into a very small house from a bigger home. We had to change our way of life, sell our larger furniture and make do with less. Even if it was hard, downtown Napa was starting to change. Excitement was in the air and we have felt part of it all these years.
Our Old Town bungalow was built in 1872. It was originally a three-room home and had a pot belly stove to keep the Cain-Grigsby family warm. You can still see the square wood patch in the ceiling of the dining room where the chimney used to be. It's just as well that there was no fireplace because an older chimney would have probably fallen down in the 2000 earthquake.
When we remodeled our little house in 2001, after a year on the road in our RV, we decided against adding a fireplace. Partly because the house was built out of redwood and partly because the city probably would not have allowed it. A bungalow-style home comes with small rooms and standard size windows. We did not install larger windows even though it would have been perfect for our Christmas trees. We wanted to keep the house in its historical style. We were lucky to have won an "Award of Merit Commendation" in 2003 by the Napa County Landmarks Inc. for the remodel done by our contractor David Davenport.
A four-feet tall Christmas tree sits on top of our sideboard in our dining room area every year. There is a large mirror on the wall behind it, so the reflection of lights and decorations brightens the whole room. I can squeeze smaller gifts on the side board but larger ones must go on the dining room table. So we have our family Christmas dinner in the kitchen. To make it festive, I do use our good china and silver.
But after our remodel, and living here for a year or two, we missed having a fireplace. One day when shopping in Napa with my sister and her husband, Larry, we saw a large, beautiful artificial electric fireplace. We were hesitant at first. But when we saw the glowing flames and felt its warmth, we were instantly impressed. We bought it on the spot.
You have free articles remaining.
Philip and Larry had to struggle bringing it home and putting it together but the result is perfect. It looks real with a rich dark walnut mantel. It is the focal point in our living room. In the end, all we had to do was plug it in. At Christmas, our grandchildren see their Santa stockings hanging on the mantle waiting for Santa to fill them.
When I was a little girl, I grew up in a home without a fireplace. My sister Janis and I solved this problem every year at Christmas time. How was Santa ever going to come down a chimney at Christmas if we didn't have a fireplace? This was a major problem for us. If your house doesn't have a fireplace for Santa either, this could be a fun "make believe" project for your grandchildren.
Our first goal was finding large cardboard boxes. Thanks to our Dad, who must have helped us, we found large empty boxes somewhere in our little town of Pleasanton. It never seemed to be a problem, as he knew everyone in town.
We always used three different sizes; one for the base, one for the chimney and then a small one to hold our fake fire. At the local five and dime store, we bought red brick-looking crepe paper. We spent hours on the floor measuring, cutting and using loads of scotch tape to hold it all together. Soon it looked like a fireplace. We must have painted a box black or used black crepe paper to show off our fake fire. We used sticks from outside, maybe shiny aluminum foil and standing streaks of yellow paper for flames. A small light might have added for a bit of a glow.
We were always very proud of our addition to our living room. We hung our stocking up every Christmas Eve on our fireplace and left Santa a plate of cookies. This was fun for us and our younger baby brothers who couldn't wait for Santa to come. We eventually moved and had a real fireplace in our new home. But it was not as pretty as our fake one. We were good at playing make-believe.
Here is an idea for something we have done on Christmas day. I find little gift boxes (anything will do) for everyone. I put a slit in the top and a name on the side. I usually decorate them so they are attractive. Each guest gets an envelope filled with small sheets of paper and a pencil. During the day, everyone writes only POSITIVE comments about each person and slips them into the correct box. These boxes are sitting on the mantel, a table or in prominent place.
I remember sneaking a peek when someone would walk up and casually deposit their slips of paper, I always wondered what they had written. At the end of the evening, everyone takes their box home to read them when alone. I have always had positive feedback from everyone.
When visiting my families' homes, I often see these little boxes. I bet they read these "feel good" messages over and over. I know I do. This simple idea can be used for any holiday or parties with families or groups. You might think of doing it. It is truly a gift that keeps giving. Simple ideas, like building a brick crepe paper fireplaces and giving positive secret messages, can sometimes be the best gifts you can give your family and friends.
So from us to you, Philip and I would like to wish you all a very Merry Christmas with your family and friends. And no matter where you are living today, if there is no fireplace, it might be fun to make one out of brick crepe paper. Be a kid again, have fun. Just don't forget the glowing light in the fireplace and the plate of cookies for Santa.
Be the first to know
Get local news delivered to your inbox!