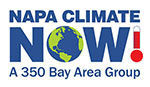 After such an astonishing and stressful 2020, many Napans might be shining a new light on our New Year's resolutions for 2021 — trying to think of ways that we can positively impact not just ourselves, but the world around us.
There are lots of ways to do good work and help create lasting change, but for those who are thinking about our neighborhoods and the recent fires, the increasing intensity of hurricanes or the broader world and its record-breaking temperatures, perhaps you want to make climate advocacy your resolution for 2021. Here are five good reasons why this is the year to focus attention on climate change:
Climate change is speeding up
In a recent New York Times article, climate scientist, Jonathan Overpeck, was quoted as saying "What we're seeing today, this year, is just a small harbinger of what we are likely to get. Things are on track to get twice as bad as they are now. If not worse.
"We have already warmed the Earth more than 1 degree Celsius (1.8 Fahrenheit). Much of the fallout from slow action is already locked in (calving icebergs, dying coral reefs, devastating fires, etc.), but we still have the ability to avert the worst of it and perhaps preserve a livable planet for our children ... But we must intervene decisively now."
Renewable technology is set for widespread adoption
The International Renewable Energy Agency (IRENA) stated that by the end of 2020, the total investments in renewables exceeded those in fossil fuel investments for the first time ever. This is a sign not only of the maturity of these solutions but also that the appetite for new technology and change is on the cusp. People need to be educated about their options, learn how to change their habits, and policy needs to make it easy for that transition to occur.
Public sentiment is shifting
Whether it's because of the fires at home or in Australia or because of the record hurricane season, 2020 has also delivered a bipartisan seismic shift in climate sentiment.
The Yale Program on Climate Change Communication released new numbers right before the election that showed that climate policy is important to voters, with 82 percent of poll respondents saying that "achieving 100% clean energy should be the primary goal of US Energy policy."
According to research from the same institution, 72 percent of the US population believes that climate change is happening and more than half believe that man-made activities are principally what drives it. With that many people in agreement, the most important thing that we can do is mobilize some of those voices into action and create a powerful shift.
Local actions have global impact
For better or worse, climate change doesn't care about county lines. Bad policy, practice and decision-making will impact others elsewhere, but so will forward momentum and progress that result in cleaner air and water and a safer atmosphere.
Moreover, acting locally adds one more important benefit: it provides a blueprint for other schools, cities and counties, and businesses. Climate advocates often hear community leaders or activists refer to "what they did in Albany, CA" or "how did the shift to renewable energy go in Georgetown, Texas?" When we succeed in adopting climate-forward policy, we are paving the way for others to do the same.
New leadership brings new opportunities
In 2021, a climate advocate will be in the White House again, but Congress is likely to remain divided. It is up to voters to influence our leaders across both parties. This support needs to come in the form of comment and action (and not finger-pointing). We cannot depend on a single party and there are elected officials on all sides who care about the impact of climate change. The climate advocacy movement should welcome everyone.
Obviously, no one person can reverse climate change, but by joining others as we take on this challenge this year, all of us can collectively make a difference. Start by taking one of the initial actions below to kickstart a year of advocacy!
Actions you can take
Weigh in on one local issue. Subscribe to the Napa Climate NOW! Newsletter to stay up to date on when important matters come before City Council, the State, or even at the Federal level. Subscribe at
Make just one change in your life that lowers your carbon footprint: commute to work by bike (when we commute again), adopt a plant-first diet, compost food waste that you might otherwise have thrown out, or go big and install solar or buy an electric vehicle. The one change that you make will not only lower your carbon footprint, but will inspire others to take that action as well.
Napa Climate NOW! is a local non-profit citizens' group advocating for smart climate solutions based on the latest climate science, part of 350 Bay Area. Find us at Facebook or through http://napa.350bayarea.org.
Jessica Day is co-founder and chief marketing officer at IdeaScale—a crowdsourcing software.