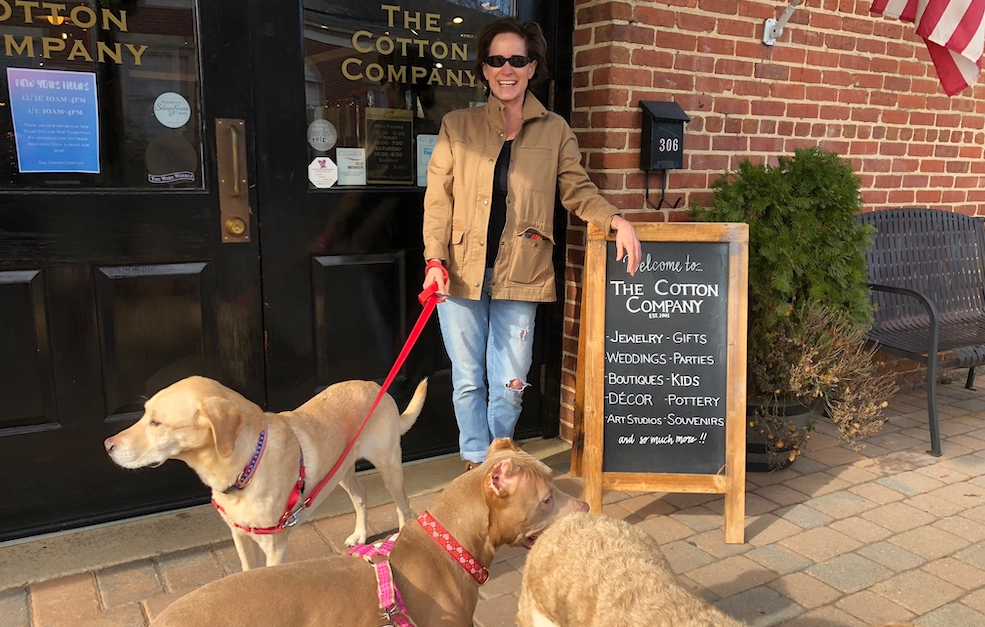 Big cities are fast-paced and fun, and their museums and historical sites are world-famous. But if you're looking to explore history in a way that's more personal and slower-paced, countless small towns across the country are ready and waiting to welcome you. And most small towns are warm, family friendly, and pet friendly, so your furkid will be welcome, too! 
We searched through a number of small towns, and came up with a list of our five favorite places that will help you connect with the past - and your pet. 
1. Wake Forest, NC
Located just north of Raleigh, Wake Forest has it all - warm, welcoming residents, natural beauty, and a cosmopolitan vibe. Unofficially founded in 1832, it also boasts a long history. Like most Southern small towns, Wake Forest has its earliest roots in agriculture. But it actually started off as a Victorian-era college town, and its ties to education have endured.
Today, downtown Wake Forest offers a charming assortment of restaurants and small businesses that welcome four-legged patrons! Bring your favorite furkid along to venues like Wake Forest Coffee Company, the Norse Brewing Company, and Art Walk Wake Forest.
A standout, pet-friendly venue in Wake Forest is The Cotton Company. Once a busy cotton warehouse, this historic building now houses an eclectic retail and social gathering space, with offerings from over 50 craftsmen, artisans, and artists. One of The Cotton Company's most notable vendors, Dick Larsen, is a world-renowned dog portrait artist. Another sells charming and unique doggie outfits for canine customers. Pets are more than simply welcomed in this unique spot - they're loved. 
Bob Johnson and his wife Elizabeth have owned the historic Cotton Company building for over 20 years, proudly embracing Wake Forest's commitment to historical preservation and quality education. In fact, the company's motto is "Yesterday's Architecture, Today's Artisans." 
"We wanted to revitalize a piece of history and create a retail incubator." Bob notes. "We don't just give our vendors a booth - we educate them on how to run a successful business so they can grow and thrive. It's our way of giving back to the community we love."
According to Bob, that community includes pets. "We love animals, and we want people to feel comfy bringing pets to The Cotton Company."
And, when you're visiting Wake Forest's charming spots, there are plenty of pet-friendly places for you and your pooch to stay!
2. Granbury, TX
A rich mixture of folklore, legend, and real historical events, Granbury, TX draws in history lovers, curious travelers, and anyone and everyone who loves a good tall tale. After all, this is where Jesse James and Davy Crockett's wife Elizabeth are buried. Not to mention the rumored hideout of Abraham Lincoln's assassin, John Wilkes Booth, who purportedly got a job in Granbury as a bartender under an assumed name. 
The town of Granbury is as fun as it is pet-friendly. Take your pup to any number of unique local eateries that welcome doggie guests. Or, head off to see a pet-friendly attraction like Dinosaur World, the Bluff Dale Vineyards, and our personal favorite, the Brazos Drive-In Theater.  
This theater has a cool vintage vibe and a well-earned authentic feel: it opened in the 1950s, and has been family-owned since then. Bring your two- and four-legged kids, and whoever else you can squeeze into your ride, and don't forget to visit the concession stand for some good old-fashioned popcorn!
Plus, don't forget to check into all the pet-friendly accommodations in Granbury, TX - there are great options for every budget!
3. Eureka Springs, AR
Nestled deep in the Ozark Mountains, Eureka Springs was once one of Arkansas' largest cities, but is now a quaint small town with a history that's as gritty as it is virtuous. Those passionate about the past will love visiting Victorian mansions, bath houses, houses of ill-repute, a genuine Civil War hospital, and the site where Marshall Tilghman captured the final member of the notorious Dalton gang. 
Eureka Springs welcomes furry travelers. Here, you and your pooch can enjoy pet-friendly outdoor activities like hiking, paddle boarding , fishing, canoeing, or just hanging out by the lake. Or, you can head to a pet-friendly attraction, like a narrated historical train tour on the Eureka Springs & North Arkansas Railway, or a one-of-a-kind outdoor shopping trip at Pine Mountain Village, a charming collection of Victorian-style shops and restaurants.    
Our pick for Eureka Springs' top pet-friendly attraction is Christ of the Ozarks, a seven-story statue of Jesus Christ that overlooks the town, offering a beacon of hope. The attraction grounds welcome pets, so feel free to come visit with your furry kid in tow.  
If you're not familiar with the pet-friendly lodging in Eureka Springs, AR, no worries - they have plenty!
4. Healdsburg, CA
Once upon a time, the only inhabitants of Healdsburg were the Pomo Indians. Then, in the mid-1800s, the Russians built a fort on the coast, and Mexico gave a 48,800-acre land grant to sea captain Henry Fitch, who used the land as a massive cattle ranch. 
During the gold rush, failed miner Harmon Heald settled in the area, with visions of creating a permanent settlement. He established a post office, and then a town, which grew rapidly. 
Today Healdsburg is a delightful stop on a California road trip, offering visitors a unique mixture of Americana and Old-World artistry, lush Sonoma wine country, and small-town charm. Bring your furkid; there are lots of cool things to see together. The area features fab and fun dog-friendly restaurants, including Willi's Seafood and Raw Bar, The Wurst Restaurant, and the eponymous Healdsburg Bar and Grille. Or, you can enjoy a dog-friendly Russian River adventure together. 
Our top pick for pet-friendly fun in Healdsburg is the Saini Winery. If its exquisite Sonoma scenery doesn't draw you in, its rich history will. This fourth-generation family vineyard got its start over a century ago when Italian immigrants brought their Old World farming skills to the New World.  Come hear their story, enjoy a tasting, and stroll the grounds. Pets are allowed in all the vineyard's outdoor areas.  
When you're strolling through all the beauty that is Healdsburg, you and your pooch will be able to retire to a nice pet-friendly hotel, as there are a lot of choices!
5. St. Augustine, FL
Claimed for Spain in the 16th century, St. Augustine has the distinction of being one of North America's oldest continuously inhabited settlements. Over the centuries, England and Spain alternately traded and fought over the colony. As a result, it was often under attack - the English even burned it to the ground during an especially nasty raid. 
St. Augustine remained ever stalwart, and today it's a thriving seaside town with a quirky, laid-back vibe. History lovers enjoy visiting the centuries-old landmarks, like the Oldest House Museum (the museum complex is pet friendly), the Bridge of Lions, and the Llambias House.
St. Augustine welcomes pets in a number of places, including the Fort Matanzas National Monument and the Castillo de San Marcos National Monument, the Oldest Schoolhouse, the Spanish Military Hospital Museum, and the St. Augustine Lighthouse. You can even take your pooch on a ghost walk, a scenic cruise, or a historical scavenger hunt! 
In our opinion, St. Augustine's coolest pet-friendly attraction is the Fountain of Youth Archaeological Park. This is the place to go to experience Old Florida scenery and see quaint historical buildings. You'll even have an opportunity to drink from a real spring locally known as the "fountain of youth" - the magical fountain Ponce de Leon was seeking when he first set foot on St. Augustine's shores in 1513. Pets are welcome just about everywhere in the park, so bring them along for the fun. 
No need to worry about great places to stay with your pooch, because St. Augustine offers a wide selection of pet-friendly hotels!
It's not surprising that historical small towns have a love for pets. Many such towns have roots in farming, value family and community, and want to preserve the things that matter - just like most animal lovers. Bob Johnson, owner of Wake Forest's The Cotton Company, sums it up perfectly: 
"Having pets around as a business is friendly. It's welcoming. But it's not just about that. I've trained many dogs, and socialization is so important. When dogs are exposed to people who talk to them, interact with them, and pet them, they learn to value human interaction and form bonds with people. It's good for them. It's good for the people. And it's good for the community."
TripsWithPets has been helping pet parents find and book pet-friendly accommodations since 2003. TripsWithPets provides online reservations at over 35,000 pet-friendly hotels & accommodations across the U.S. and Canada. When planning a trip, pet parents go to TripsWithPets.com for all they need to book the perfect place to stay with their pet - including detailed, up-to-date information on hotel pet policies and pet amenities. Enjoy exclusive deals, get travel tips and news @ #jointheroadtrip.