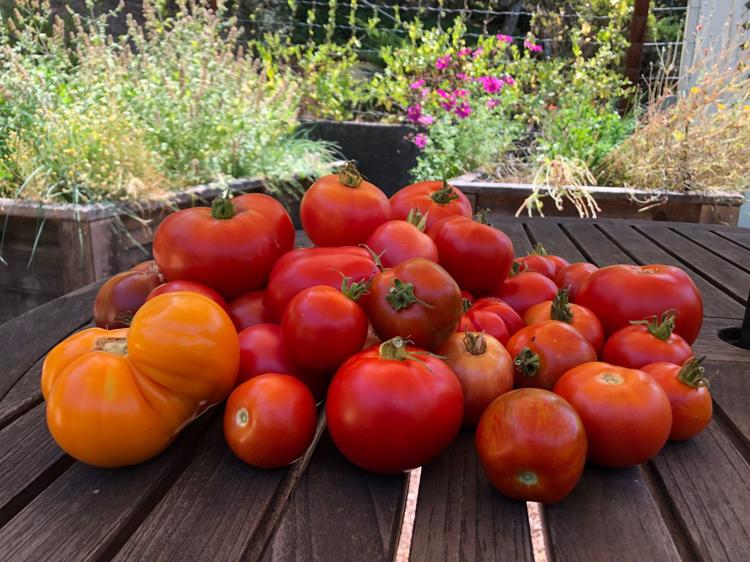 In 2017, we installed five 4-by 8-foot planting beds in our backyard with one crop in mind: tomatoes. Since then, for the past three summers, we've planted 24 tomato plants and have had incredible success. Last year, total harvest exceeded 100 pounds. This year hasn't been quite as much, but it has still been more than we could eat.
We planted 16 varieties in our garden, and some have turned out better than others. I decided this year to do a taste test, to see which varieties we preferred. Here are the ones that we liked the best and will probably order for next year. I tasted them all with just a pinch of salt.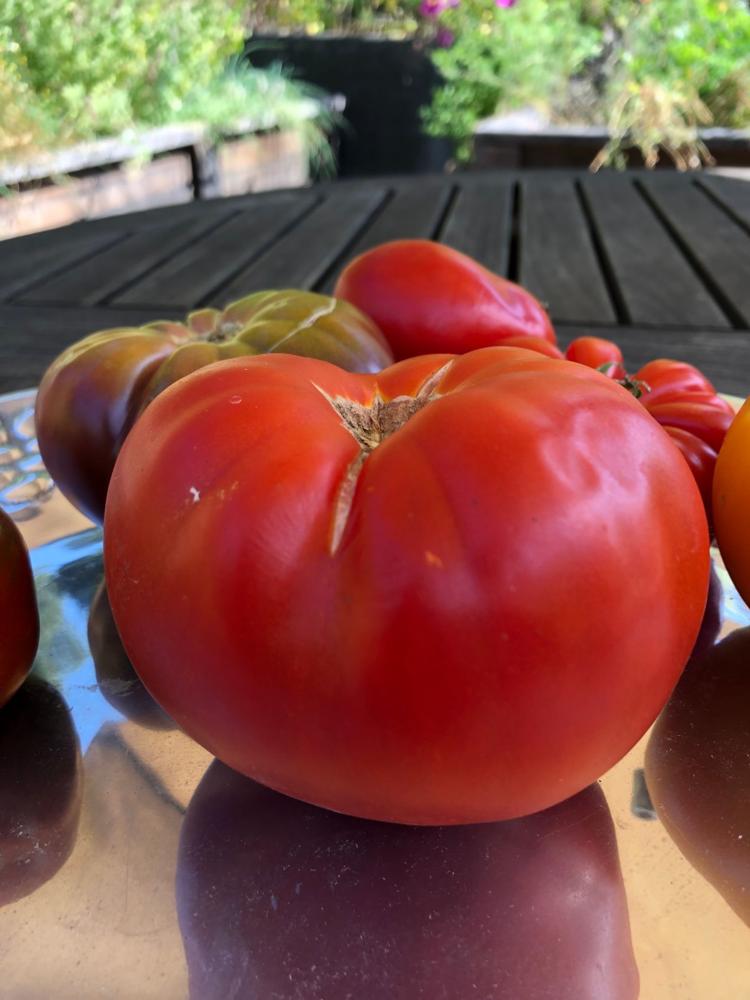 The Better Boys have not been copious, but the tomatoes are beautiful. They're large, about the size of a baseball and are a pure red color. They're considered to be a meaty variety and ours are wide enough to span the entire width of a slice of sandwich bread. They are unctuous and thick with a deep tomato flavor. The paragon of tomato-ness.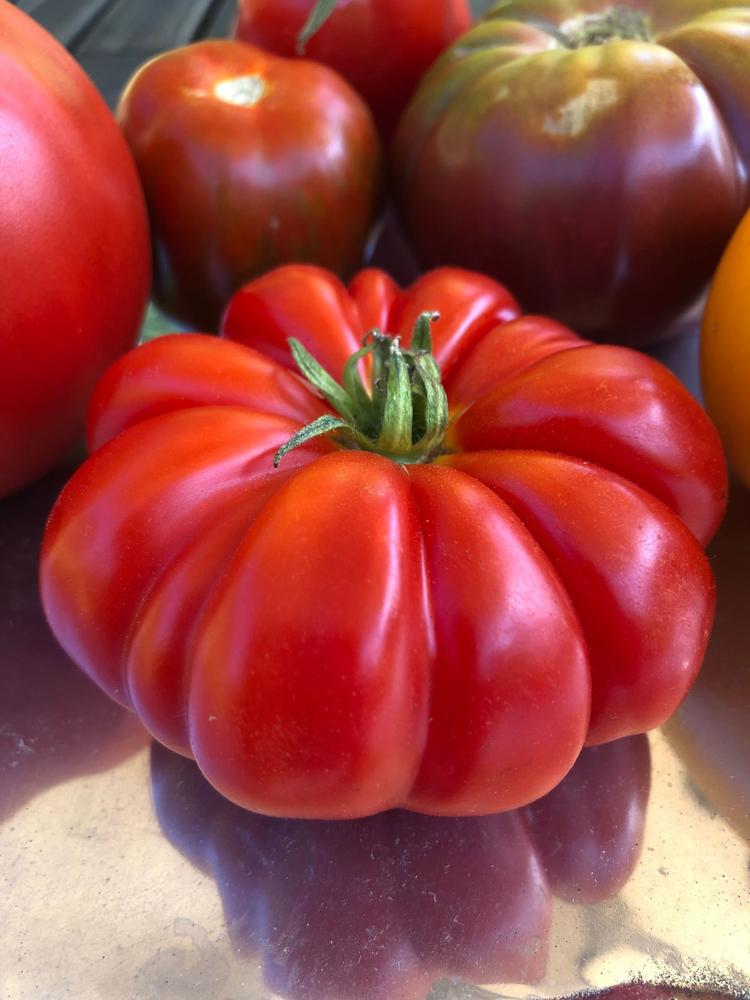 The Costoluto Genovese have been a fun variety to have in the garden. They are heavily ribbed, or scalloped, a bit like those diminutive pumpkins we get around Halloween. Their shape adds a nice variety to a caprese salad. Their flesh is stiffer than a Better Boy, and a bit drier. I found them to be mild in flavor, but hard to ripen. Even the darkest red ones, and some that were a bit soft, tasted green. Even still, they're amusing to look at.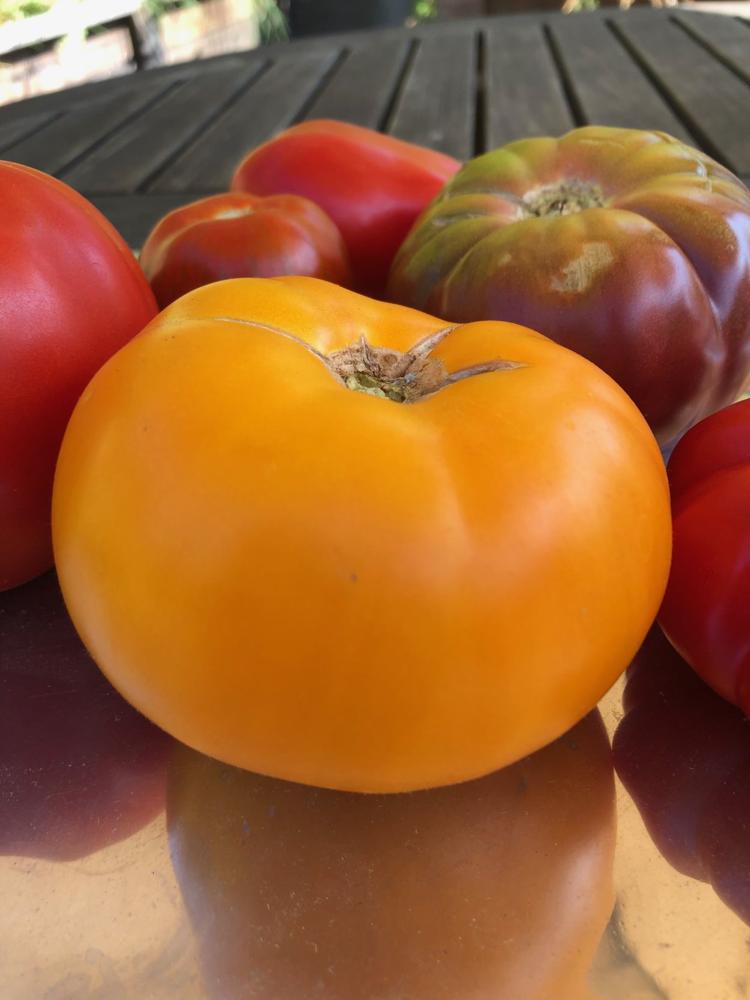 The Persimmons are perfectly named: they actually taste sweet like a persimmon, especially given the similarity between the texture of a ripe tomato and that of a ripe persimmon. The taste is like nectar, as if the flesh of the golden tomato is actually unadulterated sunlight seen through a glass of wildflower honey. And it's bright yellow flesh punctuating the deep reds of the others on the plate is so much fun.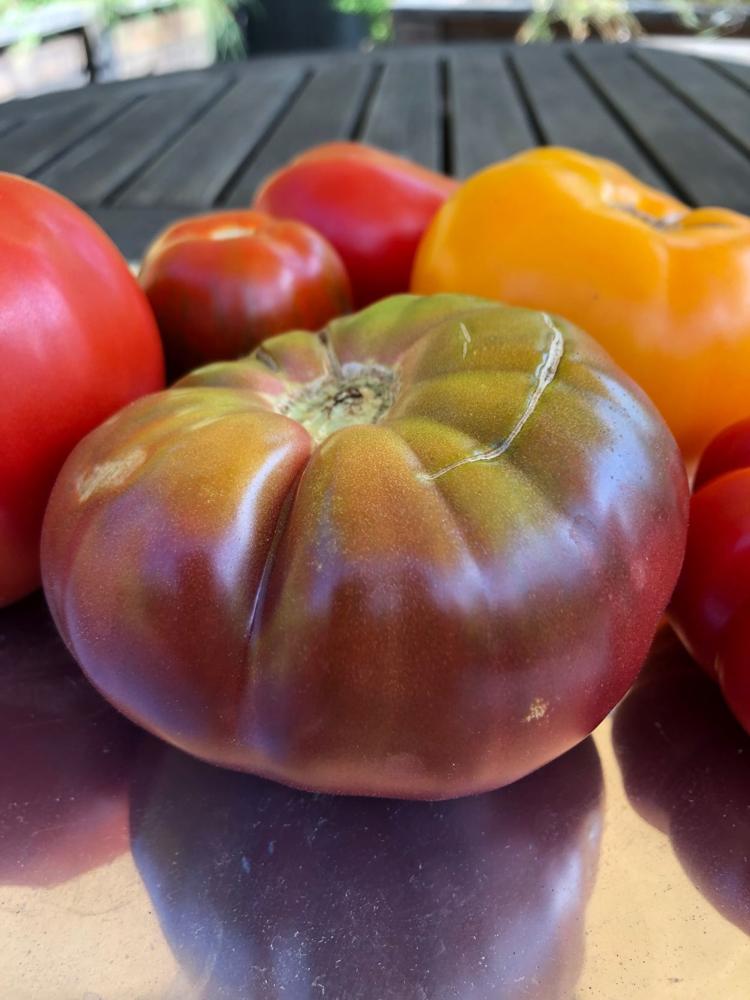 The Cherokee Purples start out green on the top, and then fade into a beautiful deep crimson. Some of them are darker than others. I've seen pictures of these where they are actually purple, but that wasn't the variety Van Windens had. These tasted like the French cousin of the Better Boy, a little bit richer, but with less brightness than the Better Boy, very fitting the darker color of the tomato. Were the Better Boy merlot, Cherokee Purples would be cabernet.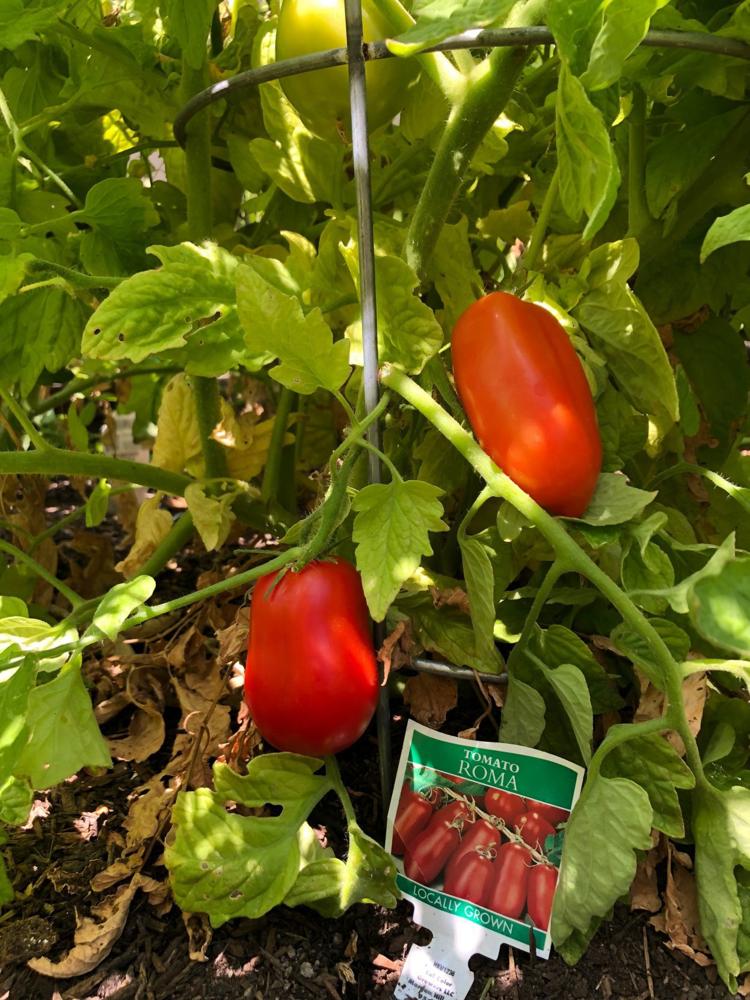 Romas are the workhorses of the tomato world. They are easily recognizable because of their double lobe shape, usually a bit larger than a large egg. Some say that they don't usually have much juice, so they are often used to cook down into sauces, which has been the same for me. Their flavor is subtle, not too rich. It's not an ideal tomato for a caprese salad due to its size.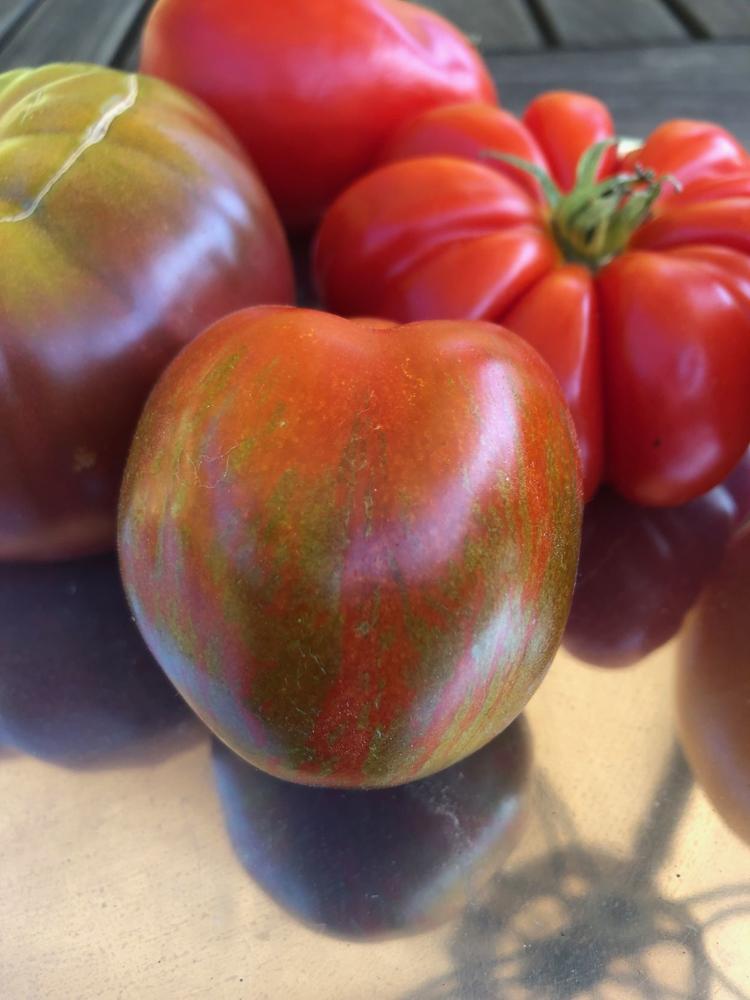 The Red Zebras are the most interesting ones this year. They are small, a little larger than a golf ball, and are called "zebra" because they are red with green spotted "stripes" that color the skin. Like the Cherokee Purples, the color of the skin seems to dictate their richness. My Red Zebras had a gaminess to them, a depth of flavor that was kind of mysterious, which the Better Boys did not have. If the Better Boy was merlot, and the Cherokee Purple was cabernet, then Red Zebras would be a blending wine, like petit verdot.
So, what does one do when one harvests 20 pounds of tomatoes from their garden on a Wednesday night? Well, here are two options that are an excellent showcase for fresh tomatoes.
Caprese Salad
The first, and easiest, is a Caprese Salad. Where this very Italian salad came from is the stuff of legend. Some say it was named for the Isle of Capri. Others say that the name comes from the same root as the word "capricious." There is also a story about a creative chef making it for the first time for the King of Egypt who was in exile in Italy, and he liked it so much, they kept it on the menu. That notwithstanding, it's so simple and delicious, it's a staple of my summer kitchen when I've just hauled in many pounds of vine ripened tomatoes and don't really feel like cooking.
The Caprese Salad is composed of tomatoes, basil and mozzarella cheese. These three ingredients can be combined in any fashion, and still be called "caprese." The way I like to do it at this time of year, is simply to slice the tomatoes on the side, like you would slice a bagel, so that you get tomato "steaks." You place those attractively on a plate and sprinkle them with sea salt and drizzle with the finest olive oil you can find.
The basil you can chiffonade if you want. Chiffonade is where you stack the basil leaves, roll them into tubes, and cut them crosswise so that you get thin strips. These you can sprinkle those all over the tomatoes on the plate.
For me this year though, my basil leaves were too small to chiffonade. So I just pulled them from the stems and placed them artistically on the tomato steaks. This is fine, because, in the end, one cuts the leaves up with a knife and fork when eating the salad.
Lastly, the mozzarella cheese can make or break the salad. We are lucky in Napa that most grocery stores have a wide selection of this kind of cheese. BelGioioso is my preferred brand that is carried at Raley's, Nob Hill Foods and Safeway. Of course, I was introduced to this brand at Vallergas but that is now years ago. RIP Vallergas.
BelGioioso has every variation of mozarella you can find. There is the dry mozzarella that comes in a sealed plastic package like most cheese. There are pearls, slices or just a brick like cheddar or jack. But what is preferable is the cheese in a plastic tub filled with brine, often called "fresh" mozzarella. BelGioioso produces a variety of styles. Try BelGioiso's "ciliegine" or "cherry shaped" little balls of mozzarella—containing about 20 one-inch-in-diameter balls in a tub.
But there is another type of cheese I put on my caprese salads that I've come to crave. It's called burrata.
Burrata is a pouch made of mozzarella cheese that holds inside it cheese curd and cream. It's a luxurious combination of textures: a soft and slightly toothsome exterior that contains a rich and soupy interior. The BelGioioso burratas are generous, about the size of a baseball. When you buy them, cut away the plastic wrap under the lid, then drain the brine from the tub. You can delicately overturn the tub and spill the burrata ball into your palm, then place it on the plate.
Whole Foods does not carry BelGioioso. But they do carry a brand called Belfiore. The Belfiore cheeses come in a rectangular plastic tub filled with brine that has a heavy white lid. They are softer and larger than the BelGioioso and have a more delicate flavor. I highly recommend the Belfiore.
At Whole Foods, I would steer clear of the brand "Buf" that makes mozzarella from buffalo milk. It's the same price as the Belfiore but is half the size. I was disappointed one day when I tried that one and didn't have enough cheese to pair with all the tomatoes on my plate — which brings me to the topic of ratios.
The ratio of basil to cheese to tomato is important in a caprese salad. One never wants to run out of cheese or basil and have to eat their tomatoes unadorned. The goal is that every bite is red, white and green.
With basil, if you are not going to chiffonade, try to have enough so that the leaves cover at least half the area of the tomatoes. If you do chiffonade, about one tightly packed cup should be enough to cover two eight-inch plates.
A word about basil. Sweet Italian basil. is the traditional herb that goes into a caprese salad. However, the other night, I realized I had used all our basil in the garden and forgot to get some at the store. But the chives have been beautiful, so I decided to substitute the basil for chives.
I harvested a handful of skinny green chives and placed them on the cutting board. I cut them very fine, mincing them so that they were hundreds of tiny green pieces. I sprinkled them generally all over the plates creating a pleasing red field speckled with green.
You have free articles remaining.
It was delicious. Chives have a more savory flavor than basil. They give a caprese salad an altogether different character than basil does. It's a nice variety, and in a way, the caprese is the perfect way to experience one particular herb because the tomato and cheese can act like a foundation that sets off a particular herb's flavor. Chives, parsley and tarragon are good alternative candidates. They are herbs I plant every year. Though, if you want to use tarragon, I suggest chopping the tarragon and infusing it into the olive oil because its leaves are too small taste by just sprinkling it on the tomato like you would do with basil, parsley or chives.
As far as the ratio of cheese, usually about eight to 10 cherry-shaped ciliengine will be adequate for an eight-inch plate. If you are not going to use all of the ciliengine, make sure you don't pour out the brine. Reserving the brine will allow the left-over cheese to stay fresh when you put it back in the refrigerator.
With regard to burrata, usually, half a burrata will be enough for one person. But when I am having a caprese salad as a main course, I decadently keep the whole thing for myself. I place the rotund white pouch in the center of the bed of tomato steaks and then cut it in half so that the cheese curd and cream spills out, coating the red tomatoes in white creamy goodness. It makes for a dramatic presentation.
Panzanella Salad
So a caprese is how I've enjoyed our tomatoes bounty for the past two years. But this year, I got inspired to make a new dish that would take advantage of copious supply of tomatoes—panzanella salad.
Panzanella salad is basically a salad in which tomatoes are tossed with crusty bread. There are a wide variety of recipes—some involved capers, others involve red onion; some have lettuce, some don't—but all are an excellent way to showcase a ripe, rich tomato.
The first thing to start with is the bread. The best croutons are made with bread fresh from the bakery. I recently discovered that the afternoon bake at the Oxbow's Model Bakery comes out around 3 p.m. But they close at 5, so one has only a two-hour window to get a baguette. A lesson I've learned the hard way and led to a disappointing dinner that night.
Though they are beautiful, I steer clear of wheat, pain levain or darker breads that have a burnt crust. While these breads are richer, they don't have a clean taste that a French baguette has, and combining them with tomatoes will taste dirty.
If you get to Model late, don't fret. Sourdough will make a perfectly acceptable crouton. I was raised on San Luis Sourdough, which you can find at Safeway, Raley's and Nob Hill Foods. It comes sliced in a large boule.
Once again, ratios are important. I find that this salad is best when there is twice as much tomatoes as there is bread. Too much bread feels like you're skimping on the tomatoes, which is bad because the tomatoes are the whole point. Not enough bread and you won't have anything crunchy with which to contrast the soft texture of the tomato.
In my experience, this can be accomplished by using one half a Model baguette and three pounds of tomatoes. If you've gotten to Model late and had to go with sourdough, the largest slice of bread in the center of the boule will be enough, or two of the smaller slices. Toast the slices of sourdough first then cut them into quarter to half inch squares, or roughly the same size as the tomatoes.
To make the croutons, slice the baguette into quarter to half inch cubes. Toss them with olive oil and spread on a baking sheet. Bake at 350 degrees for 10 minutes, or toast them in a toaster oven on medium. Make sure you don't over-toast them — they shouldn't turn brown, but rather just develop a nice crust.
Now there is the question of something green. You can add some kind of lettuce, but not too much because the focus should be the bread and tomato—otherwise you just have another green salad. Baby greens are best—no romaine or green leaf. I found this year that I've been using baby arugula the most. About a cup of tightly packed arugula with the amounts of bread and tomatoes described above should add just the right amount of roughage.
Something that I haven't seen in other recipes, but I thought would taste good this year is the addition of mozzarella cheese. Yes — you can't get away from the classic caprese. BelGioioso's ciliengine are too large for this salad, but they do make a dry type they simply call "pearls." They are usually located in the supermarket with the burrata and the like, and come clustered, like grapes, in a plastic package.
Then there is the question of flavor. What sort of herb do you add? Basil is, of course, a candidate, now that I have mentioned tomatoes and mozzarella, but parsley and chives would work well too. For this recipe, a quarter to half cup, tightly packed of whatever herb you choose will be just fine.
Finally, there is the dressing. My go-to salad dressing is a classic French Dijon mustard vinaigrette. Simple—just oil, vinegar and mustard. How much dressing to use is a big question. You don't want to use too much, as you don't want the croutons to be soggy. But if you don't have enough, you can miss out on the tangy acidity that will make the dish sing.
For this recipe, I suggest a dressing of one tablespoon red wine vinegar, one tablespoon each of vegetable oil and olive oil. Then 1 1/2f teaspoons of Dijon mustard. Preferably Maille. Speaking of which, look for my forthcoming "My Paris Journal" column about freaking out in the Maille store on the Place Madeleine in Paris.
Vigorously whisk that together so that it emulsifies. Vegetable oil and olive oil have different densities so it gives the dressing more body. And the mustard, in addition to adding flavor, thickens the dressing and makes it stick to the contents of the salad.
After pouring the dressing into the bowl, toss the salad thoroughly and serve immediately so you can catch the croutons while they're still crunchy. The contrast between the softness of the tomato and the crunchiness of the crouton is the best part of the salad. It should serve four as a first course, or two for a healthy main course.
3 pounds tomatoes, diced medium
1 cup baby arugula, tightly packed
1/2 cup chopped herbs basil, chives or parsley
Half Model Bakery baguette
For the croutons, cut up the baguette to the same size that you cut the tomatoes. Toss with olive oil and bake at 350 for ten minutes or until slightly brown.
Put all the salad ingredients into a salad bowl. Add croutons.
Wisk the dressing together in a small bowl. Pour dressing over salad and toss well. Serve immediately.