It is with great sadness that I mourn Alexis Handelman's selling of the Alexis Baking Company. Compared to some Napans, having only lived here for 13 years, I am a newcomer. But breakfast at ABC always made me feel like I was a local.
On cold foggy mornings, I would take my New Yorker to the cafe and wait for Terry Washburn (a 10-year-veteran) to open the door at 7 a.m. There would usually be other people waiting at the door too. One couple was there every morning, sipping their coffee and eating omelets, toast and potatoes and pouring over The Napa Valley Register, The New York Times or The San Francisco Chronicle. I would always try to get there early, especially on weekends because ABC was not a secret. The legendary breakfasts drew big crowds.
From Monday through Saturday, it was counter service, which often inspired a little bit of anxiety in me when I would order and not know if there was a table available for me to sit down. But, as if by some divine order, eventually someone would finish and I could sit somewhere right as my food was brought from the kitchen.
My favorite place was the community table. I often ate there alone, and never minded sitting next to a stranger. But rarely did anyone sitting there remain a stranger long. Once, I had a conversation with an English gentleman and his Spanish wife and their two bilingual children. They were spending a week in Northern California before they drove down Highway 1 to Southern California.
Another time I had an extended conversation with a former political consultant who, disenchanted with Washington, moved to Napa to start a new life. This was during the Obama administration so there was much bemoaning Mitch McConnell's Senate.
Then I recognized a guy whose New Year's Day party I attended in his Victorian house by Lafayette Park in San Francisco in 1998. I introduced myself to him. Of course, he had no idea who I was and quite frankly didn't remember the party, but he hoped I'd had a good time.
The people I met were nice, but that was a side attraction. I was there for the food. After you read this, close your eyes and visualize it: lemon ricotta pancakes with fresh strawberries and blueberry syrup. They were fluffy, but dense. Slightly sour. Four fat patties of gooey dough, punctuated by the soft crunch of a fresh fruit and lubricated by the sauce of pungent blueberry flavor.
Or, I would have brioche French toast with sliced nectarines and sweet cream. Just as rich, sweet and belly-filling.
Her coffee was unlike any other. Strong and black, it would peel the paint off the steel fender of a 1955 Chevy. It was supplied by Mr. Espresso from Oakland who uses oak wood to roast the beans. Alexis said that this gave the coffee a depth of flavor that winemakers often enjoyed.
As of late, I would opt for the more hydrating iced tea. It was a perfect iced tea — unsweetened, strong but never bitter, and always served with a lemon wedge. Terry told me Alexis used the Yorkshire Gold brand, which I found at Raley's and now drink every morning. The tea is so strong it doesn't need to be wrapped to keep fresh and it goes bitter very quickly if you steep it too long. Alexis' perfect tea must be due to years of experience in making large quantities.
While I loved the French toast and pancakes, an aging metabolism, a preference for savory over sweet, and a desire to be hungry for dinner, made me increasingly opt for Alexis' huevos rancheros.
I think Alexis had a secret ingredient. Perhaps some herb she put in the salsa? A spice in the black beans? I craved this dish unlike anything else I have ever craved. I ordered it so often that Terry would just say, "the usual?" and I would smile.
Her huevos rancheros consisted of two fried flour tortillas topped with stewed black beans, salsa and so much melted cheddar cheese you would have thought you were eating Mexican pizza. Eggs could be either poached or scrambled. I got poached eggs because I liked the way the yolk would mix with the salsa and beans. It was garnished with a dollop of sour cream and a sprig of cilantro. I would always tear off the cilantro leaves and sprinkle them over the platter.
Terry would hand me a fork and knife at the counter, but I would also get a spoon so that I could scoop up the sauce leftover on the plate — the best part.
One 4th of July, my craving was something fierce, but I had gotten up late. I went to ABC around 11 a.m., and the line was out the door and down the block.
For me, waiting for a table when hungry, watching other people eat, is painful beyond words. So I decided to go to the store and buy the ingredients and make my own huevos rancheros. Eventually, I would add green onions and avocado to mine, and come up with a philosophy about the order of ingredients and presentation. But mine never compared to Alexis's. (What did she put in that salsa?)
I wanted to make my huevos rancheros for Alexis and write about it for the Register. I tried to invite her to my home for brunch and champagne — a beverage she would never refuse — but we could never come to a date because one of her employees had a family member in the hospital and needed her care. It's that kind of love and concern we could all taste in her food.
When I approached her about doing our wedding cake, she was overjoyed. She scheduled me for a wedding cake tasting. This, I was not prepared for. She explained to me that the choice of a wedding cake was very serious business and that I needed to be in the right state of mind. I don't think the state of mind she was talking about, however, was a sugar coma.
It was during an afternoon in June, near the 3 p.m. closing time and we sat at a table next to the huge windows looking out onto Third Street. She said, very seriously, as if preparing me for some rite of passage, that I should not make a decision right now, but take the cakes home and sample them over the next 24 hours to make sure that I chose the right cake.
Then a member of her staff began bringing them out. There was the chocolate caramel cake, the almond white chocolate cake with strawberries, the carrot cake with lemon cream cheese frosting, the lemon cream cake with homemade lemon curd and Ebinger's famous chocolate blackout cake made famous by the Brooklyn bakery in the 1940's. But I think her most famous cake was the apricot and pistachio—layers of white cake and apricot filling with pistachios pressed into the buttercream frosting on the sides and an apricot glaze on top.
I had never thought that apricots and pistachios would be complementary, but like many strokes of genius, once you experience it, it's obvious. If anything, it is that cake that I will remember from ABC. The sourness of the apricots and the crunch of the pistachios and the sweetness of the buttercream, all set afloat on the fluffy, moist cake. That is the taste of Napa birthday parties for the past 30 years.
We eventually chose the lemon cake, because that was what would best compliment the dinner we were having after the wedding. The chef served it with preserved blueberries and lemon ice cream. It is pictured here. The cake is a beautiful, elegant, smooth white cylinder and our florist garnished it with blue and white hydrangeas. You may not be able to see it in the picture, but there are little champagne bubbles embossed in the frosting.
Then there was the art. Alexis was a kind and generous patron, offering her walls to local artists to hang their paintings and photographs. One of my favorites was, coinciding with the ABC theme, 26 small abstract sculptures, each topped with a different letter of the alphabet. They were placed along a low wall, but the letters A, B and C had a privileged location above the counter on the bread rack.
And it wasn't just visual artists. On Saturdays and Sundays she would invite the Max Bonick Jazz Trio to play and over the clinking of silverware and din of conversation you could enjoy an easy rendition of Dave Brubeck's "Take 5."
The walls in the bathrooms were painted with squiggles and shapes in blues and yellows that felt like some whimsical, cloudlike, dream world. The way you knew which restroom to use was by the illustrated pastry on the door: the eclair was the men's room and the donut was the women's.
But the best art there was Dan Worden's monumental mural called "The Last Cake Tasting" in the style of Leonardo da Vinci's "The Last Supper." It was easily 10 feet long and hung on a wall near the ceiling above the huge plate glass windows. The painting depicts Alexis in the center flanked by her long-time employees, all dressed in black. Worden's work is so accurate you can pick each person out by their facial expressions and hairstyles.
Up until recently, the tables were covered by plastic tablecloths printed with a street map of Paris. Paris, of course, being Alexis' natural habitat. I would study the streets and pick out places I had been: the Pantheon, Montmartre and the Sacre Coeur.
Her little retail area, on the counter next to where I would order, provided endless entertainment while I waited in line. There were local jams and German and French candies. Retro mints and gum. She was a big purveyor of the Unemployed Philosophers Guild, a company that creates "thoughtful gifts for thinking people." There was a metal tower on which hung refrigerator magnet finger puppets of figures like Sojourner Truth, Sigmund Freud and Michel Foucault. (I couldn't tell Freud and Foucault apart until I looked at their tags.) There were also altar candles to Frida Kahlo, Edgar Allen Poe and Ruth Bader Ginsburg.
But if all of this weren't enough, the best part was when Alexis herself came out from the kitchen and circulated in the dining room. Her gracious smile, her enveloping hugs, her radiant warmth made everyone feel accepted, cared for and loved. She embraced all things fabulous. Her spirit was, and still is, exquisite.
I once told Alexis, running into her at Vallerga's, (where at the time most self-respecting Napans shopped) that her restaurant was an asset to the community. But now, I would go bigger. ABC was an institution. Since 1990, for 30 years, ABC's hospitality comforted Napans in good times and bad. The new owners would do well to respect that legacy.
CHECK OUT PHOTOS: NAPA'S ABC BAKERY THROUGH THE YEARS
Photos: Napa's ABC Bakery through the years
ABC 1990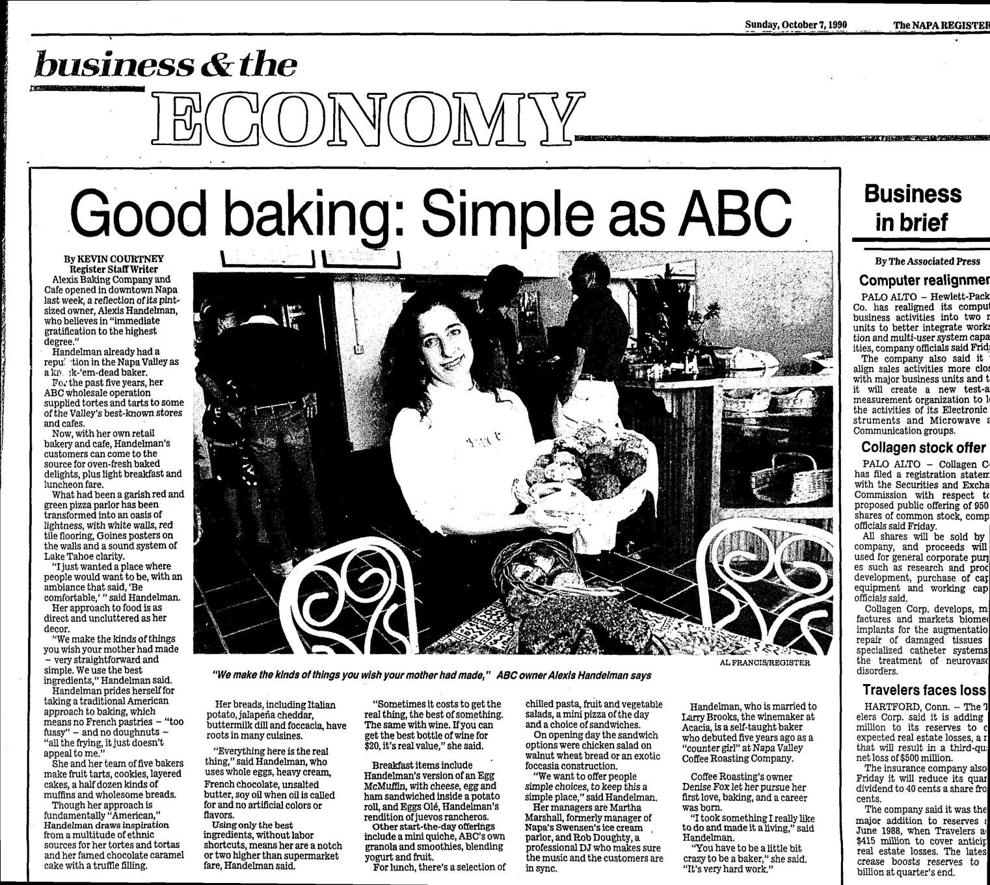 Alexis Handelman of Alexis Baking Company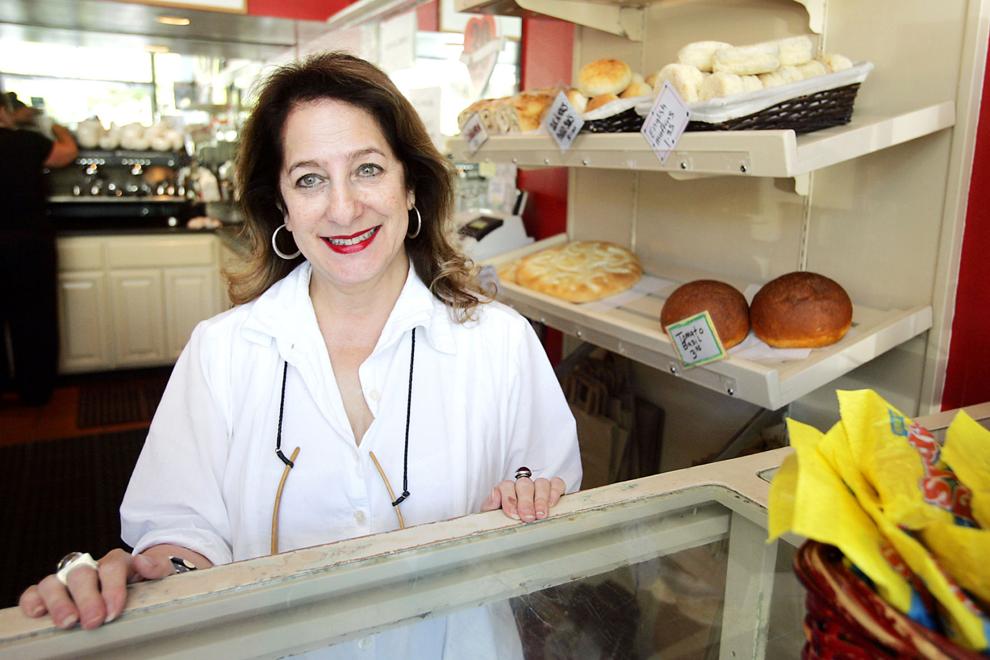 Alexis Handelman of ABC Bakery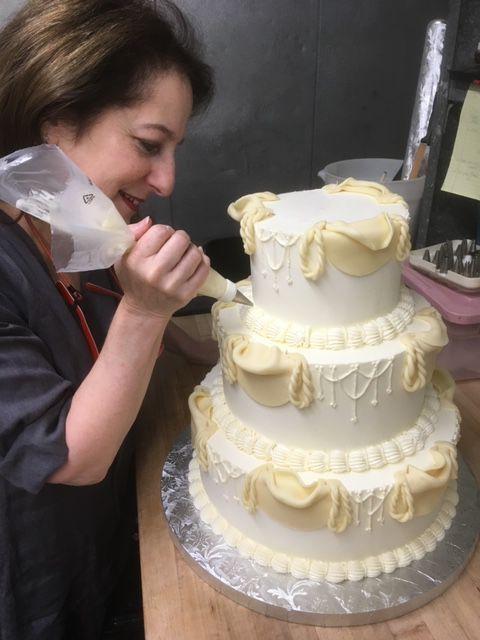 ABC Bakery: small business of the year 2017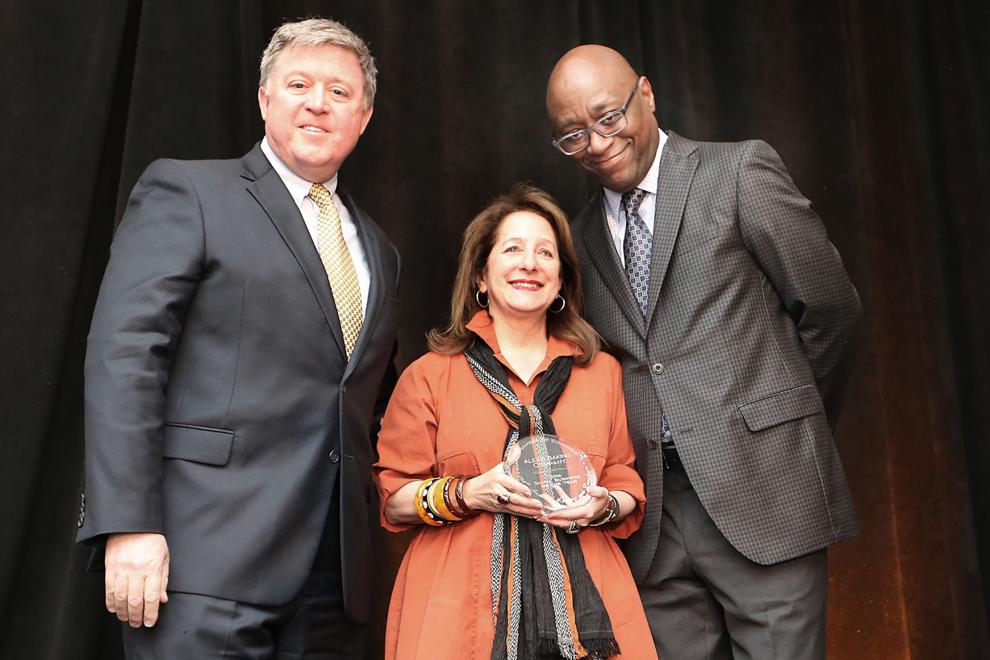 Easter Egg Dyeing at ABC Bakery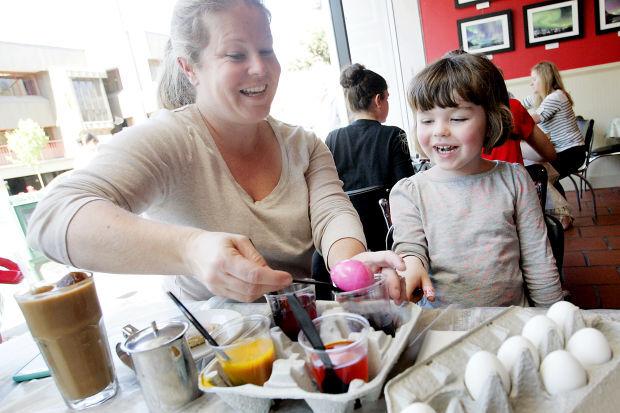 Easter Egg Dyeing at ABC Bakery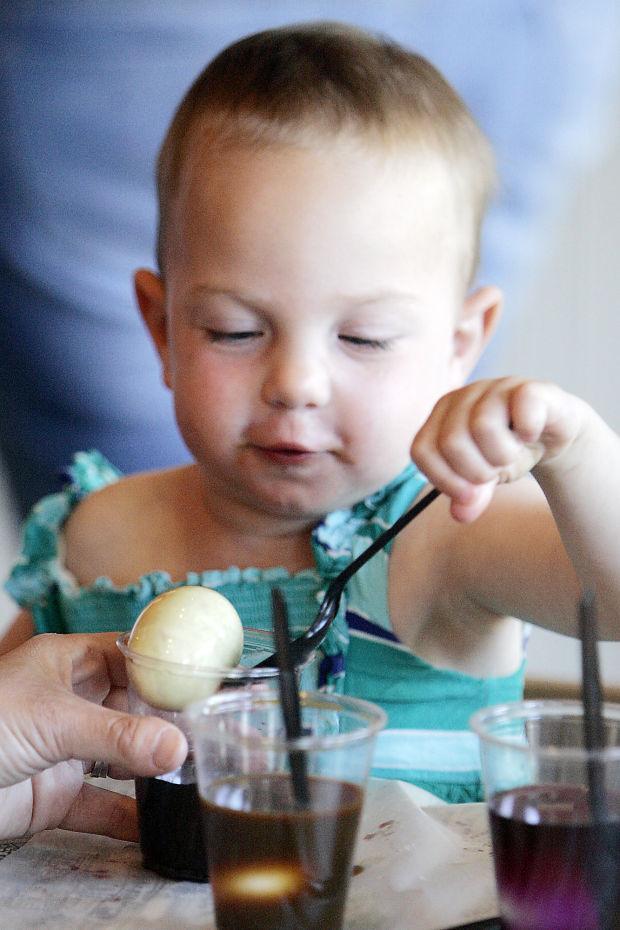 ABC 2004 story
ABC Bakery celebrates first anniversary, Oct. 1991, page 1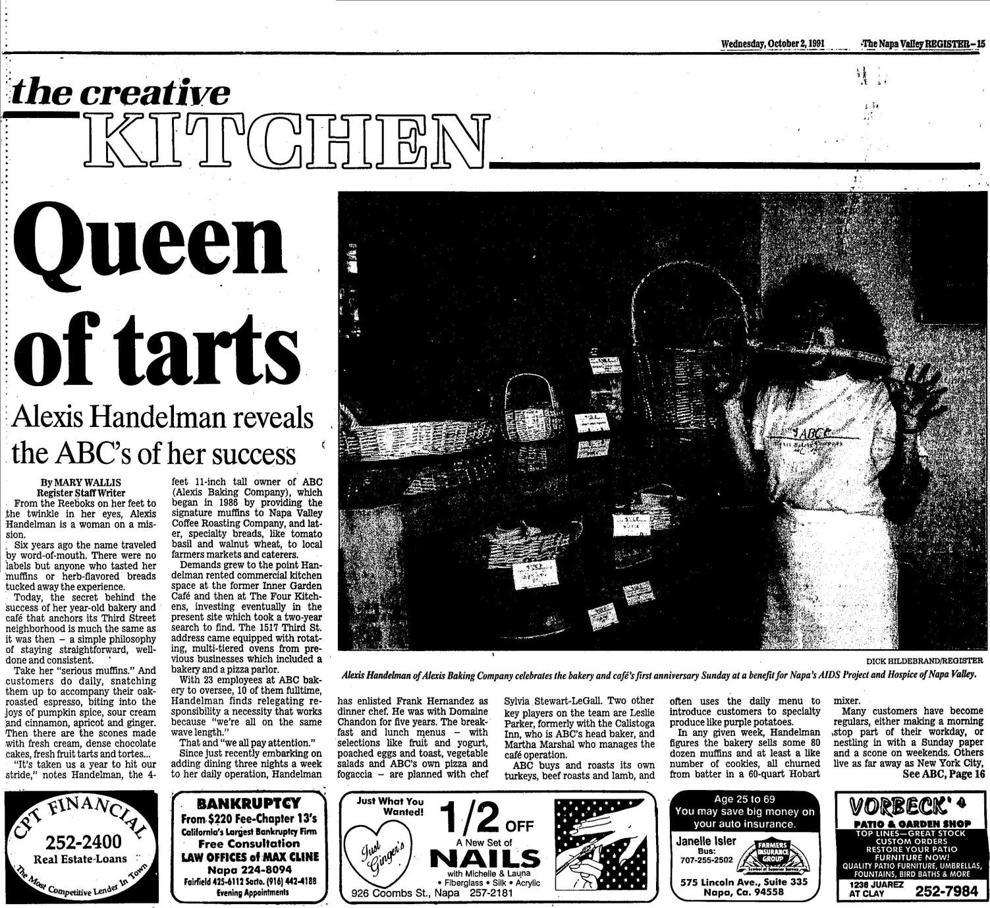 ABC Bakery, Oct. 1991, page 2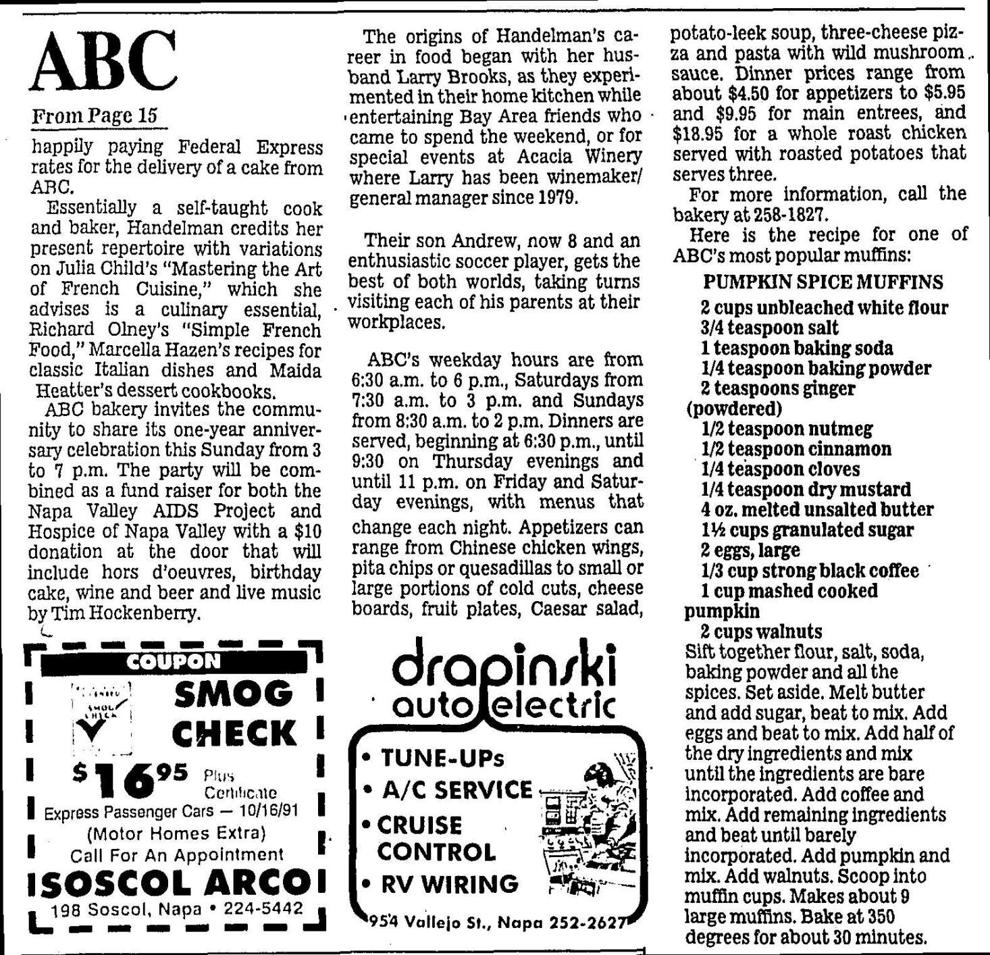 WATCH NOW: THE ART OF PATISSERIE: CHRISTIAN ESCRIBA'S EXPLOSIVE CAKES
Catch up on Napa County's top news stories