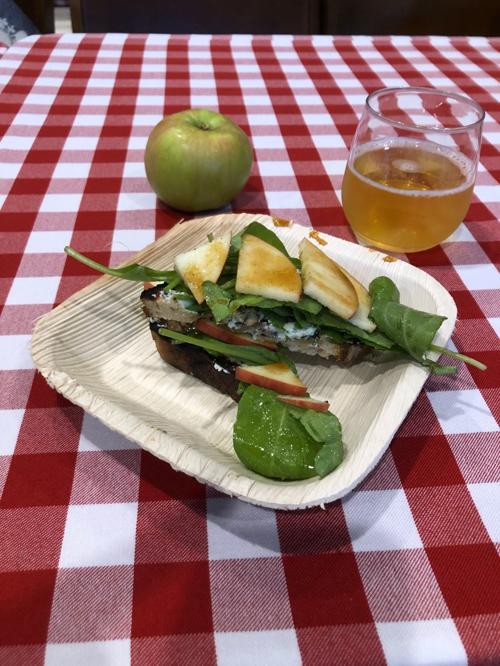 The food that Copia had prepared for the event was inspired by, or included, apples. Bratwurst was served with cider mustard, apple kraut, cider pickled onions and apple cider ketchup. A chicken wrap was made with cider-poached chicken and Fuji apples. The vegetable wrap included cider braised sweet potato. An Apple Ricotta Tartine was toasted pain levain, smeared with a rich, creamy ricotta and candied pecans. This was topped by a mild arugula and apples that had been glazed with an apple cider gastrique.
Due to the way the event was organized, I wasn't able to taste any of the ciders presented with my snack. But they did have a bottle of Martinelli's Gold Medal Sparkling Cider.
It was somehow fitting that among 16 small batch, artisan cider producers, I would be drinking one of the oldest, and largest cider producers in California, and maybe the United States. The difference in flavor was striking. The Martinelli's has a fair amount of residual sugar, and no alcohol, which, quite frankly, made it easy to drink. Whereas, all of the cider producers filling Copia's hall that day, seemed intent on, like they do with wine, fermenting their apples until the juice was bone dry. And, as with wine, to some, bone-dry ciders may be an acquired taste.
As I ate my tartine, I enjoyed the sounds of the Max Bonick Brown Barn Band.
Sandy Sauter, a chef in charge of public programs with the CIA at Copia led complementary a "Family Funday" class on donuts and fritters. Family Funday is their weekly Sunday class where kids can come with their parents to learn about cooking.
"It's a great thing that parents can do with their kids, when you can't take your kids to a winery," she said. "We don't teach down to the kids." They want the kids to learn as much as they can about cooking as well as keep the class interesting for the parents, too.
This class showed kids what they can do with apples, in keeping with the ciderfest theme. A bamboo plate filled with donut holes had an apple-cider glaze.
By now it was 2:30, the event was supposed to end at 3 p.m. and there was still a line out the door to get in. I began to think: that apple tartine wasn't very filling. How about a bratwurst, apple kraut and cider mustard and a big glass of Martinelli's?
Satisfy your cravings
With our weekly newsletter packed with the latest in everything food.