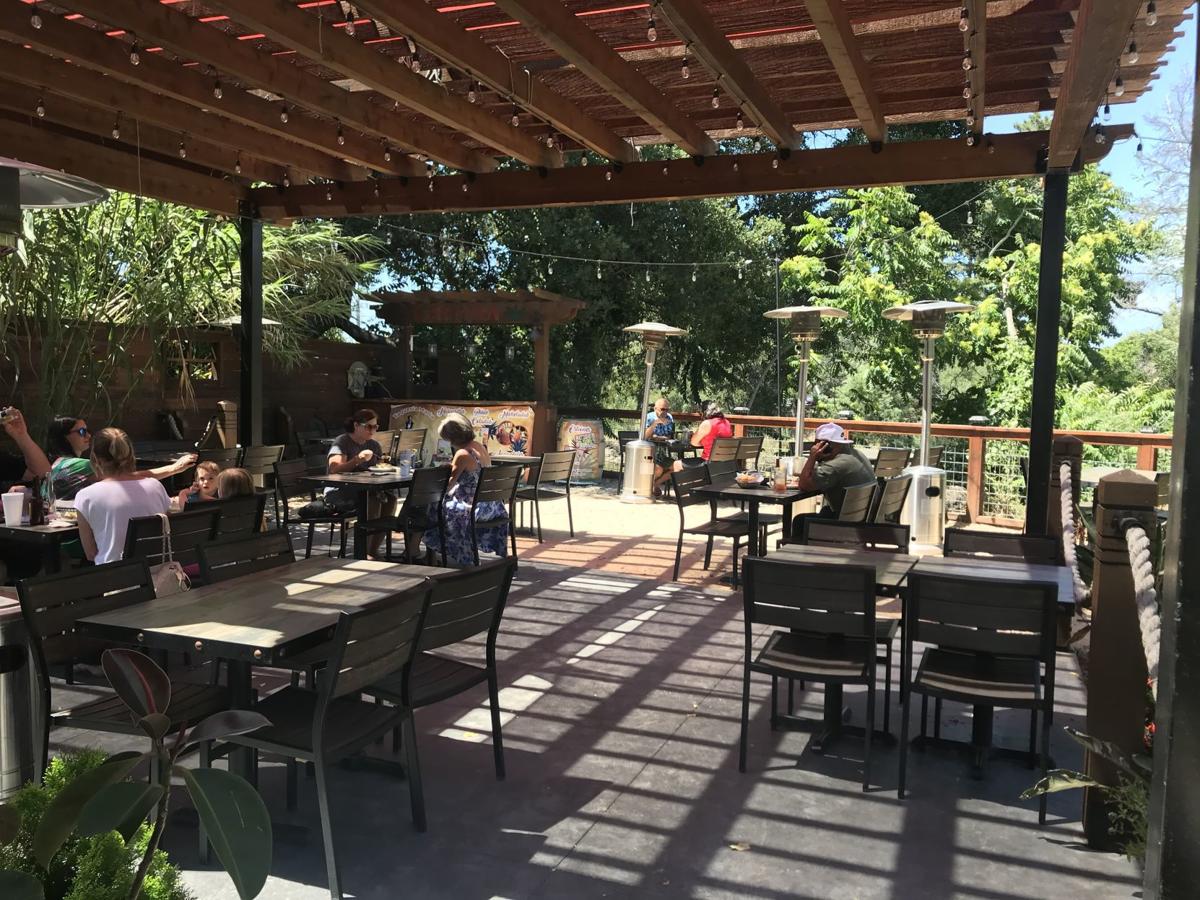 Have you been out to eat in Napa Valley during June as restaurants have cautiously reopened?
This is mostly been because of my work as editor of these food pages, even for this story, itself. But while asking what and how are our local restaurants doing, I became curious about another question, which I posed to friends and colleagues.
An informal survey of friends and colleagues — have you eaten out? — yielded this: The most frequent reply? No. The most recurring concern? Is it safe?
Most typically, I heard: "We order take-out once a week to support local restaurants, but still feel safer eating at home."
The most cited reason for not feeling safe? Fear of others not wearing masks, especially tourists on weekends; although one friend wrote that he tried dining out, found it "too weird," and reverted to take-out and home cooking.
Surging numbers of COVID-19 cases and maskless visitors were the reasons most cited for feeling "we'd just rather stay home."
Yes, it's a bit different to have your temperature taken before you are shown to a table, but my dining out experiences have been far more enjoyable than the time I picked up a take-out order where, of six people waiting, I was the only one wearing a mask. One person had a mask hanging around his neck, one was dangling a mask in the air, and of the others, two looked oblivious but one woman appeared ready to bop anyone who might might suggest she needed a mask. It seemed an unfair burden to put on the one young woman (masked) taking and handing out orders, to have to police this group. I got my food and ran.
Dining in has proved far less harrowing and certainly more fun.
1. NapaSport SteakhouseAs restaurants reopened, a friend called and said, "I need a cocktail." I was feeling in a celebratory mood,myself, having just been to my hairdresser; for the first time in three months, I didn't look like seagulls had been nesting on my head. We met at NapaSport, sat on the patio, ate piping hot French fries and drank caipirinhas, the national drink of Brazil, made with fermented sugar cane. We agreed: it was just fun to be out in the world again, six feet apart and far from other guests as well. NapaSport, by the way, has a new French chef. A story about him is forthcoming.
2. AngèleWhen Georgeanne Brennan — author, contributor to the Register and ardent francophile — is in Napa, her restaurant of choice is Angèle. We had planned to sit outside on the patio by the Napa River, but a strong wind came up so we decided to move inside. The tables were spaced out, the staff was wearing masks and were careful, but pleasant, and Georgeanne observed how many times the hostess employed a sanitizer (a lot). We drank rosé, ate beef tatare, and pâté with grilled bread and vegetables. We were, sigh, as close to France we will be for a while until the world opens up again.
3. Taqueria MariaA European friend, now living in the U.S., wanted to have lunch, and his choice was Taqueria Maria. After an extensive renovation, the restaurant has a secluded, picturesque back patio that runs along the Napa River and offers plenty of space for social distancing. The masked server was courteous and kept contact with the table to a minimum. We dined on shrimp fajitas and pastor tacos. How to share chips and salsa with someone outside your bubble? Divvy them up on your plate.
4. La ToqueFlo Schilling, owner of Thompson Creekside Travel, has spent the past few months helping clients cancel travel plans, and one, as thanks, gave her a gift certificate for La Toque. She had never been to Ken Frank's Michelin-starred restaurant, she said. Would my daughter and I go with her? La Toque is a sublime experience that I can afford only when someone else is paying. We went.
At first glance, this particular Thursday night at La Toque seemed like any other time I'd dined there, with people dressed up and ready for a special night out. The changes were subtle: Plexiglass panels between the brown leather booths, and amber bottles of hand sanitizer on the tables.
The tables are more spaced out and with two not set for service but with an arrangement of flowers and herbs. The restaurant, while carefully arranged for social distancing, has lost none of its comfortable elegance.
Frank met with a public health professional before reopening to review best practices to keep both guests and his staff safe. These include small paper bags to hold your mask while you dine, and a "very expensive hand lotion" for staff who follow a rigorous hand-washing protocol. I watched what happened after a couple finished their meal and departed. A masked, gloved server removed everything, including the vase of succulents, and thoroughly cleaned the table and chairs.
Since reopening, Frank has instituted some menu changes as well with locals in mind. In addition to the tasting menu ($150 per person, with $85 for wine pairings; $90 for the vegetarian menu), he has added a la carte items to the menu. If you have never visited La Toque, you can come in for simpler dinner to try it out, then maybe return for the three-hour tasting extravaganza.
A la carte choices range from $16 for a spring garden salad to $135 for Hokkaido Wagyu Beef with Lobster Bordelaise sauce.You can splurge and order a black truffle sandwich ($60, serves two), or a rosti potato with caviar ($58), but other choices are far less expensive. The wine list has 222 choices, the somm said, from Napa Valley and around the world.
We shared an appetizer (Hawaiian Kanapachi Crudo, $22) and a dessert (Chocolate Concorde, inspired by Frank's wedding cake, $16). For entrees, we tried the Soft Shell Crab on Fregola Sarda and Pesto ($26); Poached Alaska Halibut ($42), and Dry-Aged Liberty Duck with Cherries and Black Garlic ($42).
While La Toque was closed, Frank kept his core staff employed cooking for the homeless shelter in town, something he is continuing to do. Donations have supported the project, he said. Silver Oak and Mondavi wineries, for example, provided produce from their gardens, and a friend in Alaska sent him a crate of halibut. Donations to the "shop for the shelter" jar at the Napa Farmers Market allow Frank to shop at the Tuesday Farmers Market and support the vendors who, in turn, donate unsold produce on after the Saturday market. And the homeless are getting some fine sustaining meals.
In every conversation I have had with Frank, he has mentioned the extraordinary generosity of the Napa community; my thought is that, if I can support his own generous contributions to Napa by eating crab paired with a first-growth Chablis, OK, I'm there.
La Toque, 1314 McKinstry St., Napa, (inside the Westin Verasa Hotel), latoque.com, 707-257-5157
5. The CIA at CopiaSince the Culinary Institute of America took over the Copia building, shuttered for nearly a decade, they have become good neighbors to Napa, and they are the closest thing to a community center that Napa has. They got rid of entrance fees and welcomed visitors to stroll in the gardens, explore their exhibits, dine indoors or out, and hosted all kinds of, often free events, like last year's outdoor movies. And when the shelter-at-home orders were issued, and people began wondering what to cook at home, they provided weekly articles for the Register, sharing their expertise on how to bake bread, cook with kids, and even make your own condiments.
While the building remains closed, they took their first steps toward reopening outdoors last week, launching the Garden Suppers in the Grove. Nightly, they are serving a prix-fixe, three-course meal under the olive trees that make up the Grove.
Tom Bensel, a CIA alumni now director of the the California campuses, was there welcoming guests in his mask and a chef's coat. After the long closure, he explained, it fell to him to create the first menu and to help cook it. The tables spaced far apart are the most visible sign of their commitment to safety, but all the steps they are taking are outlined on a card diners get with the menu (all disposable). An attendant at the entrance to the gardens is courteous but he makes sure that anyone entering has their mask on. At the tables, a rack is provided to hang your mask on while you are eating, and it's washed (along with every thing else) after guests depart.
Sitting under the olive trees, surrounded by gardens at a comfortable distance from others was sheer pleasure; and the meal was pretty good, too. We opted for the cocktail of the night, a cucumber cooler, and drank it with the entire meal.
The first course was a salad of tiny fresh peas, tendrils and baby lettuce, with Pecorino and bacon. Second course was grilled lamb chops and broccoli with gremola, and for dessert Bensel was making one "that I've made for 20 years" — strawberry shortcakes with berries from the nearby gardens and cream. The cost was $42 per person; beverages, other than water, are extra. The menu, served family style, changes every few days.
Satisfy your cravings
With our weekly newsletter packed with the latest in everything food.