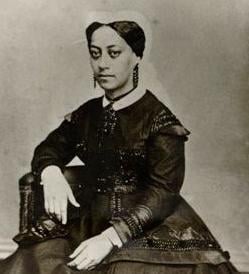 In many circles, the name Mary Ellen Pleasant evokes thoughts of a mysterious yet high-profile 19th-century abolitionist whose brilliant business mind and civil rights efforts earned her the title of "The Mother of Civil (or Human) Rights in California."
Her culinary talents, however, are often overlooked.
Support local news coverage and the people who report it by subscribing to the Napa Valley Register.
One biographer, Helen Holdredge, however, amassed a substantial collection of Pleasant's recipe diaries. From these hand-written entries, Holdredge wrote, "Mammy Pleasant's Cookbook — A Treasury of Gourmet Recipes From Victorian America." (The pejorative term "Mammy," still used in the 1970s, would no longer be acceptable today.)
Published in 1970, the publisher's preface said, "From Boston to Charlestown to New Orleans to San Francisco, Mary Ellen Pleasant cooked her way to fame, fortune and a fantastic power over some of the most influential citizens of the 19th century."
To create the cookbook, Holdredge had to reduce the large quantities required to feed her boarding-house patrons. She also had to decipher Pleasant's notations for ingredients and adapt the cooking methods and times to a modern kitchen.
Much remains unknown about the woman, who is buried in Tulocay Cemetery in Napa. Her birth year, place and parentage were contradicted by Pleasant herself. In one version, she claimed to be born on Aug. 19, 1814 in free Philadelphia to an African American mother from Louisiana and Hawaiian, silk importer father.
Years later, Pleasant said she began her life as a slave in 1817 born to a Voodoo priestess and John H. Pleasants, a son of a Virginia governor.
A third version states Pleasant was born at an Augusta, Georgia plantation to her enslaved mother and white plantation-owner father. Pleasant had one blue-colored eye and one brown eye and very light skin color, which indicates she was partially of European descent.
Although she could pass as being white, it was her keen intelligence that won Pleasant her freedom. Americus Price of Price's Landing, Missouri, a wealthy plantation owner who purchased Pleasant, when she was around 9, sent her to an Ursaline convent in New Orleans for a formal education.
Realizing the risk of educating an African American in slave-holding territory, a year later, Price sent Pleasant to Nantucket Island, Massachusetts, circa 1824. Her destination was the home and shop of Mary "Grandma" Hussey, a Quaker.
There, Pleasant began her culinary career. She learned to cook using an open fireplace "stove" outfitted with skillets and spiders—three-legged frying pans and deep plates of block tin that were surrounded by hot coals for baking. The ingredients were in bulk and raw form.
Pleasant's Nantucket Island era ended in 1839 after the store burned down and Hussey's death. She relocated to Boston where she married a part-Cuban plantation owner, contractor and abolitionist, James Smith. The couple split their time between his Charlestown, West Virginia plantation and Boston.
Pleasant learned about cheese making and smoking her abundant supply of pork and mutton in West Virginia. While in Boston, the couple participated in the anti-slavery movement, hosting meetings and dinners for abolitionists.
According to Holdredge, "Mary Ellen soon had a knowledge of New England cookery to which she added seasonings quite her own. For example, to "creamed clabber," (cottage cheese), she added marigold petals that had been steeped in hot water and crushed to extract their slightly bitter taste, brown sugar and nutmeg. To sauces for fish, Pleasant added lemon verbena.
James Smith died in 1844. According to some accounts, by then, she was embroiled in an affair with Smith's plantation overseer, John James, "J.J.", Plaissance — eventually changed to Pleasants. After giving birth to their daughter, Pleasant married JJ.
For the next eight years, her Underground Railway activities became increasingly precarious. After Pleasant narrowly escaped being caught in a trap, she fled to New Orleans and took refuge with the Crescent City's Voodoo Queen, Marie Laveau.
Holdredge wrote, "Mary Ellen's position as an agent remained perilous and under Marie's guidance, the Underground Railway agent was turned into an accomplished cook."
Pleasant found work as a cook at a Louisiana plantation, but Holdredge noted, "Mary Ellen's outstanding qualities as a cook soon became her undoing. If she remained on the River Road plantation she would eventually be identified as an agent."
In 1849, Pleasant disguised herself as a Quaker and escaped by a ship to San Francisco, where her husband was waiting for her.
"Her arrival was anticipated because she was referred to as 'the greatest cook to ever come out of New Orleans,'" Holdredge wrote. Wealthy San Francisco men began a bidding war to employ her as their personal cook.
Pleasant amassed a fortune cooking for San Francisco's male population. She also owned laundries and boarding-houses. She collected investment information discussed by the men dining at her establishments and shared the information with her financial partner Thomas Bell who made lucrative investments.
Cooking in Gold Rush San Francisco, Holdredge wrote, "to Mrs. Pleasants's surprise, she had made available to her nearly everything she needed to enhance her (culinary) reputation."
Although some ingredients were of poor quality or extremely expensive, such as eggs costing $3 a dozen, "always one to face up to any difficulty, Mary Ellen soon settled these problems herself by buying a place in the country." At her "Geneva Cottage," she planted produce gardens, orchards and raised chickens.
Pleasant continued her Underground Railway activities by helping former slaves arriving in San Francisco find jobs and shelter. In 1858, she returned to the South to meet the fiery abolitionist John Brown. She gave Brown $30,000 to help finance his ill-fated raid on the Harper's Ferry Arsenal. When he was apprehended, a note from Pleasant was found on him, but it was signed only with her initials. The officers misread "MEP" as "WEP."
After the failure of Brown's campaign, Pleasant focused on California and fought pro-South sentiment through various means, which included destroying the office of The Expositor, a pro-Confederate newspaper.
In 1866 and 1868, Pleasant successfully sued San Francisco streetcar companies for not allowing her to ride on their vehicles.
Concurrently, Pleasant managed the households of San Francisco's rich and famous, orchestrating lavish parties, "where the mirrors reflected the greatest people of the period," according to Holdredge.
Pleasant's affinity for lawsuits eventually became her downfall, creating suspicions and damaging rumors as well as depleting her finances. Impoverished and near death, Pleasant was cared for by a friend with Napa ties, Olive Sherwood. Following Pleasant's death on Jan. 4, 1904 at the age of 89, she was buried in the Sherwood plot at Tulocay Cemetery.
Her marker reads: "Mother of Civil Rights in California. Friend of John Brown."
Years later, according to Tulocay Cemetery historian Nancy S. Brennan, a West African-influenced metal sculpture was placed at her grave. Brennan added, "It represents 'a forceful stand, holds a body of purpose' and Mary Ellen Pleasant."
As for her culinary legacy, the publisher of the cookbook of her recipes, said, "because she lived in the areas where the cuisine was the most colorful, (Mary Ellen's) cookbooks become an anthology of the regional gourmet cookery of 19th century America."
Lemon Pudding
1/2 teaspoon baking powder
1 1/2 cups granulated sugar
2 tablespoon butter, melted
2 teaspoon grated lemon rind
Preheat oven to 375 degrees.
Combine dry ingredients in a bowl, set aside.
Beat egg yolks. In a separate bowl, beat egg whites, to stiff peaks. Add sugar to yolks, mix to incorporate, fold in beaten egg whites, add in flour mixture alternately with milk, stir to incorporate after each addition. Blend in melted butter and finally lemon rind and lemon juice.
Pour mixture into a baking dish, set down into a shallow pan of hot water. Bake until firm and nicely browned at 375* for 40 to 45 minutes.
An option suggested by Holdredge is to turn it out into a serving dish, with a cake layer on top and a custard layer at the bottom and serve with sweetened whipped cream.
WATCH NOW: THE ORIGINS OF BLACK HISTORY MONTH IN THE U.S.
CHECK OUT THE SNACK STATION THIS NAPA FAMILY MADE FOR DELIVERY DRIVERS AND ESSENTIAL WORKERS
Catch up on Napa County's top news stories