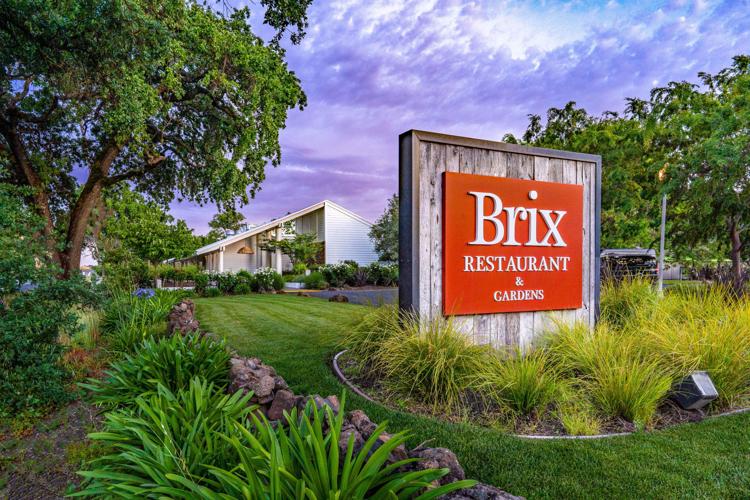 The newly renovated and energized Brix restaurant just north of Yountville on Highway 29 may have the finest outdoor dining views in all of the Napa Valley. After being closed for nearly four months the space has been transformed. Spacious and bright, the updated dining room spills outside through large doors to an expansive lawn that is surrounded by well-tended gardens and verdant vineyards, the views melting westward into the blue-toned Mayacamas Mountains.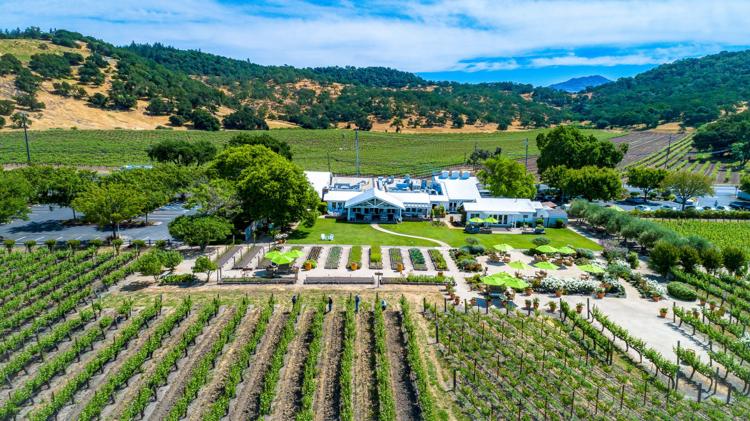 This is a perfect spot for sunset-gazing while enjoying a cocktail or glass of wine while nibbling on appetizers, and the ambience and expressive new cocktail program are wine country at its finest. The food and service, however, are more erratic. No matter, most guests will likely not notice as they'll be smitten by the welcoming vibe of the overall experience.
For those versed in Napa Valley lore, Brix took the place that had initially held one of the valley's early culinary epicenters — the Grape Vine Inn. Local farmers and vintners of the 1960s and '70s gathered there for a quick martini after work or to enjoy a horseradish-encrusted prime-rib dinner accompanied by a baked potato in tinfoil.
At that time the nearly windowless dining room had dark wood booths, a large, smoky fireplace and a lounge piano at which tux-clad pianists entertained with tunes ranging from Sinatra to Chopin on weekends. Then the bar faced a windowless wall and cigarette smoke clouded the heavy and breezeless air.
Today the entire energy of the space has been transformed from that earlier time. In a move that seems obvious in hindsight, the bar has been shifted to the center of the main dining room, encouraging guests to gaze outward through large windows and open glass doorways or at two TV sets that are tastefully only turned on when ask.
The addition of eight phone/laptop charging stations at the bar, high-backed comfy stools, open booths and tables with no tablecloths, custom-made mosaic floor tiles and contemporary chandeliers provide a modern, comfortable wine country ambience.
While her father and mother, Don and Donna Kelleher, first opened Brix in the mid-1990s, Valerie Kelleher now oversees the operations here and at the family's 16-acre Oakville vineyard. Grapes from the vineyards are sold to other wineries or made into two different Cabernet Sauvignons by winemaker Craig Becker, who also makes a few other Kelleher wines, all of which are available by the glass or bottles from the wine list.
"We've always wanted to create a comfortable space where people can feel they own a little piece of Napa Valley," Kelleher said. "Lots of locals and non-locals have had milestone events here and come back and share those experiences with us — a wedding, graduation or maybe just getting together with friends and family."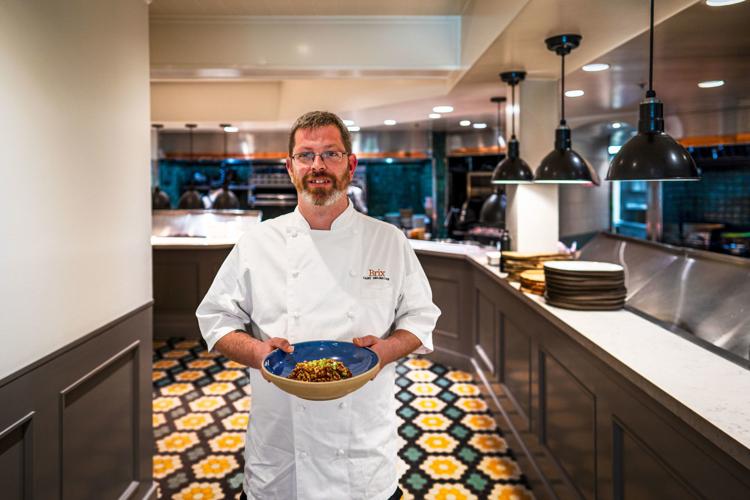 The food
For the last eight years Chef Cary Delbridge has been in the Brix kitchen — first as sous chef and for the last five years as executive chef. Delbridge grew up in Alexandria, Virginia, where his family owned restaurants, including the Edinburg Mill located in Virginia's Shenandoah Valley.
"I grew up in the restaurant business and eventually worked at the French Bistro Bis in Washington, D.C., during high school," Delbridge said. "After graduating in 2000 I ended up in San Francisco and worked for a series of pretty amazing chefs."
Like many on a quest to become a chef, Delbridge came to the Bay Area intent on working at the finest restaurants as he improved his skills and expanded his experience. In little more than a half-dozen years he'd worked at Sausalito's Ondine and at numerous San Francisco restaurants, including Farallon, Town Hall and the Supper Club before spending a couple of years as a "mercenary chef," where he worked in private catering and helped launch Forage SF (now Forage Kitchen in Oakland), which was one of the area's first pop-up restaurants focused on organic and foraged ingredients.
Experimenting
With the new renovation Delbridge and team are experimenting with new flavors, textures and dietary options, including vegan alternatives and a few dishes with a decidedly Japanese cuisine-umami influence.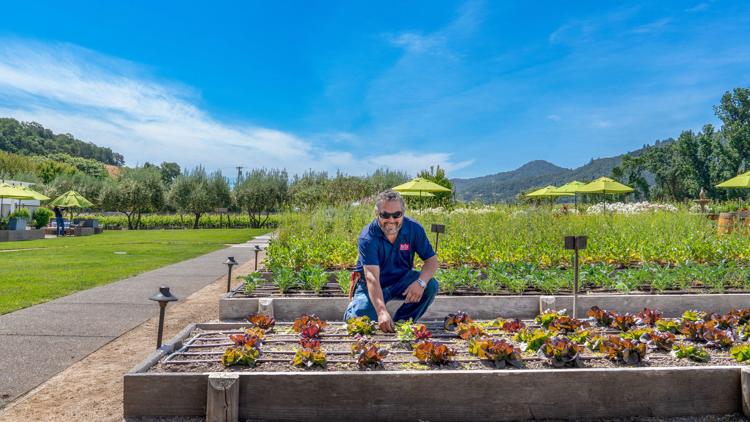 Brix is open every day for lunch and dinner (brunch on Sunday), and the menu includes an eclectic selection of items that seems to be an attempt at providing nearly any taste preference a favored-flavor option. Many of the dishes include ingredients grown in their own organically farmed gardens and small orchard that boarders the vineyards. What now amounts to a small farm has been tended by property manager Guillermo "Memo" Rodriguez for the last 11 years.
Starters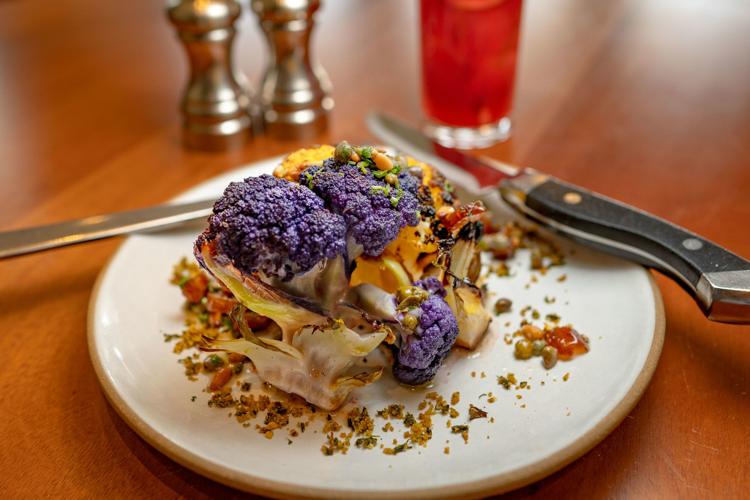 Dinner starters range from $9 to $20 and include nibbles for the table such as charred edamame beans lightly covered with mild chili oil and soy sauce ($9), smoked salmon toast ($14) or Chinese-style shrimp and pork potstickers ($14). There is also the super-rich kale salad with pear, Point Reyes bleu cheese, pumpkin seeds and warm bacon dressing ($13) or the entree-worthy fire-roasted multicolored cauliflower with chewy dates and crunchy pine nuts, all dressed with chimichurri and a lemon-brown-butter vinaigrette ($13).
Entrees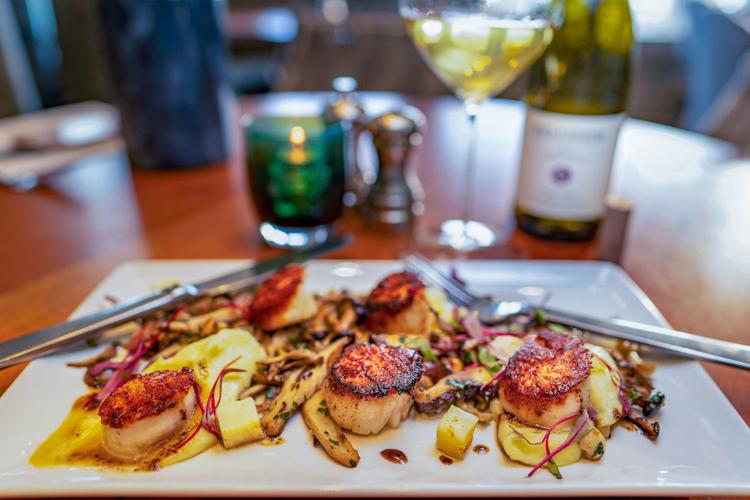 Dinner entrees include the towering Brix burger ($21) topped with a mind-boggling array of adornments — smoked goat cheddar, bacon marmalade, house-pickled peppers, mushrooms and chipotle remoulade served with Parmesan fries. Or the popular caramelized-yet-creamy-inside sea scallops ($38) that are accompanied by potato puree, savory forest mushrooms, sweet corn, hazelnuts and truffle vinaigrette.
Desserts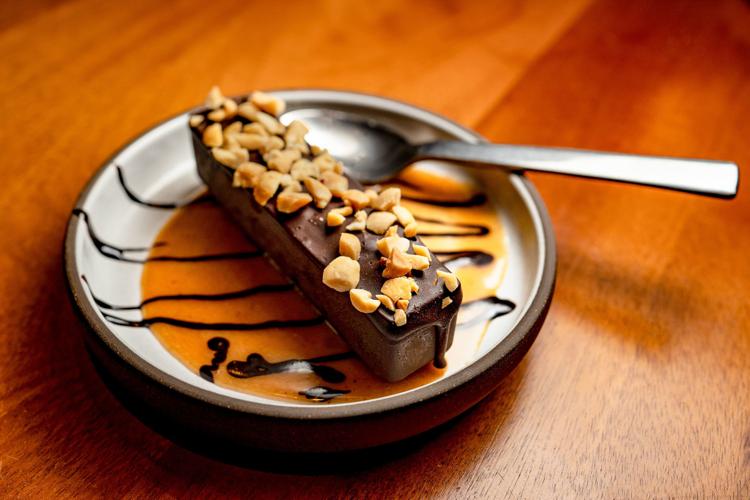 Desserts include the "Snikers" ice-cream bar with crunchy salted peanuts, sweet bourbon caramel and Gianduja chocolate ($10), which has a retro taste and look, as do the S'mores ($13) that include a smoldering bowl of fire with which to toast the springy and light house-made marshmallows. The homemade graham crackers were unfortunately limp and chewy.
Eclectic
The sheer cultural breadth of the menu — Argentina, Japan, China, France, Italy, America, Latin America, Middle East and more — would provide a challenge for any kitchen under any talented chef, and here it is no different. The result is unevenness in the quality and execution of the dishes. While many of the items have delicious components, it often feels like the kitchen is trying too hard to be unique or attempting to please far too many tastes.
Take, for example, the Niman Ranch New York steak ($49), which has an addition of moist, oddly minced "truffles" (that were the strangest and mildest I've ever eaten) and a few strips of fried abalone (sustainably farmed and local) that are more of a distraction than a compelling addition.
Or the Cajun red beans ($23) that include wonderfully smoked tofu and umami-rich koji but have a spicy sauce blended into the entire dish that transforms what might be an otherwise interesting experience into one that is unidimensional and in direct conflict with any beverage except perhaps a super-cold beer.
Service
The service is friendly but uneven. I've been in numerous times and have had a range of experiences from my having to ask for silverware and water to nearby tables finding it hard to wave down a server.
Some of this is just growing pains, but it all speaks to the broader staffing issues within the region. For a host of reasons, the demand for waitstaff is stiff and the supply shrinking. The reasons are many: lack of affordable housing, higher-wage alternative careers and the replacement of a seasoned stationary workforce with what has become a more temporary short-term career option for many.
The result is a challenge to maintain a consistent level of service. Brix is no different. And although the staff has been cordial and accommodating, there is just nothing one can do to replace experience — unless, of course, a venue goes toward more self-service options, as is the trend for many owners who are shifting toward the "fast-fine" or "fast-casual" options, such as what Lazy Bear and its more casual spinoff, True Laurel, have done in San Francisco.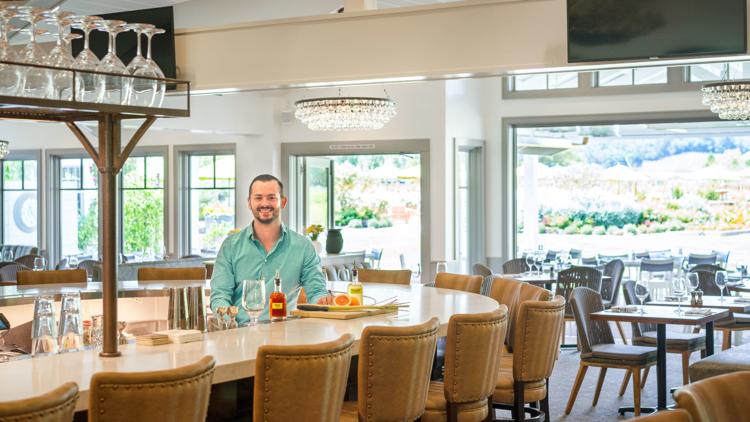 The libations
The cocktail program (all $16) has been metamorphosed into an attraction in its own right. Randy Languerand, the new bar manager, has developed a collection of vibrant yet focused cocktails and mocktails and describes himself as taking a "culinary arts approach to bartending."
Languerand attended Napa High and for the last five years was in Hawaii refining the art of bartending. His use of house-made fruit syrups, herbs, flowers and spice concoctions and his ability to blend complexity with balance is reminiscent of local mixologist Scott Beattie when he was just gaining people's attention 20 years ago. My favorite (at the moment) of Languerand's creations is the Smokin' Passion Margarita that infuses lemongrass, yuzuri and passion fruit with vanilla-bean-infused raw blue agave and Espolon Blanco.
Each cocktail item includes its Brix number on the menu, indicating each drink's sweetness level. The word "Brix" signifies the sugar content of any aqueous solution, with 1 degree Brix equivalent to 1 gram of sucrose for each 100 grams of solution.
Winemakers are intimately familiar with Brix because it represents the ripeness level of grapes and indicates the final alcohol level of a wine. This connection to wine was the inspiration for the restaurant's name. I love this and hope this innovative idea catches on with other establishments and even spreads to include beer and wine.
The wine list, which is heavily locally focused, includes some impressive flight options of three 3-ounce pours of hard-to-find gems such as Kistler chardonnay and wines from rock-star winemaker Philippe Melka. There is a $20 corkage fee. A limited selection of ciders and beers includes Napa's St. Clair Brown "honey wheat" as a standout ($11 for a 16-ounce pour).
A beautiful view
The newly renovated Brix restaurant is exceptional on many levels: The views are stunning, they have a reported nearly 50/50 gender ratio in their staff and leadership, they grow some of their produce organically and make wine from the grapevines on the property. The dining room is clean and bright, and the vibe is friendly and comfortable. The view is one of the — if not the — best of any restaurant in the valley.
The family owners are actively involved in the community, and according to the website it one of the few venues in the valley that permits weddings and other large events (up to 250).
Reminiscent of the Grape Vine Inn days, every Sunday night they serve prime rib (sans tinfoil-wrapped potatoes), and live music wafts in from the garden terrace on Wednesday evenings.
As the excitement of the reopening settles and the menu gains focus I expect Brix will grow into a must-go-to destination for both visitors and locals alike.
Vegan-friendly Cajun red beans include smoked tofu, koji and spicy chili sauce.
Charred edamame beans lightly dressed with mild chili oil and soy sauce
Desserts include "Snikers" ice-cream bar with crunchy salted peanuts, sweet bourbon caramel and Gianduja chocolate
Satisfy your cravings
With our weekly newsletter packed with the latest in everything food.