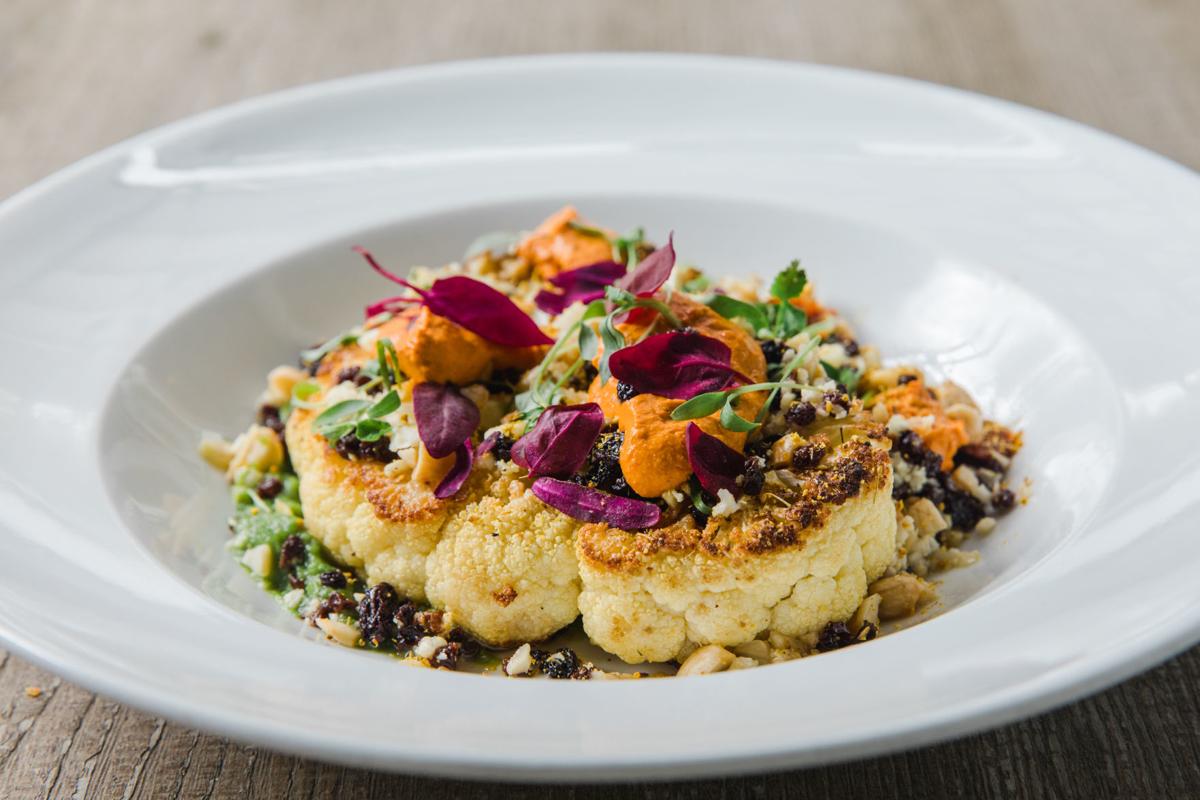 Originally founded as French Blue in 2012, parent company, Auberge Resorts, renamed the St. Helena restaurant Archetype in 2014.
In 2018, owners Ann Ernish-Backen and Howard Backen rebranded Archetype to reflect their "values for family, community, and health" with a menu Ernish-Backen describes as "celebrating and showcasing a plant-forward lifestyle, wild seafood, and pasture-raised meats."
Executive Chef Antony Paone said, "We came together over a shared desire to nourish people in a real way, providing clean, ethically sourced, healthful food in a beautiful space. While there is a lot of lip service in the food service community, we take this charge very seriously."
While currently not open to the public, the Archetype team is directing their efforts towards community support, including donating food to the local food bank, their employees, and others in need.
In the meantime, Chef Paone and the Backens shared a taste of Archetype, a customer favorite, the cauliflower steak. Paone says, "One of the recipes that seems to have resonated with guests, and we quite enjoy serving, is our cauliflower steak. This dish was conceived of as being vegan, gluten and grain-free, in order to be a flavorful entrée that can satisfy almost all lifestyle choices."
Cauliflower Steak with Garlic Purée, Romesco Sauce, Fermented Cauliflower, Currant-Almond Relish, and Anise-Flavored Herbs
Put one cup of peeled garlic in water (covered by about an inch) with one tablespoon of salt and bring to a boil.
When garlic is soft, take it off the heat and let cool. When cool, puree the garlic, water, and parsley in a blender.
Romesco sauce
While a traditional Romesco sauce uses bread to thicken, Archetype omits bread to keep the dish gluten-free.
Combine the first three ingredients and pour enough olive oil over them to just cover them.
Cook until the nuts and garlic start to become a little brown. When this happens, strain out the oil (but do not discard).
When cool enough to handle, blend the nuts, garlic, and oil with an equal amount of roasted red peppers. (For example, if the nut/oil/garlic mixture is 2 cups, use 2 cups of peppers.)
When this is all blended, put in a bowl and season to taste with salt and then add enough red wine vinegar to have the same acidity as a vinaigrette, about one cup.
Currant-almond relish
1/2 cups almonds, toasted and coarsely chopped
1/2 cup of dried currants
1/2 cup riced raw cauliflower
Fermented cauliflower
(Archtype purchases this from a company called Golden State Pickle Works, based in Petaluma, which specializes in fermented vegetables and condiments. It consists of raw cauliflower fermented with onion, garlic and dried chiles.)
Anise-flavored herbs (any of – or a mix of – basil, tarragon, chervil, anise hyssop)
Cut two-inch steaks from the cauliflower where it connects to the stem, so you have a full steak, reserving 1 cup of the scraps for later use. You should get two good slices per head.
(Archetype uses some florets for their beet hummus dish, and grates the rest for a cauliflower crust pizza, or you could use your scraps for cauliflower rice.)
Lay the steaks on a parchment-lined sheet pan. Brush lightly with olive oil, and salt well. Bake in an oven at 350 degrees until soft, but not falling apart, with a small amount of color, but not burned.
Once they are done, set aside.
Place a generous 2-3 tablespoons of garlic purée on the plate.
Place a generous 3-4 tablespoons of Romesco sauce on the plate.
Place one piece of hot cauliflower steak on top.
Place a dollop of fermented cauliflower on the side.
Toss the almonds, currants, and riced cauliflower in a bowl with salt to taste and enough vinaigrette to moisten and season well. Drizzle this relish on top of the cauliflower.
Sprinkle a little fennel pollen on top.
Garnish with anise-flavored herbs.
Satisfy your cravings
With our weekly newsletter packed with the latest in everything food.