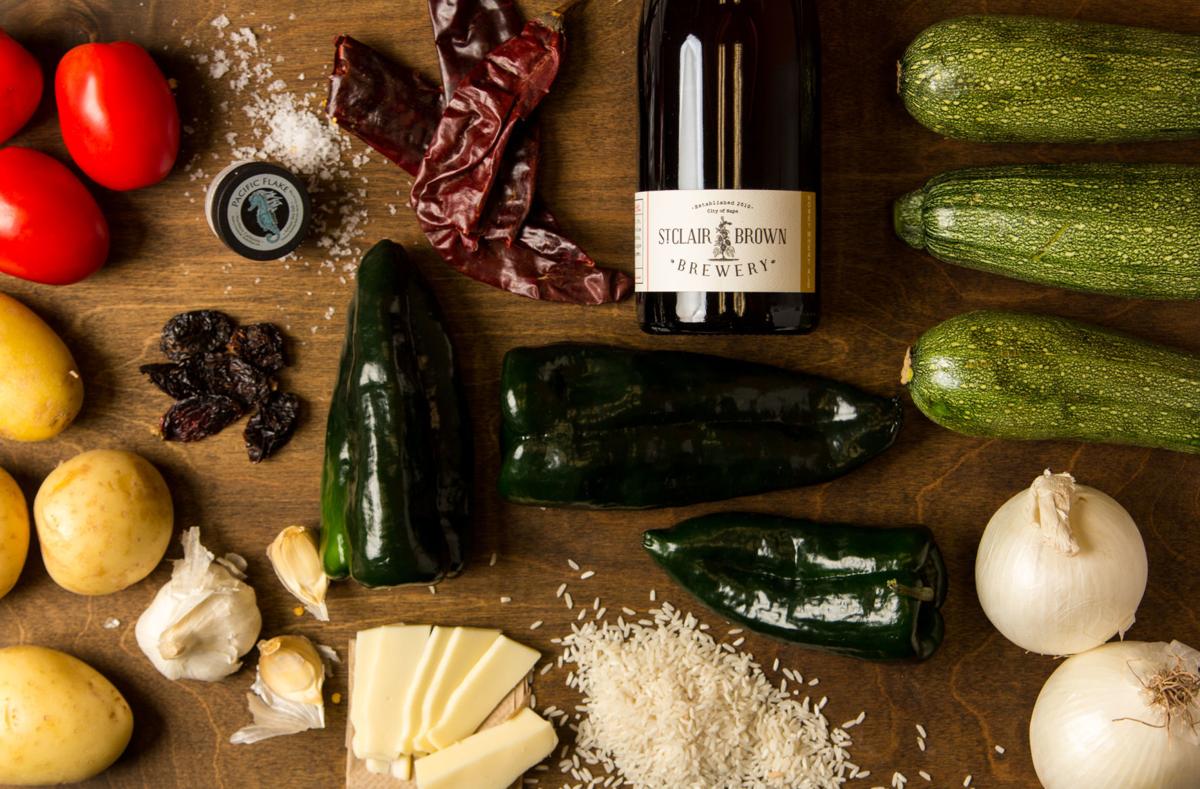 Chef and co-owner Valentín (Nes) Atayde of Mercadito Food Truck hails from Mexico City, but moved to the U.S. in 2006. The business recently celebrated its fourth anniversary in Napa on April 16. He and his partner decided a food truck was an ideal "stepping-stone" due to the high cost of restaurant rental space.
"I have mentors from the restaurants where I have worked around the Napa Valley, I took culinary classes, I am constantly reading cookbooks and, of course, I have the curiosity and desire to learn something new every day, which I consider to be the most important and helpful thing to keep growing," Atayde said.
Atayde's menu includes authentic Mexican dishes that are both visually pleasing and flavorful. He sources ingredients from local farmers and food purveyors with whom he loves to engage in conversation. "I enjoy serving fresh bread from the local bakery and making things from scratch as much as possible. My salsas are made from fresh tomatillos, not canned. I use fresh pineapple on my al pastor, make our chipotles in adobo, and fry our own tortilla chips."
As for the future, Atayde said Mercadito is partnering with St. Clair Brown Winery & Brewery to create a garden-to table program. "Just imagine sitting in a culinary garden where the vegetables and herbs you are eating are grown and enjoying a glass of beer or wine that was made on the facility about 100 feet away. You cannot get more local than that. Pretty cool, isn't it?"
Atayde has a tagline for his business: "Food for Everyone." What could he make that would meet the most restrictive of dietary restrictions?
"Sounds like a challenge!," he said "Challenge accepted! I will figure something out and keep it on available so you can order any time." Within 24 hours, he presented a menu of five main courses and one side. Below is his recipe for one of those customized meals, vegan chile rellenos, which he plans to add to his rotation.
Mercadito Food Truck is located at 816 Vallejo St., Napa, at St. Clair Winery & Brewery. Pickup and delivery are available daily from noon until 7 p.m. except Wednesdays and Sundays. Atayde's special Vegan Night is every Friday from 4 to 8 p.m. Place orders for individual dishes and multi-serving meal kits at mercaditofoodtruck.com.
4 ounces Mexican squash, (120 grams), diced
4 ounces yellow potatoes, (120 grams), diced and boiled
1.5 ounces white onions, (40 grams), sliced
4 ounces vegan mozzarella cheese, (120 grams)
750 ml of St. Clair Brown Red Ale, cold
4 tomatoes, (500 grams), boiled
1/2 white onion, (140 grams) quartered
2 chipotles peppers in adobo
4 guajillo peppers, seeded.
Blend all the ingredients for the sauce then strain the mixture.
Add oil to a medium saucepan over medium heat and cook the sauce for 7 minutes. Set aside.
Rinse the poblano peppers, then dry them.
Place each pepper over a gas burner and char the peppers on both sides. Once they are evenly blackened, put them in a plastic bag and let them sweat for 5 minutes. This will help loosen up the skin.
In the meantime, place a small pan over medium heat and add oil, squash, potatoes, and onions. Cook them until they get nicely charred, but not too soft. Set aside.
After 5 minutes remove the peppers from the bag and rub the skin off. I recommend using a towel for an easier and cleaner process.
Make a small opening on the side of the pepper and stuff them with the potatoes, squash, onions, and cheese. Using a toothpick, close the small opening to avoid spilling the stuffing.
Set a pan over medium heat and add the stuffed peppers, cook them for 35-45 seconds on each side. We are looking for light char and melted cheese, nothing more.
Serve your chiles rellenos with a side of rice (arroz rojo recipe on Mercadito's website, mercaditofoodtruck.com), and top it with your tomato sauce.
For wine lovers, St. Clair Brown Pinot Grigio delivers floral aromatics, fruitiness, and mouthwatering acidity without overpowering the dish.
And the beer? Pour the St. Clair Brown Red Ale into a large, cold glass and enjoy! (Drinking straight from the bottle is allowed too, no one is watching).