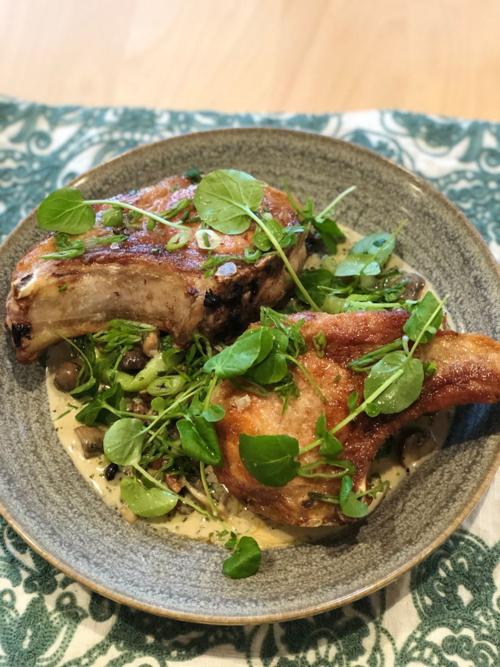 While Napa's Angèle restaurant in Napa is temporarily closed, chef Philip Moratin, sheltering at home, is working on new menus for when they reopen. Realizing that many of us at home are using new-found time to try cooking, he has decided, "Hey, we can help with that." They will be providing weekly recipes for his dishes, as well as ones for favorite Angèle cocktails, on the restaurant website angelerestaurant.com to sip while you cook.
Here is Moratin's recipe for a pork chop with a distinct French flair.
Roasted Bone-in Pork Chops with Mushroom Madeira Sauce
7 oz. smoked bacon, cut into bit-sized pieces
8 each, spring onion or scallions
1 Tbsp. each, minced chervil, tarragon and parsley
1 bunch cleaned watercress
Set out pork chops and allow to come to room temperature.
Clean and cut mushrooms to desired size. Once washed, place them onto a paper towel lined tray and allow to dry.
Trim and wash spring onions, keeping them whole.
Bring a small pot of salted water to a boiled and cook the spring onions until tender, about 1 minute. Drain and rinse under cold water until cooled, then place on a tray and set aside.
In a large sauté pan, heat 1 tablespoon of olive oil. Then add in bacon and cook until crisp.
Add garlic, shallots and thyme and gently sweat until cooked and shallots are opaque.
Once cooked, add Madeira to the pan and deglaze until anything stuck to pan is mixed in. Bring to a boil.
Stir in heavy cream, herb mixture and butter and allow sauce to reduce slightly, about a 1/3, on medium heat.
Preheat oven to 425 degrees. Season both sides of pork chop with salt.
In a large sauté pan, heat 2 tablespoons of olive oil on medium heat.
The pan will be ready when it begins to smoke slightly. Reduce heat to low and place pork chops into sauté pan. Put pan in pre-heated oven and cook for 8-10 minutes. Remove and allow to rest for 10 minutes.
Finishing touches (while pork is resting):
Warm sauce. Add in the spring onions to your sauce and warm through. Lastly add in watercress and wilt.
To serve: Place sauce on your serving dish. Place pork chops on top and enjoy.
'Power-Through Bowls' from C Casa go to the Queen
During the coronavirus pandemic. Catherine Bergen, the owner of C Casa, in Oxbow Public Market, wanted to do something to help. So she and her team are preparing "Power-Through Bowls" to deliver to the Queen of the Valley hospital healthcare staff on a weekly basis. To date, they have delivered more than 400 bowls.
Meanwhile, her innovative taqueria remains open for pickup or DoorDash delivery through the website myccasa.com/napa. On Saturday and Sunday, the breakfast menu is also available until 3 p.m. Hours are Monday through Friday, 11 a.m. to 8 p.m., Saturday, 8 a.m. to 8 p.m, and Sunday, 10 a.m. to 7:30 p,m. Call 707-226-7700.
"Our mission at C Casa began with a desire to serve healthy and fresh food inspired by the foods of Mexico," Bergen said. "With that in mind, these bowls were designed for a couple of reasons. First, as a lunch or dinner made with all kinds of fresh ingredients that are not only delicious but also nutritious. And second, as a meal that could be packed up and eaten a couple of hours later for those on the go.
"But now, a third reason has developed in light of the current times, to create meals with ingredients you already have in your kitchen pantry and refrigerator. Below are just guidelines for creating your own bowls, let your imagination go wild! And let it nourish you as well."
The C Casa Power-Through bowls contain these core components:
Greens: Tossed with a vinaigrette or even with simple extra virgin olive oil and sea salt.
Protein: Animal- or plant-based. They are using rotisserie chicken or sweet potatoes atop power greens.
Salsa: Pico de gallo, corn salsa or fruit salsa
Legumes or beans: Black beans, chickpeas or lentils
Rice: Jasmine rice but any rice you have works
Guacamole: Because we love it so much!
Crema or Aioli: Avocado Crema or Chipotle Aioli would be our first choice.
Finish the bowl with a squeeze of fresh lime and cilantro.
Satisfy your cravings
With our weekly newsletter packed with the latest in everything food.