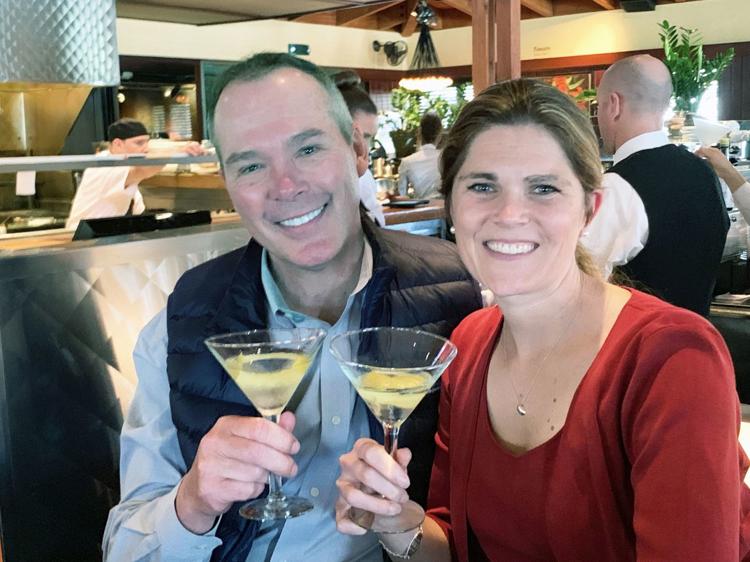 Napa, whether describing the city or county, is always synonymous with wine country. Yet after a day of walking through wineries sipping wine, it is a cocktail many people make their beverage of choice as they ease into the evening.
Presented here are local bars known for serving hard liquor. And good cocktails. This is not a "best of" story; this is not a "popularity contest," because it is hard to find a bar that is bad anywhere in the entire region. You might like dives, you might prefer posh. All can be found here. And after all, the hunt is half the fun.
The view from the top draws people into the Archer Hotel Napa's Sky & Vine Rooftop Bar. This is where you look out over Napa. Because this is the tallest building in Napa, no other buildings block your view. The vistas are sweeping and unsurpassed, even on one recent overcast and rainy afternoon.
A bartender taking his break in the bar six floors up was reading a book in the empty establishment, which was not yet open for business this day. "We tend to play around with our cocktail list," he said, asking to remain anonymous because he did not have authority to speak to the press.
"We try to introduce our patrons to the funky stuff." His pick for most popular cocktail is the Garden in the Sky, which – described on the menu in all lower case letters – is made with "Hendrick's gin, elderflower liquor, basil, mint, cucumber, lime."
The cocktail has notes of citrus, "and lighter, sweeter notes from the syrup we make here using all local produce," the bartender said.
At the Red Hen Bar and Grill in Napa, Michelle Vogen and Patricia Flanagan are enjoying margaritas. Margaritas at the Red Hen are not part of Happy Hour pricing, yet no one really cares. They are still the favorite.
Vogen, a local resident, is a Realtor with D'Vine Properties. Flanagan, also a local, is a construction safety director in the East Bay town of Dixon. "Weekends are for wine and socializing," said Flanagan. "Weekdays after work are all about cocktails." Especially Red Hen margaritas.
"It's a nice, refreshing drink. Sometimes you just want something other than wine," Flanagan said.
Sara Courtney is a bartender at Rutherford Grill in Rutherford. She has worked here since 2000 and said both locals and visitors make this their bar of choice.
Courtney said the Grill's most popular drink is, just like the Red Hen's, a margarita. And there is a twist. "We don't mess with our drinks," she said. Rutherford Grill doesn't even have a cocktail list.
"We make straight-forward cocktails. Nothing fancy but always the best," she said. "All of our cocktails are made from top shelf liquors at well prices."
Their margarita is made with Azuñia Tequila from Glendora, in Southern California, and Combier Liqueur D'Orange, imported from France. And they buy as much local and seasonal produce as they can for flavorings.
Sheri Seville has worked here even longer than Courtney. Seville has been a bartender at Rutherford Grill since it opened Upvalley in 1994 just off Highway 29. "I was hired right outside," she said, pointing to what is now a parking lot. "It was a dirt field the day I was hired."
For Kate and Steve Spadarotto, who both work in the wine industry, their drink of choice is always a gin martini with a twist of lemon. And when they are having one, they are almost always at the Rutherford Grill. Kate is a Realtor with Compass, and using her maiden name Jones, she is also sole proprietor of Blue Oasis Wines. Steve is CEO of Far Niente Wine Estates in Oakville, down the road from Rutherford.
"This is a special outing we like to take after working all day with wine," Kate said.
"We don't talk business when we're here," Steve added. "This is our way of celebrating our being together." Work can be a bit of a roller coaster, Steve said. "It's nice when we can be out together" at the end of the day.
You have free articles remaining.
Mike Quick is sitting at the bar nursing a beer and working on his laptop. He said he switches it up between beer and cocktails. Quick is a sales representative with Young's Market Company, a wine and spirits distributor based in Santa Rosa. He was born and raised in St. Helena.
"I'm working all day, and all of my friends know where I will be at 3 p.m." They just might not know what he's drinking.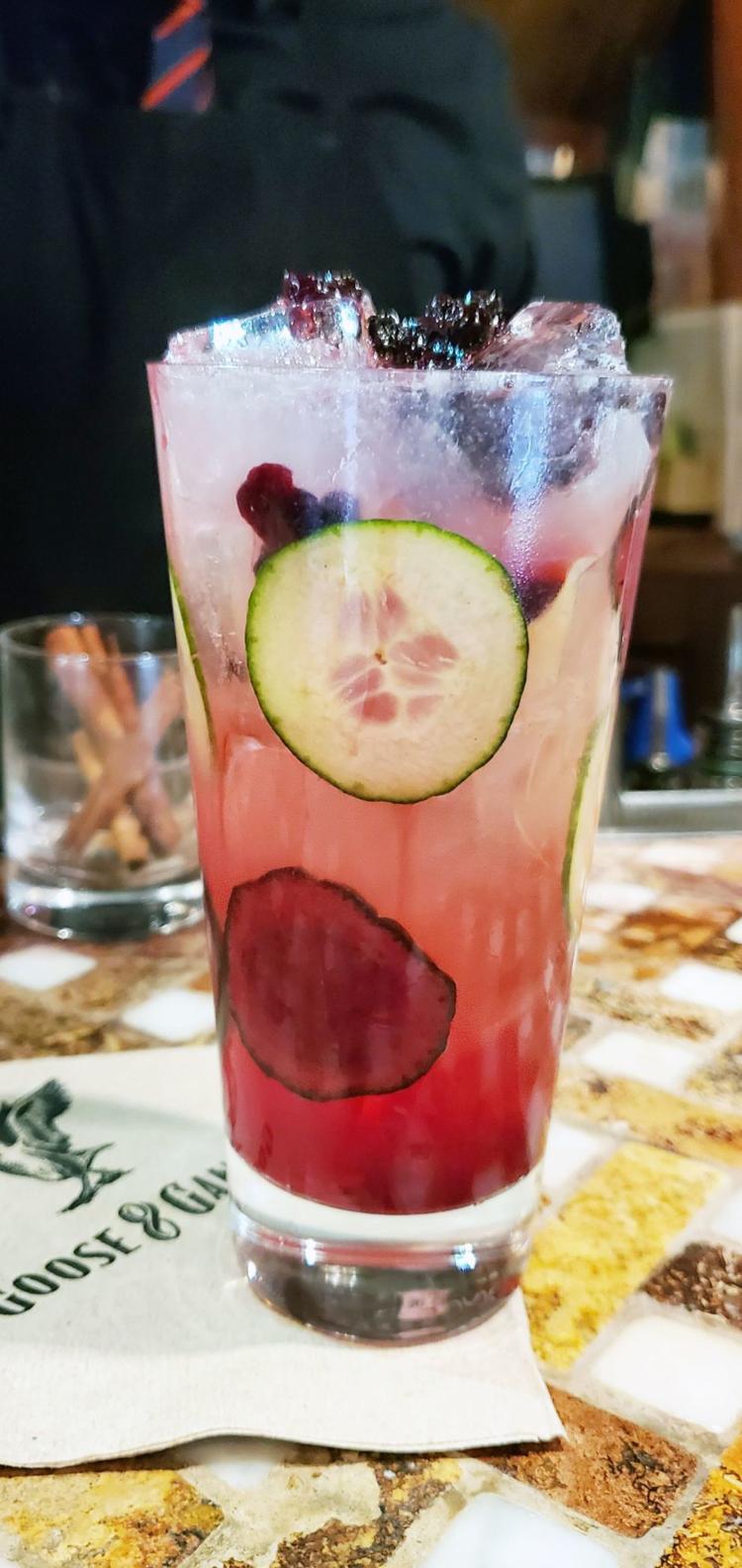 The Goose and Gander is about four miles north of Rutherford in St. Helena. The restaurant is upstairs, the bar downstairs. Walk down the stairs for your cocktail. The bar is dark, yet inviting, and is loosely fashioned after an old-time speakeasy. Bartender Mark Murgas, who lives in St. Helena, said cocktails are "something different to drink after you are tired of drinking wine all day."
Visitors who come here for a Cucumber Collins will often ask for a fork to get at its zingy pickled cucumbers. Murgas uses Square One Organic Vodka, adds the flavorful pickled cucumbers, lemon juice, Yuzu – a Japanese citrus – seltzer, and local produce for garnish. Murgas also said the Goose and Gander is the only place in St. Helena that stays open until midnight.
Alexandra and Dustin Brown are from Orlando, Florida. Alexandra is drinking a Cucumber and Collins. The Goose and Gander is their favorite bar in the county.
"It's just so refreshing to have this after tasting wine all day long," Alexandra said. She owns bridal stores in Orlando. Dustin works in e-commerce and logistics. "We love it here," he said, "we come here every time we visit Napa.
"It's like we are taking a break from wine in the middle of the day," Alexandra said. "Like a brief intermission."
Michelle and Jason Manzagol and Lindsey and J.R. Dehring are all visiting Napa from Columbus, Ohio. "Cocktails are a nice break after drinking wine all day," Lindsey said. J.R. added they all love the intimate feeling of the bar. Lindsey and J.R. discovered the Goose and Gander on their first trip to Napa. Now, they wanted show it to the Manzagols, who are visiting Napa for the first time.
If your visit takes you beyond county borders, say into Sonoma; try a cocktail at the Sonoma Mission Inn. One special drink. A cocktail that is also a bit of a secret.
And you can get it only if you know its name. Its name is Capresetini, (cah-PREESE'-teeny). The name is a combination of both the Caprese salad and a martini. Caprese + Martini = Capresetini.
The Capresetini is the brainchild of Walter Schmidt, the senior bartender at the Sonoma Mission Inn. He created it as his entry in the 2019 Martini Madness contest in Sonoma this past February. He won for "most creative." The Capresetini is Schmidt's second win. Two years ago, he won for "best garnish."
Schmidt explained his cocktail as an artistic and drinkable deconstruction of an Italian Caprese salad. A Caprese salad is made with fresh mozzarella, tomatoes and sweet basil. It is seasoned with salt and olive oil. And like a Margherita pizza, it features the colors of the Italian flag: Green, white and red.
"Almost all the ingredients and produce are local, including balsamic vinegar which is made at Sonoma Vinegar Works. And despite having 'Sonoma' in the name, the balsamic is distilled in Calistoga, giving my creation a Napa connection," Schmidt said.
Schmidt starts with Hanson vodka from Hanson of Sonoma, which operates a distillery just outside of Sonoma. He then adds Lillet, which comes from Bordeaux in France. Lillet is a fortified wine and is often enjoyed as an aperitif; it is also often likened to the taste of vermouth.
He then adds bacon, a mozzarella cheese puree rendering, tomato confit, and basil.