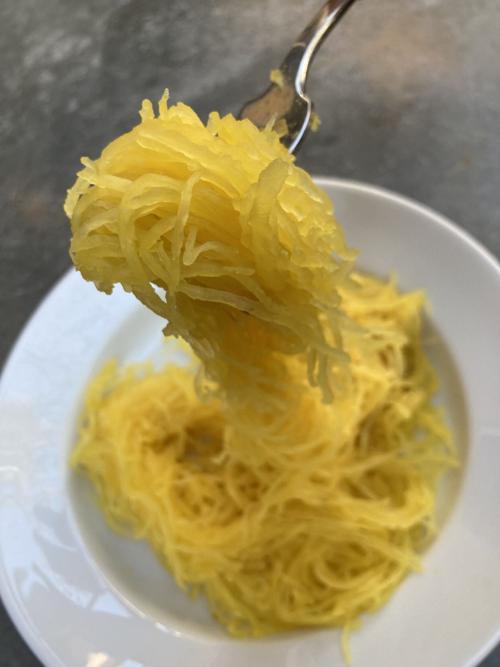 Has spaghetti squash disappointed you, too? Too many recipes out there produce soggy little tendrils that bear no resemblance to the long, al dente noodle alternatives we imagined twirling luxuriously onto our forks. But it doesn't have to be that way. There are three simple secrets to achieving the spaghetti squash of your dreams.
The first is in the cutting. Spaghetti squash strands wrap around the gourd's center like a Slinky. When you stand the squash up like a pumpkin with the stem on top, the fibers are oriented horizontally, circling the north-south axis. In order to have the longest possible squash noodles, you want to cut along the equator, not pole-to-pole the way most people do (and I did longer than I want to remember).
The next trick with this vegetable is getting rid of its water. Spaghetti squash is more like zucchini or cucumber than butternut squash — which is to say, a lot more liquid than solid. If you're after "spaghetti" that doesn't feel like mush in your mouth, you want to cook out as much of that moisture as you can without crisping up the strands. I roast over high heat, then give the squash a good steaming-off period to dry out even more before I dress it.
The third secret is using an oil- or fat-based sauce with a lot of character and as little H2O as possible. Italians have devised many delicious water-free pasta sauces, and aglio e olio, burro e salvia, and briciolata are all fantastic with spaghetti squash. My go-to choice for this veggie, though, is a riff on the traditional Christmas Eve pasta sauce from an obscure little town named Cetara on the Amalfi Coast.
For centuries, the fisherpeople of Cetara have been harvesting fresh anchovies from the Mediterranean – ideally, when the fish are at their fattiest in late spring and early summer – and curing the fillets in sea salt.
After spending several months in a salt-packed barrel, the anchovies shed their excess water and traditionally were ready to be packaged or eaten for Christmas.
Rather than throw away the liquid expelled in the fillet curing process, the clever Cetarese collected those fermented bottom-of-the-barrel drippings, and used them to add a salty, pungent umami punch to their home cooking. (The name of this condiment, colatura di alici, literally means anchovy drippings.)
The amber liquid tastes like ultra-concentrated southeast Asian fish sauce, and is the star ingredient of the Cetarese Christmas Eve staple spaghetti con la colatura: spaghetti dressed with raw garlic, olive oil, pepper flakes, chopped parsley, and colatura di alici.
This dish is so delicious and from such a famous part of the world, it's amazing it isn't better known. But according to Italian fish sauce historian Claire Alsup, virtually no one outside of Cetara had ever heard of colatura di alici until 1993.
Cetara isn't your typical Amalfi Coast town; it's a fishing community that lacks its neighbors' glitzy, millennia-long reputation as a vacation spot for the rich and famous. Because of its vulnerable orientation on the coast, it was under constant threat of invasion for most of its 1140-year existence.
Understandably, the locals tend not to confide in strangers. As a result of all this, what happened in Cetara pretty much stayed in Cetara until the end of the 20th century, when an Amalfi Coast attorney persuaded the colatura producers they were sitting on an untapped gold mine.
In the last 30 years, colatura di alici di Cetara has gone from local families' secret ingredient to a protected DOP and registered Slow Food Presidium that's savored in elegant restaurants up and down the Amalfi Coast, and sold in gourmet shops around the world for more than $7 per ounce.
Tragically, this new fame has also led to intense overfishing of the local anchovies, and Monterey Aquarium Seafood Watch now gives Ionian Sea anchovies an Avoid rating – so if you see some true colatura di alici di Cetara made with fish from the area, it's probably better to take a pass.
Though some Italian purists may scoff, I substitute the less expensive and easier-to-find Red Boat fish sauce for the colatura, since it's also made only of anchovies and salt (no water added), and overfishing in Vietnam doesn't seem to be as dire as it is in the Mediterranean. Yet.
The classic Cetarese Christmas Eve pasta recipe calls for one tablespoon of colatura di alici per person, and about one and one-half times as much olive oil. I really love anchovies, but I cannot imagine eating anything that intense. Like most cooks outside of Cetara, I've adapted those pungent proportions to a gentler level for the recipe that follows. Consider this recipe's ratio a starting point, and adjust the balance of fish sauce, olive oil and pepper flakes to your own personal taste.
Nobody needs to know your secret.
Spaghetti Squash alla Cetarese
Serves 4 as a side dish. If you have real colatura di alici from Cetara, break it out for this dish – just cut the amount of fish sauce by one-third as a starting point, and adjust to your taste.
1 medium spaghetti squash (about 3 pounds)
3 tablespoon buttery olive oil
1 tablespoon fish sauce, preferably Red Boat
1 tablespoon chopped flat-leaf parsley
1 clove garlic, finely grated or mashed into a fine paste
¼—½ teaspoon crushed red pepper flakes, to taste
Squeeze of lemon, to taste
Preheat the oven to 425 degrees. Imagining the squash's stem is the north pole, cut the squash in half along its equator with a large chef's knife. Scoop out the seeds from the center, rub the cut sides with a bit of neutral oil, and roast the halves cut-side down on a lined baking sheet for 40-50 minutes (depending on the size of the squash) until softened. Grab each half with tongs and squeeze to test; you should be able to flex the squash a bit. (If, like me, you inadvertently pull them out of the oven a little too al dente, a few minutes in the microwave will sort things out.) Remove the sheet from the oven, turn the halves cut-side-up on their sheet and let them sit at room temperature for five minutes to steam out excess moisture and cool off a little.
Meanwhile, make the Cetarese sauce by whisking together all the remaining ingredients in a small mixing bowl until emulsified. Adjust the amount of fish sauce, olive oil, pepper flakes and lemon juice to your taste.
Use a fork to gently separate the squash fibers into spaghetti-like strands, then transfer them to a warm serving platter. Drizzle the sauce all over the "spaghetti" and serve immediately, with more pepper flakes on the side, if desired.
CHECK OUT: Five Spring-friendly recipes to try this week
5 spring-friendly recipes to check out this week
This week's recipe roundup features light, fresh recipes that are perfect for warmer weather. Think grilled shrimp, spring pasta and an easy Mediterranean salad (plus a spring cocktail and dessert).
WATCH NOW: HOW TO MAKE MANGALOREAN PRAWN CURRY
Catch up on Napa County's top news stories
Deirdre Bourdet is a food and wine wordsmith, recipe developer and author of the Hedonism Eats cookbook series and blog. For more, visit hedonism-eats.com