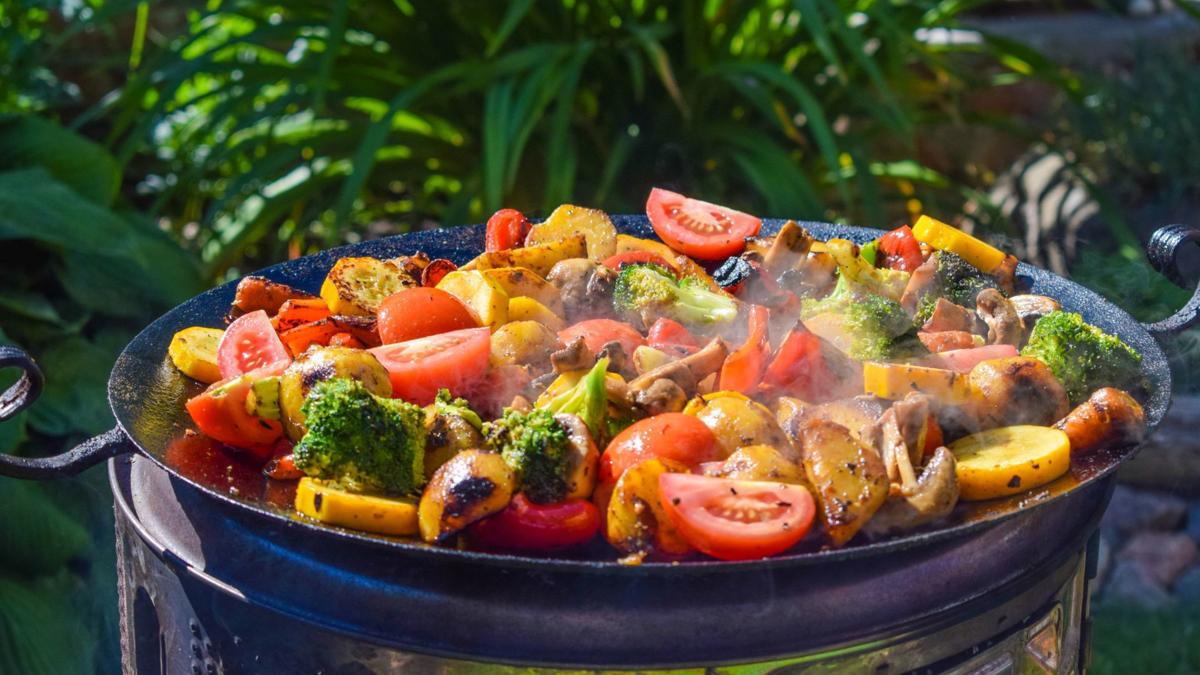 We grill at our house year-round. In my opinion, just about anything tastes better with a little bit of char. The smokey, caramely sweetness that grilling provides is hard to attain with other forms of cooking.
Meat is often the star on the grill, but consider adding more vegetables and fruits to your grilling repertoire. Halve lemons or tomatoes and give them some char as a complement to grilled fish or steak. Sliced melons and pineapple, lightly grill them and top with minced chili and a bit of honey for a delicious sweet and spicy dessert. Really, the options are endless.
It's important when grilling fruits or vegetables to expose as much surface area as possible to the grate. Normally I would lightly oil my vegetables before putting them on the grill. However, Joshua McFadden, chef and owner of Ava Gene's in Portland, Oregon, and author of the James Beard Award-winning cookbook "Six Seasons: A New Way with Vegetables," suggests dry grilling. In a tip box in his cookbook, he writes, "Don't oil your vegetables before you grill them, because the oil burns and tastes acrid. Instead, grill them dry to get a lovely char, and then dress with oil afterward."
Chef's Demo: On Saturday, June 1, at 10 a.m., Valentin Atayde of Mercadito Food Truck will prepare a recipe. Samples will be provided.
Kids' activities at the Napa Farmers Market: Bring your youngsters to the market's Education Station on Tuesdays and Saturdays for Story Time at 9:30 and 10:30 a.m., crafts and more.
On the KVYN Music Stage: Stewart Degner will perform at the Napa Farmers Market on Saturday, June 1, and Oscar Reynolds will perform at the market on Tuesday, June 4.
Harvest of the Month: Through June, enjoy comparative tastings of apricots and raspberries at the market's Education Station at 11 a.m.
This recipe for grilled veggie tacos uses this technique beautifully.
"Dry"- Grilled Vegetable Tacos with Tomatillo Salsa
From the "Alexandra's Kitchen" blog.
2 or 3 bell peppers, any color, stemmed, seeded and quartered
1 or 2 zucchini or summer squash, cut lengthwise into 1/4-inch thick slices
1 or 2 onions, red or white, peeled, ends trimmed and cut into 1/4-inch-thick rounds
1/2 to 1 pound asparagus, ends trimmed
Eggplant, cut lengthwise into 1/4-inch thick slices
Optional: mushrooms, scallions, endive, snap peas
Lemon juice or vinegar if you wish
1 pound tomatillos (8 to small), papery sheath removed, washed and quartered
1 or 2 jalapeños, stemmed, seeded or partially seeded if desired
1/2 small onion or 2 to 3 scallions (whites and most of the greens)
1 small bunch cilantro, about 1 cup chopped
1 cup (heaping) chopped cilantro
2 tablespoons fresh lime juice, plus more to taste
1/4 teaspoon kosher salt, plus more to taste
Hot corn or flour tortillas
Prepare a charcoal fire or preheat a gas grill. Grill the vegetables uncovered if using charcoal or covered if using a gas grill. Spread the vegetables on the grill in a single layer, grill until condensation forms on the exposed side, then flip and grill until lightly charred on the underside. Transfer the vegetables to a large bowl, piling them on top of one another. They will continue to cook a bit as they cool.
Chop the vegetables into smallish pieces. Toss with olive oil and salt to taste. Add a squeeze of lemon or splash of vinegar if desired. Keep warm in a 250-degree oven.
Make the tomatillo salsa: Place all the ingredients in a food processor and purée until smooth. Taste for salt.
Make the cilantro-lime crema: In the bowl of a food processor, pulse the cilantro with the lime juice until fine. Add the sour cream, sugar and salt, and purée until smooth. Taste and add more salt or lime juice if desired. Alternatively, mince the cilantro by hand, then add the remaining ingredients and whisk until smooth.
Scoop the warm grilled vegetables into tortillas, then top with crema and salsa. Offer other toppings, such as pickled jalapeños or grated cheese, if you like. Serve with lime wedges.
Tia Butts is the founder and owner of Tia Butts|pr and is on the board of the Napa Farmers Market.
Napa Farmers Market has the largest selection of fresh, nutricious, locally-grown and produced food sold directly by small farmers located within a 60-mile radius of Napa. Located in the parking lot of the South Napa Century Center, 195 Gasser Drive, Napa, the market is open Saturdays year-round and on Tuesdays, April through September, from 8:30 a.m. to 1 p.m. For more information, to sign up for our newsletter or donate to the market, visit napafarmersmarket.org.
Satisfy your cravings
With our weekly newsletter packed with the latest in everything food.