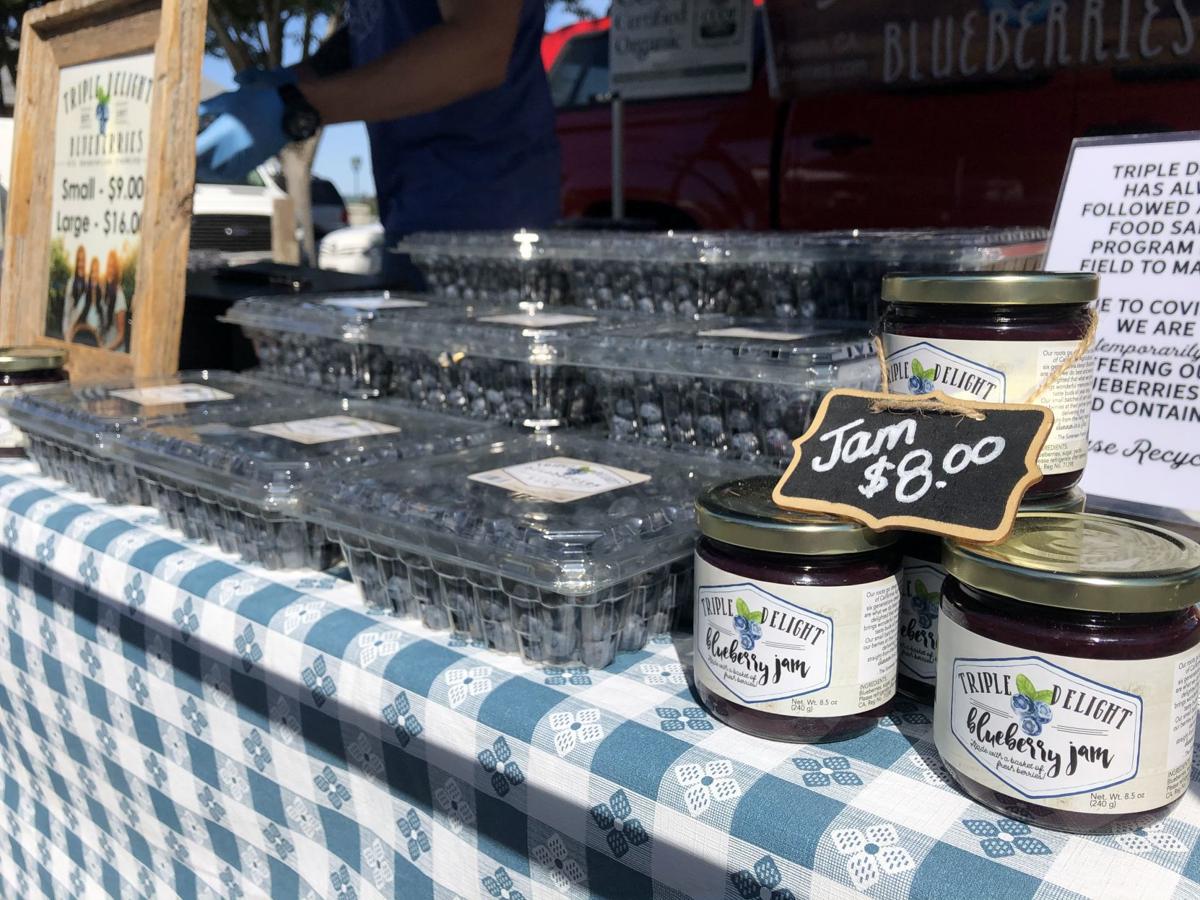 Confession: I haven't always been the biggest fan of blueberries. Growing up, the only blueberries I knew were found in muffins or cakes. They were mushy, flavorless, and what I thought was surely a punishment for something I did. As I grew up, and my palate expanded and my disdain for blueberries slowly started to wane. They became tolerable, but not enjoyable.
Why am I telling you this? Because I LOVE blueberries now. Love them. What changed my mind, you ask? Eating fresh blueberries directly from a farmer – there is nothing quite like it.
And I have good news for you: it's blueberry season. And as you most likely know, all berries, including blueberries, have many health benefits, which is especially important these days.
Plus, they are like little rays of sunshine when you pop them in your mouth. Dee-lish.
More good news: blueberries are at the Napa Farmers Market! Family-owned Triple Delight Blueberries is back for their fourth year at the market. Owned by the Sorensen Family, whose roots in California agriculture extends for six generations, Triple Delight is named for their three delightful daughters.
From their two blueberry farms – one in Fresno and one in the Central Valley – the Sorensen's grow eight different varieties of blueberries. Their season begins in early April and extends through the end of June or "Fourth of July weekend," as I was told at the market this past Tuesday.
Their berries are all hand-picked allowing them to stay fresh for at least two weeks, which was confirmed by my recent purchase. I honestly don't know how they lasted that long – meaning, I don't know what kept me from eating them all in one go. They are seriously some of the best blueberries I have ever tasted.
On this recent trip to the market, I also discovered their blueberry jam, which I found to be a perfect complement topped on fromage blanc spread on toasted sourdough bread. A great afternoon snack or breakfast.
You can find Triple Delight Blueberries at farmers markets as well as at their roadside stand right at their farm just south of Fresno. Although considering the current social distancing orders, you don't have to travel that far to find them because they will be at the Napa Farmers Market on both Tuesdays and Saturdays until "Fourth of July weekend".
You don't want to miss out on these delights. And if you don't like blueberries, I strongly believe that your palate will shift once you have a taste.
Smoothies are a nice way to reset the system, and they are mighty delicious.
Blueberry, Lime and Cashew Smoothies
1 cup fresh or frozen blueberries
¹⁄³ cup plain whole-milk Greek yogurt
Large pinch of kosher salt
Purée dates, coconut water, cashews, blueberries, yogurt, lime juice, salt, and 2 cups ice in a blender until smooth.
Napa Farmers Market temporary location
Until further notice, find the Napa Farmers Market in the north parking lot shared by CIA at Copia and Oxbow Public Market, 500 First Street in Napa. Hours are Tuesdays and Saturdays, 8-9 a.m. for seniors only (65 and older); then 9 a.m. to noon. As a California Certified Farmer's Market, the market is considered an essential food business and will remain open during the Napa County Shelter at Home Order. Check www.napafarmersmarket.org for updates.
Anne Girvin is a member of the board of directors and chair of the marketing committee for the Napa Farmers Market. She is a marketing and communications specialist, writer, and yoga instructor based in Napa Valley.
Satisfy your cravings
With our weekly newsletter packed with the latest in everything food.