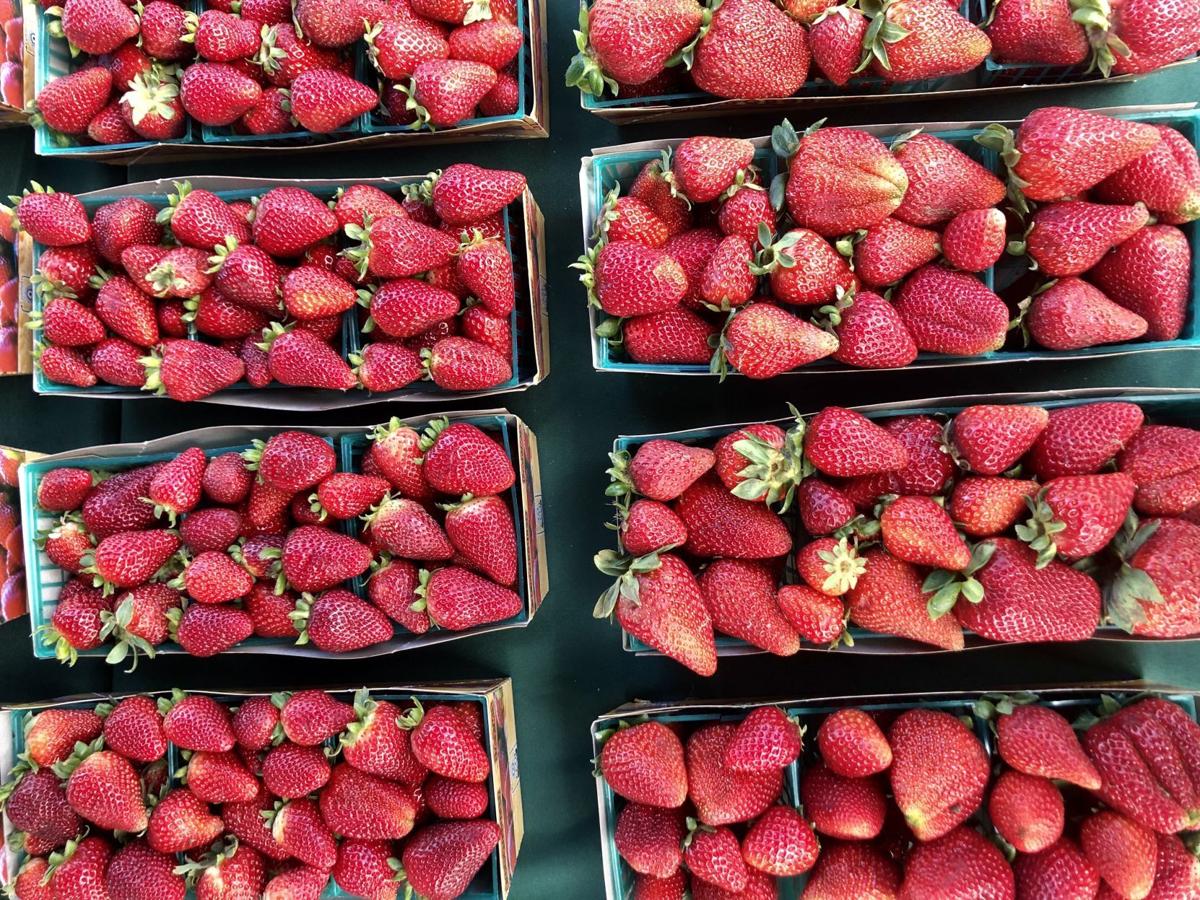 April is here, which means the Tuesday market has returned after a three-month winter break. Now, in addition to our year-round Saturday season, the Tuesday market will be open for nine months, April through December, rain or shine, 8 a.m. to noon in downtown Napa at 1100 West St., our home for the last 10 months, and the foreseeable future.
This month, along with the debut of spring produce and plant starts, you'll see the market aisles filling out as more of our farmers, specialty food and artisan vendors return. A few familiar favorites joining our April lineup are Bailey's Best English Sausage Rolls & Savory Pies, Bentley's Napa Valley, It's Always Sunny Sorbet, Pasta Poetry, and Sweet Abe's.
I recently had a conversation with my good friend and colleague at the Napa County Public Health Division, Dr. Jennifer Henn, to ensure we continue properly implementing guidance in our outdoor market setting as the color tiers change from red to orange and eventually yellow.
Dr. Henn expressed the importance of still having ample room for social distancing in market aisles and, of course, wearing masks. This means we need to continue to limit the numbers of customers in the market to provide enough space for folks to keep their distance, as well as to avoid becoming a mass gathering. As we cautiously move forward, please remember to wear your mask, use our customer entrance and Pearl and Yajome and avoid eating or drinking inside the market.
A new month means fresh Harvest of the Month picks. April's featured fruit is the strawberry. Strawberries have a very long growing season and it's always exciting when they make their first appearance at the market in spring.
Rodriguez Farms has been bringing their California Certified Organic strawberries to our market for 19 years. Farmer and owner Patricia Rodriguez says our customers come back every week and treat them like family. Once you bring those beautiful strawberries home, following a few simple tips will help you make the most of them.
All berries are extremely perishable and should be kept unwashed in the refrigerator, with a paper towel above and below, to keep them fresh. Only wash strawberries right before you eat them, best within two to three days. The good news is, Rodriguez Farms will be at the market both Tuesdays and Saturdays, so you'll have two opportunities a week to stock up on the best strawberries you've ever tasted.
April's Harvest of the Month veggie is asparagus. Born and raised in Stockton, California, home of the Asparagus Festival, I've always been a big fan. Just like the strawberry, the arrival of asparagus at the market is a sure sign spring is here. At the Napa Farmers Market, you can get it from Esquivel Farms. Right now, Esquviel's asparagus is so delicate, I enjoy eating the slenderest stalks raw, tossed with a little olive oil and salt. Dip them in Golden State Pickleworks (now at the market every Saturday) Allium Mayonnaise for an oniony kick.
Prized for their tender, edible stalks, asparagus spears are actually the shoots of a perennial plant that is a member of the lily family. Growing asparagus is a long and arduous process, which explains why it can sometimes be expensive. When soil temperatures reach 50 degrees, the slender shoots emerge from the ground, leaving no doubt that spring has arrived. Farmworkers hand-harvest each spear, and it takes two or more years for the first asparagus to appear after its seeds are sown.
By purchasing asparagus when it is in season at the Napa Farmers Market, you're ensuring that small, family-owned farms continue to thrive as part of our local food system.
At home in the kitchen, be sure to store asparagus upright in the refrigerator with its base in water and eat within one to three days. When you're ready to cook, grab the stalk at each end and snap so it naturally breaks in the tender spot. Use this recipe for asparagus and green garlic soup as a tasty way to make the most of the tougher ends.
See you Tuesdays and Saturdays at the market!
Asparagus and Green Garlic Soup
This is a kid-friendly recipe from CUESA's Foodwise Kids program that the whole family can prepare together. Home chefs often snap off the tough ends of asparagus and throw them away, but those ends make a great addition to soups like this one. If you can't find green garlic, use two to three cloves of regular garlic.
3 tablespoons powdered mushroom (examples: porcini, maitake, morel)
Slice the onion and green garlic. Chop the asparagus into half-inch-long pieces. In the large pot, heat the oil over medium heat. Add the onion and the garlic, and sauté until you can smell it and the onions are translucent about three to five minutes. Add the asparagus and sauté for an additional two minutes. Stir the asparagus, onion and garlic around in the pot a few times.
Add the stock, mushroom powder, and tarragon. Bring the mixture to a boil over high heat, with large bubbles coming up to the surface. Reduce the heat to low so that the mixture is simmering with small bubbles coming to the surface. Cook until asparagus is soft, about 10 to 15 minutes. While the soup is cooking, use a microplane to remove the zest from the lemon. Be gentle and remove only the yellow part. Remove the pot from the heat and stir in the lemon zest. Blend until smooth and season with salt and pepper to taste.
WATCH NOW: HOW TO COLLECT LETTUCE SEEDS
CHECK OUT FIVE SPRING FRIENDLY RECIPES
5 spring-friendly recipes to check out this week
This week's recipe roundup features light, fresh recipes that are perfect for warmer weather. Think grilled shrimp, spring pasta and an easy Mediterranean salad (plus a spring cocktail and dessert).
Catch up on Napa County's top news stories
Cara Mae Wooledge is market manager at the Napa Farmers Market.
Find the Napa Farmers Market at 1100 West St. (at Pearl Street) on Tuesday and Saturday, rain or shine, from 8 a.m. to noon. Face coverings are required for entry (no exemptions) for everyone over two years old. Check www.napafarmersmarket.org for updates.