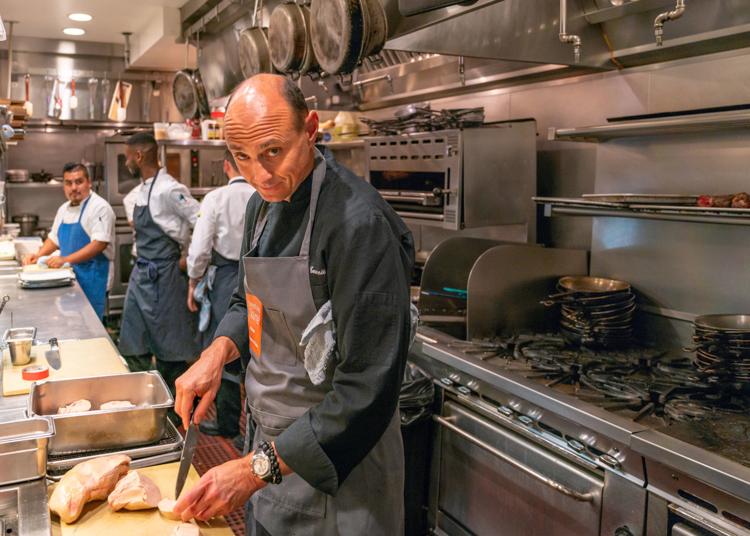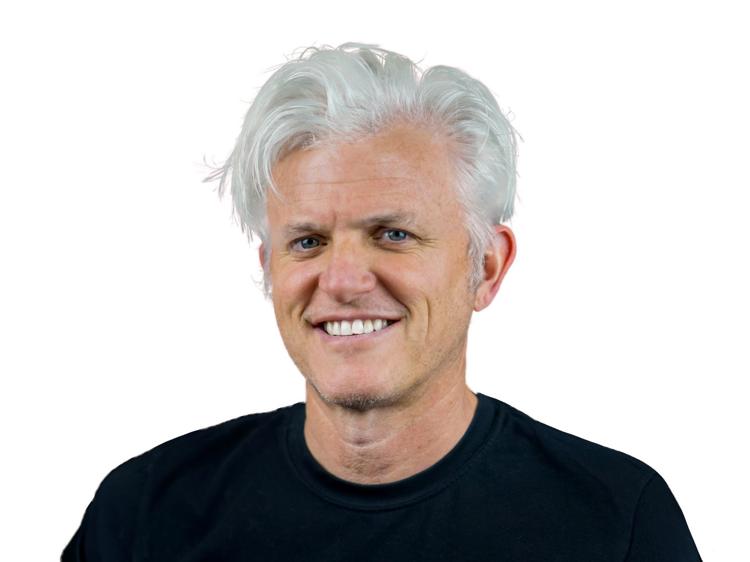 Guests at Napa's Angèle Restaurant may have believed they'd been transported to the South of France on the evening of July 29.
Accompanying the travelers on their journey was the expert in-house staff led by owner Bettina Rouas and executive chef, Patrick Kelly, along with guest appearances by Michelin-star-rated French chef, Stéphane Tournié of Les Jardins de l'Opéra in Toulouse, France, and five Napa Valley French winemakers.
"The experience tonight was both extraordinary and transportive," said Bob Bath, a guest at the dinner and professor of wine and beverage studies at the Culinary Institute of America's Greystone campus in St. Helena.
"The Napa Valley is the epicenter of America's wine industry, and it's wonderful how Bettina and her crew have created a night that has seamlessly integrated our global connectedness with the French culture of food and wine."
To pull off the event that provided a prix fixe dinner for nearly 100, the two chefs had spent days working in the kitchen, refining the menu and even traveling to Marin's expansive farmers market on the Thursday before to gather fresh produce.
I sat down at the market with Tournié to discuss his background and his approach to the menu.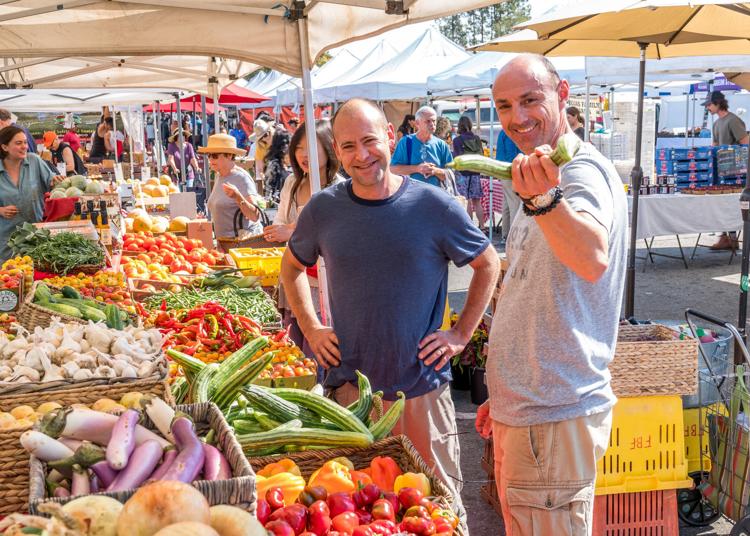 "Our family was coming to America on holiday and our friend (Melanie Thomas) had suggested that we cook one night at Angèle," he said. "Early in my career I cooked in Chicago and Asia, but I'd never been to Napa. I'd always heard about the quality of the food and produce, and it's been impressive to see just how true that is. We ate at the French Laundry last night, and I can tell you that I have a lot of things to do when I get back to France — I am inspired."
For the evening's meal, Tournié cooked two dishes — one a signature dish from his menu at Les Jardins de l'Opéra and the other a traditional Toulousian lamb dish with beans.
"I wanted to show what people might find when they visit our region of the South of France," he said. "I brought the beans over (haricots Tarbais), which are traditionally served with roasted lamb. But I also will be serving foie gras and oysters that have been poached in a lemongrass-ginger broth, which speaks to my travels."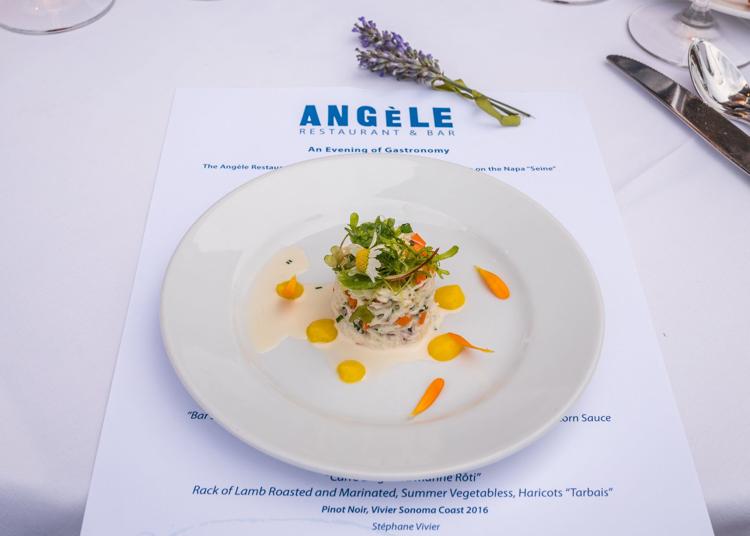 The other dishes served were crafted by Kelly, a veteran Angèle chef who has served three tours of duty, recently returning after a few years spent opening restaurants in California and Colorado.
"It's nice to be back at Angèle — it feels like home," he said. "And here you have a perfect example of what makes this place so fun to be a part of — Bettina has created an environment where the team is putting out some fantastic, consistently great French-bistro-inspired food on a daily basis but then taking things to another level by having these types of collaborative dinners, both with chefs and also these winemakers."
Each of the six courses was paired with a wine made by a local French-born winemaker, including Julien Fayard and Stéphane Vivier.
"The French community has always been tight in the Napa Valley," said Vivier, owner of Vivier Wines. "As French winemakers we all grew up with a common sense of having wine at the table. This dinner shows how well these wines pair with a wide array of dishes. We (the local French winemakers) are a well-integrated bunch, and we love showcasing Napa while also keeping our roots in our heart."
Deep French roots
Rouas grew up in the Bay Area and the Napa Valley. She comes from a long line of restaurateurs. Her father, Claude, owned one of San Francisco's most exclusive French Restaurants, L'Etoile, and also Napa's Auberge du Soleil restaurant and resort in the hills above Rutherford.
Before opening up her own, Rouas had always worked at restaurants. Locally at Auberge, French Laundry, Bistro Don Giovanni and Bistro Jeanty. She had also spent four years in Paris, where she lived in a tiny, one-room apartment above Chez Angèle, spending her free time talking with her aunt.
She learned about her family's roots and about how her father had grown up penniless as one of six children in Algiers, the capital of Algeria. How he'd gone to hotel school when he was 14 and then moved to Paris after his parents died. There he lived with that very aunt while he worked in restaurants before eventually immigrating to America.
"Sometimes we forget just how connected the Napa and French cultures really are," said Thomas, owner of Sommel, a sommelier advising company. "My company seeks to bring wine education and unique gastronomic experiences to help explore and celebrate our shared histories and interests."
It is not unheard of to bring in guest chefs and winemakers to participate in special dinners. However, what felt unique about this experience was that two chefs worked together to craft a menu that was seamless in both execution and profile. Never did it feel like a dish was out of place.
The wines also had a consistent thread, and the majority paired perfectly with each dish. Two of the standout wines were a wonderful 2014 Sauvignon Blanc "Empreinte" from Fayard. With only 150 cases made, the wine showed a richness and expressiveness that when matched with the guest chef's signature dish brought out a briny, savory note that was otherwise hidden.
The 2016 Vivier Sonoma Coast Pinot Noir was silky and supple with red cherry and aromatics of earthy mushrooms mixing with Chinese five spice, all highlighting a delightful nuttiness within the Tarbais beans of the lamb course.
After the meal had concluded, servers brought a traditional glass of liqueur de violets to the table, its vivid purple color diluted only slightly by a splash of water. This liqueur is made with Armagnac and flavored with an aromatic infusion of violets and vanilla and was created by the Benoit Serres family in the southeast of Toulouse.
Beyond the good food and wine, what made the Angèle evening of gastronomy so special was that it provided one of the rare opportunities to gather around the table and celebrate not what makes us different but instead what makes us alike.
"From such experiences I continue to gain a deeper appreciation for the French and California lifestyles, the deep connection between our cultures," Rouas said. "The idea for this dinner came from Melanie, but I hope to continue the dinners as a way to explore and celebrate our connections."