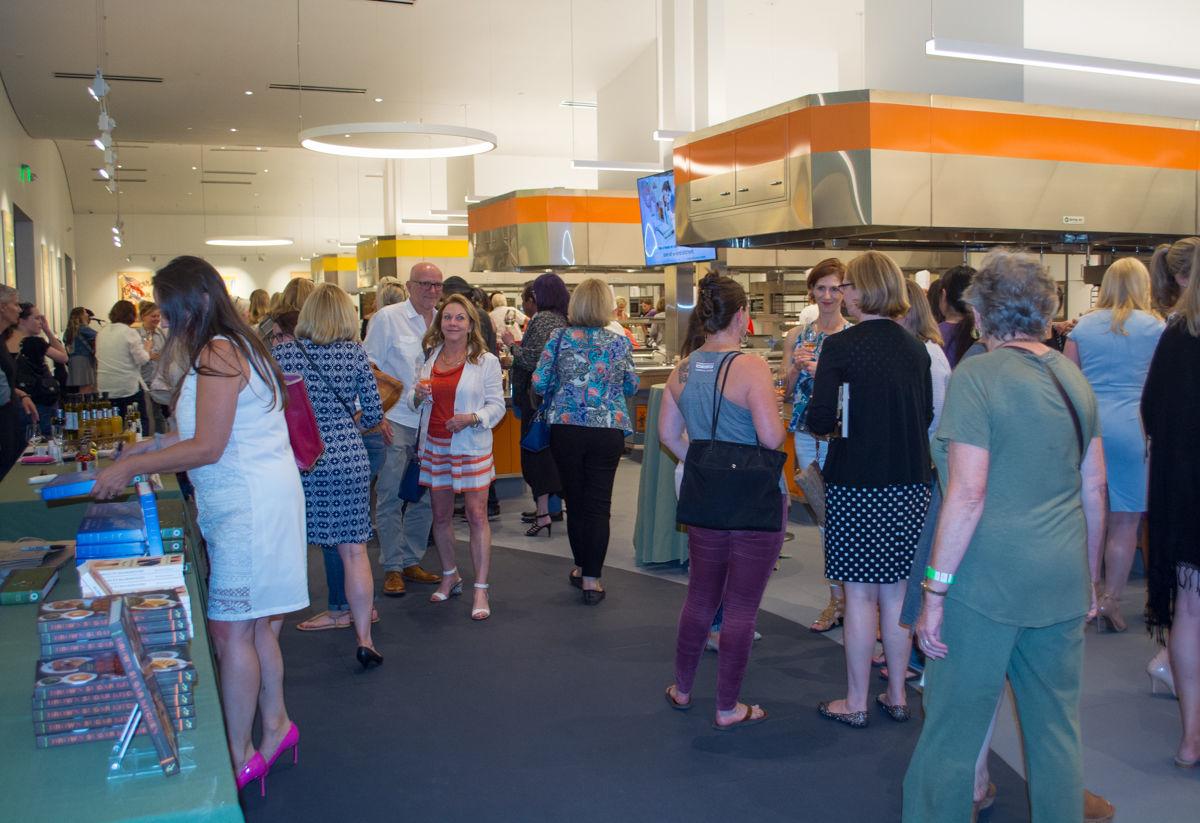 "It's easier for a woman to become a CEO than a head chef." This quote by Bloomberg News opens the film, "A Fine Line," shown at Copia on Aug. 3.
Nearly 200 people filled the halls to partake in an evening of wine, food, film, and networking, all on the topic of "Women! Trailblazers and the New Wave." Sponsored by The Culinary Institute of America, Wine Country Women, and Napa Valley Film Festival, proceeds will benefit Jameson Animal Rescue Ranch.
The evening began with a book signing by Michelle Mandro ("Wine Country Women of Napa Valley"), Michaela Rodeno ("Bubbles to Boardrooms") and Tanya Holland ("Brown Sugar Kitchen").
The participants enjoyed Domaine Chandon's pink bubbles, the creation of its Director of Winemaking, Pauline Lhote, and nibbles prepared by the CIA, with a background of music by Alison Harris and Sunil Sharma.
This crowd of mostly women in the food, beverage, and hospitality industries was the perfect audience for Joanna James's film, "A Fine Line," which explores the many challenges faced by women in these fields and is also a tribute to her own mother, Val, who has been a restaurateur in Massachusetts for many years.
Although more than half of culinary school graduates are women, only 7 percent of restaurant owners are female. According to Ana Diogo-Draper, director of winemaking for Artesa Vineyards, only 10 percent of leadership positions in winemaking are held by women. James interviewed many prominent women for her documentary, including Barbara Lynch, acclaimed Boston restaurateur, April Bloomfield of the Spotted Pig in New York, and Sylvia Weinstock, a famous cake maker.
Women in the food industry have historically been forced to choose between work and family, as restaurant hours are long. They have also had to deal with kitchens rampant with sexual harassment and negative attitudes towards women chefs. The Culinary Institute of America was founded by two women in 1946, but, based on the male-dominated European model, did not admit women students until 1970. Female chefs for many years were overlooked by the media, making it challenging for them to obtain the capital needed to open their own restaurants.
The story of Val James, interwoven in the film with the commentary of many women chefs, brings home the challenges women have faced.
Divorced as a young mother of two, James dealt with huge debts and persisted in developing her own restaurants. Like a second mother to her staff and beloved by her customers for her humor and grit, she was able to get funding from a banker who ate regularly at her restaurant and believed in her.
James's voice is raspy from years of yelling orders over the noise of the kitchen, but her energy and enthusiasm are unabated. She summarizes, "I have to make it work." She now has 90 employees and was invited to join the prestigious Escoffier Society.
The screening in the Copia theater ended with bounteous applause. Panel members then took their seats up front: Diogo-Draper, Lhote, Holland, and James were joined by Elizabeth Binder, executive chef and owner of Hand-Crafted Catering, and moderator Maryam Ahmed, director of public programs for the CIA.
The three women who came to the U.S. from elsewhere — Lhote from France, Diogo-Draper from Portugal, and Binder from South Africa — talked about increased opportunities for women chefs and winemakers here.
In Europe, you have to be in a winemaking family to get a leadership position. Lhote was only 23 when she was made assistant winemaker at Chandon after three months on the job. Binder felt embraced by the culinary industry in San Francisco and Diogo-Draper was thrilled to learn new world winemaking techniques and work with women winemakers. Napa Valley may be ahead of the curve in employing women, as the CIA states that 20 percent of Napa Valley Vintners member wineries have women winemakers.
The panelists were asked what communication styles are successful for women in leadership positions. Holland, who owns Brown Sugar Kitchen in Oakland, leads by example. To promote her own entrepreneurship, she talks to anyone who will listen and she feels like a mother to her staff, teaching them life skills and time management.
Lhote uses a direct and open style. When challenged by someone, she lets them know who's the boss, but in a nice way. She also sees herself as a mentor to her team, which is half women. Binder took over a kitchen at age 19, when the chef had a breakdown. She said you just have to communicate your expectations clearly and treat people the way you want to be treated. Diogo-Draper says she is naturally bossy and leads with tough love. She enjoys mentoring young interns.
Filmmaker Joanna James bemoaned the scarcity of women, just 6 percent, in her field, but she has taken some action to improve the situation. She has created a foundation, MAPP, to promote paid parental leave, affordable childcare, mentorship for women, and equal pay. Information can be found at afinelinemovie.com.
Networking continued after the discussion in the upstairs kitchens with more CIA nibbles and wine tastings from 15 local wineries. Watch for future events in this series of Conversations at Copia, intended to explore themes and trends that impact food and beverage, industry innovation, and the environment.