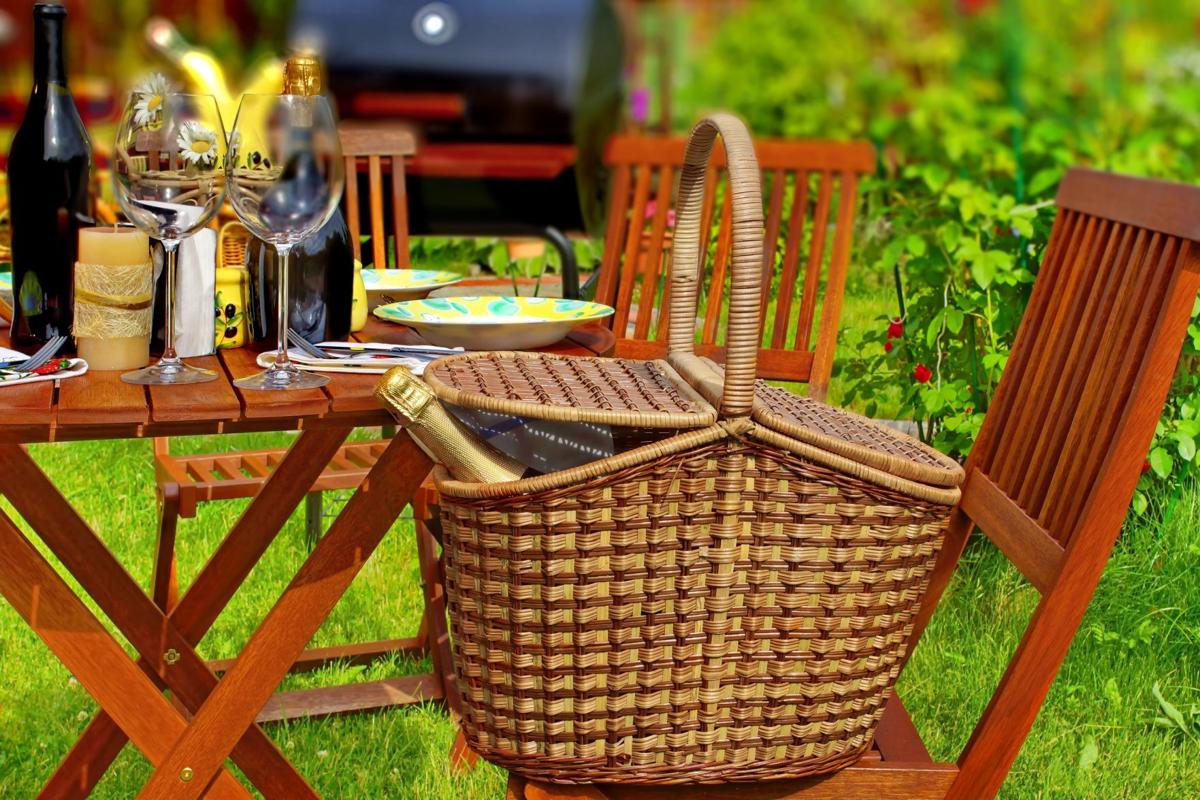 Remember those hot summer days when you use to work all morning to cook and pack a picnic, then drive to a crowded park, unpack, eat, walk around enough to get sunburnt and then come home in time to hear, 'What's for supper'?
Today's shelter-in-place picnic is much more fun than that. You don't have to make reservations for that prime spot in your backyard, the table and chairs are already there, and there is plenty of ice in your freezer for drinks. All you need are a few tasty dishes that you can fix ahead to time; it's time to dust off that picnic basket.
Prosciutto and Melon SkewersServes 4
I first came to the Bay Area thanks to the Navy; I was stationed on one of the many ships assigned to San Francisco in the 1980s. Since I was new to San Francisco, a fellow officer invited me to join him at the Washbag, the Washington Street Bar & Grill, a restaurant on Washington Square in North Beach often mentioned by columnist Herb Caen that is now long gone. We slipped into a booth and looked over the menu. As soon as the waiter appeared, my friend told him, "We'll start with the prosciutto and melon." I never thought I had tasted a better food combination. But my dish includes mozzarella, too, so, maybe this is better.
16 large cantaloupe cubes cut from a ripe cantaloupe
16 mini Bocconcini (small mozzarella cheese balls the size of an egg)
4 slices of prosciutto, cut in half long ways, then into total of 16 squares
Fresh basil leaves, chopped
Thread the ingredients onto skewers, alternating cantaloupe, prosciutto, cheese, prosciutto and cantaloupe. Or, if you're not feeling artistic, fold the prosciutto into a neat bundle and position in the middle of the skewer.
Cover and refrigerate until ready to serve.
When you're ready to serve, sprinkle with chopped basil leaves and quickly draw some lines of balsamic vinegar at an angle across the skewers.
Chicken Salad Sandwiches Serves 4
For years, I was embarrassed that I purchased rotisserie chicken. I was afraid someone I knew would see me and think I didn't know how to roast a chicken. If I'm serving a roast chicken to guests, yes, I do that myself. I've roasted a poultry farm's worth of chickens but it is such a time saver and probably cheaper to buy a rotisserie chicken at a local store, strip the meat off and transform it into an even better dish. The meat is usually a little overcooked from sitting in a hot storage box, but in a dish like this, that's okay. You're adding some moisture and mixing it with other items to enrich it.
1/2 medium cucumber, skin removed, cut in half, remove seeds, cut into small dice
1/2 small white onion, thinly diced
3/4 cup plain Greek yogurt
1 clove garlic, minced or finely grated (I use a garlic press, which professional chefs make fun of, but the press minces instantaneously, instead of mashing and chopping and mashing again on your cutting board, which you then have to clean up)
3 cups shredded rotisserie chicken
1/2 c. fresh mint, chopped
1/4 cup Kalamata olives, finely chopped
1/4 cup crumbled feta cheese
Place the diced onion in a small bowl with the juice of one lemon then toss to coat; set aside.
Finely grate the zest of the remaining lemon into a large bowl, then cut lemon in half and squeeze in the juice. Whisk in the yogurt, garlic, a healthy pinch of salt. Add the chicken and toss to coat. Drain any excess liquid out of the cucumber, then fold into the chicken mixture, along with the mint.
Toss the olives and feta with the lemony onions. Fill the pitas with the chicken and top with the olive and feta mixture.
Katharine Hepburn's BrowniesProduces 12 bars (not sure if that would feed more than two in our house)
I'm not much of a baker but who doesn't love chocolate? This is from The New York Times Cooking Section, where this recipe is linked to a letter written to the Times when Katharine Hepburn passed away in 2003. The note is from a young woman who used to live in Ms. Hepburn's neighborhood in New York City that gives a charming explanation of how she came in the possession of the famed actress's recipe, but equally important the recipe can be done by anybody. With no icing on top, brownies are a self-contained dessert that you don't have to be too careful transporting. Try saying that about a German Chocolate Cake. If you want to dress it up a bit more, sliced strawberries is all you really need.
½ cup cocoa powder (I use Guittard Unsweetened 100% Cacao)
Heat oven to 325 degrees.
Melt butter in saucepan with cocoa and stir until smooth. Remove from heat and allow cooling for a few minutes, transferring to a large bowl. Whisk in eggs, one at a time. Stir in vanilla.
In a separate bowl, combine sugar, flour, nuts and salt. Add to the cocoa-butter mixture. Stir until just combined.
Pour into a greased 8- by 8-inch-square pan. (I always put small pans on a sheet pan to make them easier to move in and out of the oven). Bake 30 to 35 minutes. Do not over bake; the brownies should be gooey. Let cool, then cut into 12 bars.
Watch this now: Homes become music showcase for Porchfest
Satisfy your cravings
With our weekly newsletter packed with the latest in everything food.