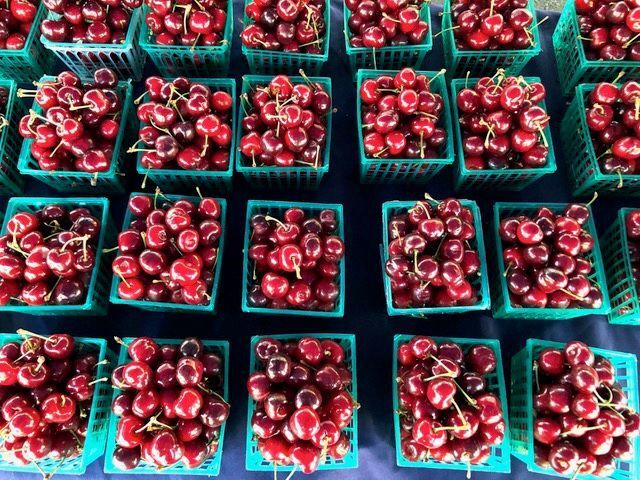 Cherries have pleasured the palate for centuries. Roman conquerors, ancient Greeks, and royalty of China all enjoyed the sweet and tart red beauties. Cherries were transported to America by ship with the early settlers in the 1600s.
French colonists from Normandy brought pits that they then planted along the Saint Lawrence River and down into the Great Lakes area. Cherry trees were part of the gardens of French settlers as they established settlements in Detroit, Vincennes, and other midwestern regions.
Support local news coverage and the people who report it by subscribing to the Napa Valley Register. Special offer: $1 for your first 6 months!
U.S. cherry production began in the mid-1800s. A Presbyterian missionary, Peter Dougherty, living in northern Michigan, planted cherry trees in 1852 on the "Old Mission Peninsula". Much to the surprise of neighboring farmers and Native Americans, living in this area, his cherry trees thrived and soon other residents of the area planted trees.
The first commercial tart cherry orchards in Michigan were planted in 1893 on Ridgewood Farm near the site of Dougherty's original orchards. By the early 1900s, the tart cherry industry was firmly established in the state and was sure. Cherry production surpassed other major crops.
The Montmorency cherry is the prominent variety of tart cherry. Planted in the early orchards, this variety is still used today and is recommended for the best pies, preserves, and juice. The newest American variety of tart cherries is the Balaton. Still in limited production, this varietal has great potential for the fresh market and for juice.
In the northwestern part of the United States, cherry orchards also flourished since 1847. Henderson Lewelling planted an orchard in western Oregon, using nursery stock that he had transported by ox cart from Iowa. Lewelling Farms became known for its sweet cherries with orchards coming into production during the 1870s and 80s.
The most famous sweet cherry variety is the Bing cherry, whose name comes from one of Lewelling's favorite eployees. Another sweet cherry variety is the Lambert and also credited to Lewelling.
The Rainier cherry, a light, sweet variety, originated from cross-breeding Bing and Van varietals. Bing, Lambert, and Rainiers account for more than 95 percent of the Northwest sweet cherry production.
Maraschino cherries, most often used in cocktails and for garnish on sweet treats, are made from sweet cherries that originated in Yugoslavia and northern Italy where merchants added a liqueur to a local cherry called "Marasca." This cherry product was imported to the United States in the 1890s as a delicacy and was used in fine restaurants and hotels.
In 1896 U.S. cherry processors became creative, using a domestic sweet cherry called the Royal Anne. Less liqueur was used in the processing and almond oil replaced some of the liqueur. Eventually, all liqueur was eliminated from the recipe. By 1920, the American maraschino cherry was so popular, it replaced the foreign variety in the U.S.
Currently, the U. S. cherry industry produces more than 650 million pounds of tart and sweet cherries each year.
The premier annual celebration of cherries is the National Cherry Festival, held every July in the "Cherry Capital of the World", Traverse City, Michigan. This festival began as a spring ceremony known as the Blessing of the Blossoms. Thousands of visitors come from all over the world to celebrate the harvest and, of course, to eat cherries in any number of different ways.
Cherry Salsa
1 cup fresh dark sweet cherries, pitted and chopped
2 tablespoons fresh basil, finely minced
1 tablespoon yellow or orange bell pepper, minced 
¼ teaspoon Worcestershire sauce
Combine all ingredients. Refrigerate 1 hour. Serve as a condiment with chicken, pork or dollops over cream cheese and spread on buttery crackers.
2 cups fresh sweet cherries, pitted and halved
½ cup cucumber, peeled and cubed
½ cup favorite salad greens
½ cup cubed fresh Mozzarella
1 tablespoon. fresh chopped parsley
1 tablespoon. lemon juice
Combine the first seven ingredients in a large serving bowl
Combine honey, lemon juice, and zest. Mix well. Drizzle over salad ingredients and serve chilled.
Tart Cherry Chipotle Sauce
My favorite fresh cherry recipe is one that I created to pair with Ilsley Vineyards red wines and elk cocktail meatballs. I've since discovered that this sauce works wonderfully as a glaze or garnish on beef, chicken, pork and even salmon. This is the first time I've ever shared this recipe.
1 cup fresh sweet cherries, pitted
1 tablespoon adobo sauce taken from the can of chipotle peppers
1 tablespoon Worcestershire sauce
1 tablespoon authentic maple syrup
1 large clove garlic, minced (about 1/4 teaspoon)
¼ cup minced yellow onion
1 lime – juiced and zested
Combine all ingredients, except salt and pepper, in a medium pot. Bring to boil. Reduce to simmer. Cook 30 minutes. Stir often.
In a blender, combine until the sauce is smooth. Test and add salt and pepper to taste. If you like more heat, add more adobo sauce a little at a time.
Lavishly spread over your grilled or baked meat or salmon. Can also be used as a dipping sauce.
If you'd like to enjoy with cocktail meatballs, simply prepare meatballs using your favorite recipe and simmer them in the sauce and enjoy.
5 copycat restaurant recipes to try this week
Ever wanted food from your favorite restaurant without actually having to go there? This week's recipe roundup features five easy copycats of popular restaurant dishes, plus a bonus cocktail recipe.
Catch up on Napa County's top news stories
Get unlimited digital access to the Napa Valley Register for just $3 for your first 3 months! Enjoy every article without restrictions and find tons of subscriber-only perks, such as access to our daily eEdition. Click here for details!