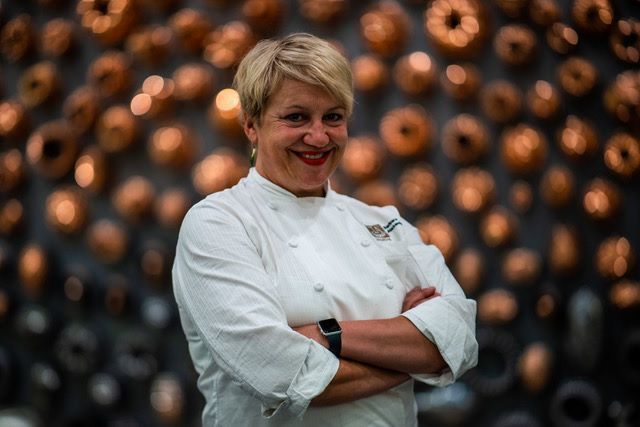 In the case of Chef Barbara Alexander, who retired after 30 years of culinary education in restaurants and schools, including 16 years leading the highly praised Napa Valley Cooking School (part of Napa Valley College), retirement is a busy prospect.
She is not only working as a consultant to the Culinary Institute of America, but she is taking her cooking classes, along with her culinary curiosity, on the road.
Along with Karen Rowley, a veteran travel adviser whose specialty is food and wine trips, Alexander has launched ENV Travel, a play on her home in Napa Valley, which also translates to "enviously delicious travel," chef-led tours to faraway places.
Alexander always combined a sense of adventure as well as humor in the community classes she taught with the help of her students in the professional chef studies program at Napa Valley College.
As this writer can attest, the most clueless participant managed to leave a class confident and inspired to try to recreate 10 new ways to cook Dungeness crab or create a Vietnamese feast.
Now, Alexander's followers will just be experiencing the Vietnamese feast in Vietnam, one of the first destinations, ENV Travel is offering in December.
"My husband (CIA chef Adam Busby) and I love to travel," Alexander said. "We love to sail and we love to eat. So we've always planned two vacations, one sailing holiday and one food holiday." This, she explained, is because sailing destinations are not always the best culinary destinations.
For their culinary holidays, "we have always sought out places where food is a large part of the culture," Alexander said. "We're always looking for the next food vacation."
The idea of leading culinary tours was sparked when she and Busby were in Cambodia. Staying at their hotel were two men from Scotland who began sounding out Alexander for advice and where and what to eat.
"I love introducing people to great food I've discovered," she said. "I shared an itinerary with them. And they said, 'You need to make this a business.'
"I brewed the idea over in my mind and I started generating ideas of tours locally, in Napa Valley."
Then the idea just grew, like a healthy, happy yeast dough.
ENV Travel (envtravel.com) has three components. The first is local tours in Napa Valley. "We were going to call them 'curated,' but we decided that word is too over-used," said Alexander, who also holds a degree in English.
In Napa, the idea is to help visitors find "backdoor wine experiences that people either don't know about or can't get into because they're not part of a club. Private experiences, partnering to do cooking classes and tastings. We're trying to keep it local."
They are also designing short, intensive culinary trips that they are calling "Dashes." These are culinary immersions to a single destination "where we intensely experience a culture's food, wine and culinary traditions in four days."
Scheduled Dashes are Mexico City, Feb. 6-9, 2020; Santa Fe, New Mexico, April 2-5 and Austin, Texas, June 18-21.
They are also open to designing custom dashes for travelers to places like Vancouver and New York City.
Longer trips will head to global destinations. As with the Dashes, these will be places Alexander and Rowley have explored, where they have met chefs, visited restaurants, and learned local secrets.
"They are anything but insular," Alexander said. "They're designed for intrepid explorers of food, culture and wine with local guides and comfortable, non-chain hotels.
"We're going to eat everything from street food to Michelin star rated restaurants. We don't want this to become formula."
Coming up in September, for example, they are heading to Piemonte, Italy for the Slow Food Cheese Festival Sept. 19-25. Here, visitors will be immersed in wine, bread and salumi, as well as cheese.
The next global adventure is to Vietnam and Cambodia on Dec. 1-14. The focus of this 14-day tour is to discover the beauty and culture of two "rapidly developing and deeply traditional" countries through their culinary traditions.
"It's a street food and back alleys meets luxury," Alexander said. The friendliness and hospitality she has found in visiting both countries, Alexander said, is "energetic and frenetic." These worlds rich in contrasts are best discovered through the contrasts "of "tearing through town on a tuk-tuk as well as sailing on a luxurious boat with a private chef.
"We will go deep into neighborhoods to see how people eat, cook and live," she said.
Also on the schedule for ENV Travel is Morocco, March 10-18, 2020; the Basque Country, May 3-10; and Croatia by Sailboat Sept. 19-29.
One of the best ways to understand a different culture, Alexander said, is to immerse yourself in their wine and culinary traditions.
"It's something that brings us all closer together. And it is so much fun."