The scent of rosemary wafts in the greenhouse off rows of four-year-old plants dotted with small purple flowers standing almost waist-high, a stark contrast to the empty brown dirt next to them following a recent harvest. The bare rows are being prepared to nurture a new generation of herbs, methodically rotated to keep the soil healthy. The air inside the clear plastic-covered structure is warm and dry despite a blustery wind and chilly rain outside.
This herb haven is one of a dozen greenhouses that populate the lush 45-acre grounds of Purple Sage Farms, a certified-organic herb, greens and vegetable farm about 40 miles northwest of Boise. Purple Sage is a well-known name, not just in its hometown of Middleton, but throughout the entire capital city metro region, with herbs appearing at farmers' markets and in restaurant cuisine.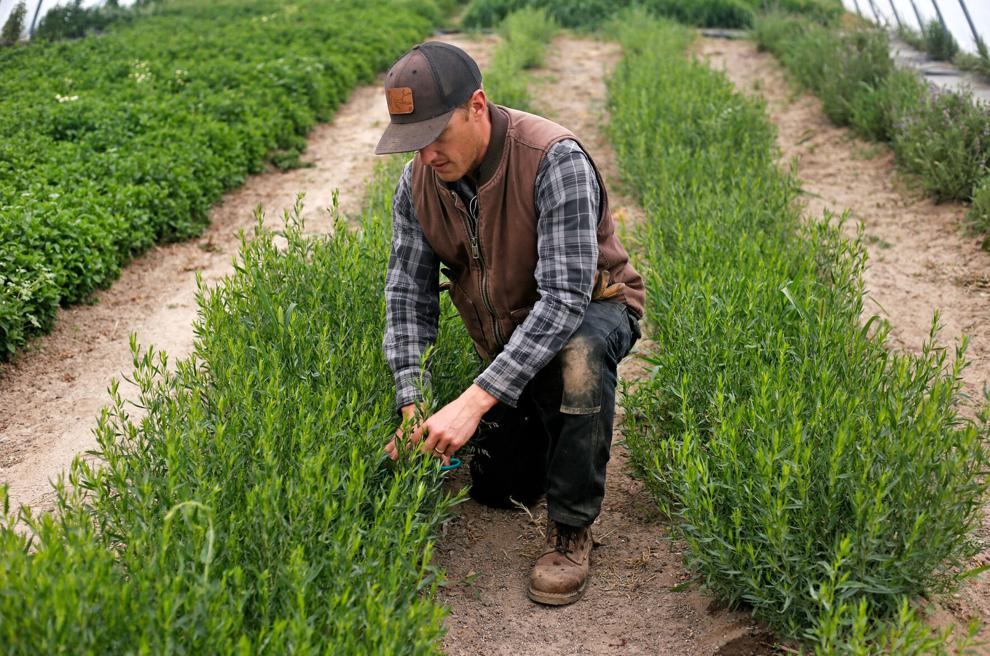 "I have been very grateful for the local market," says Tim Sommer, owner of Purple Sage Farms. "We are a family; that's something they can relate to. We are part of the community."
"There is a lot of value in that," adds Mike Sommer, Tim's son and farm manager. "I hope it keeps going."
Adjacent to the rosemary-dominant greenhouse, another structure houses cilantro, salad greens, fennel and dill, where fresh spring aromas linger after a harvest. Those now-empty beds will soon be covered by a black tarp to facilitate nutrient digestion in the soil. Meticulously watered by controlled hose lines along each bed, vegetables, greens and exotic herbs thrive throughout the other greenhouses including obscure basils, unique mints such as apple, chocolate, pineapple, Mayan, Moroccan, and nontraditional dandelions.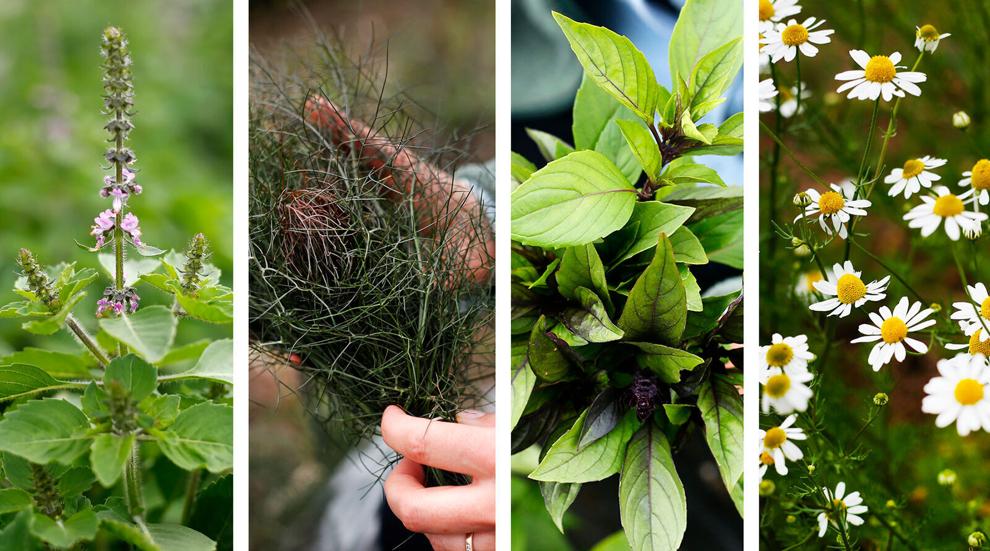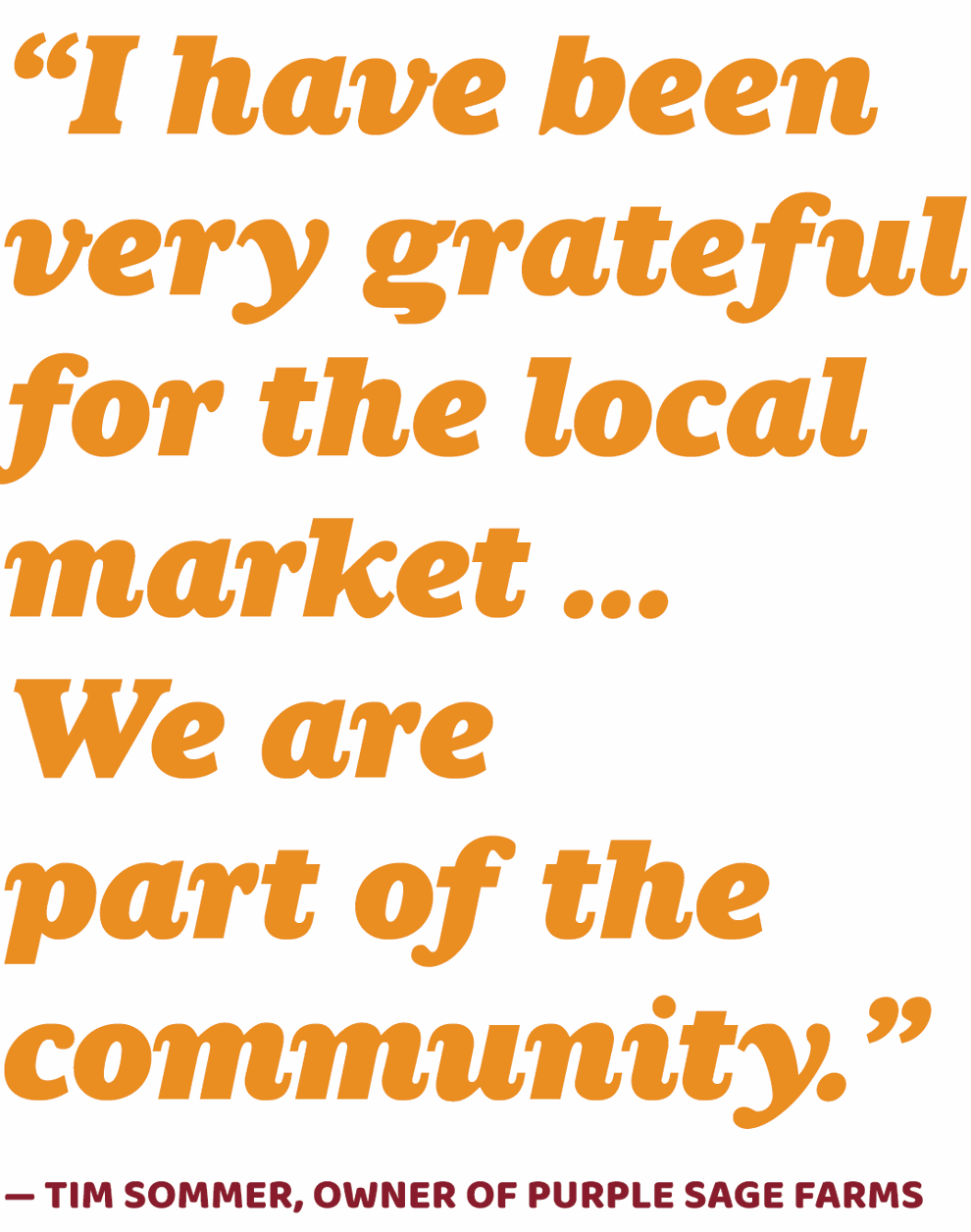 The tropical lemon drop peppers, habaneros and jalapeños require drip tape, which helps conserve moisture and deters fungus growth on the leaves that can result from top watering. Some of these peppers will eventually be smoked on-site in equipment built by Tim himself. Outside in a neighboring field, more rows of peppers and herbs flourish in warmer weather. A section of brightly flowered pollinator plants grows nearby, a treat for the local bees and butterflies. 
Tim and Mike cultivate more than 250 varieties of crops at Purple Sage Farms for culinary and/or medicinal uses. They've been growing herbs for two generations on this acreage, but the family's agricultural roots run much deeper, five generations strong. Tim grew up locally, learning to farm from his parents. He met his wife and Purple Sage Farms co-owner, Tamara Sloviaczek, while in school when her family lived on a farm just about a mile away. Keeping Purple Sage all in the family, Mike and his wife, Jackie, now help Tim and Tamara manage the overall farm operations.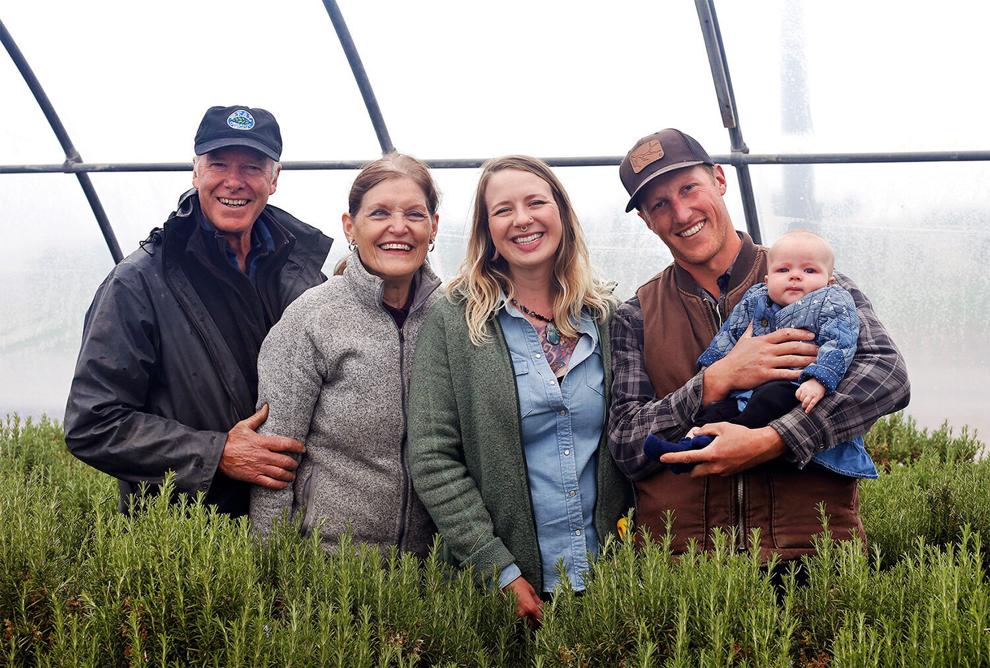 Each member contributes his or her own talents and strengths — from marketing and IT support to vehicle repair and care of the lambs — to keep the farm functioning, as detailed on the Purple Sage Farms website.
"It was a great thing Mike decided to do this after graduating college," Tim says. "We felt it would be of high value to raise our family here. We are here on purpose and wow, it's 33 years later."
Attention to detail is just one factor that sets Purple Sage Farms apart from its bigger regional competitors. Employees hand-cut the herbs with scissors, dry them in a temperature-controlled space, and prepare them for distribution in a nontraditional industrial kitchen in a barn-like structure where shelving rises nearly to the ceiling to support dozens of herb-filled produce boxes that are stacked, yet elevated, off the ground.
"Dad built it all," Mike brags.
When the kitchen is quiet, gloved and masked employees buzz around nearby weighing and processing more batches. On a wall outside the kitchen, a white board details the current crop plantings and tracks daily tasks, including what to harvest for daily orders and goals for the farm staff.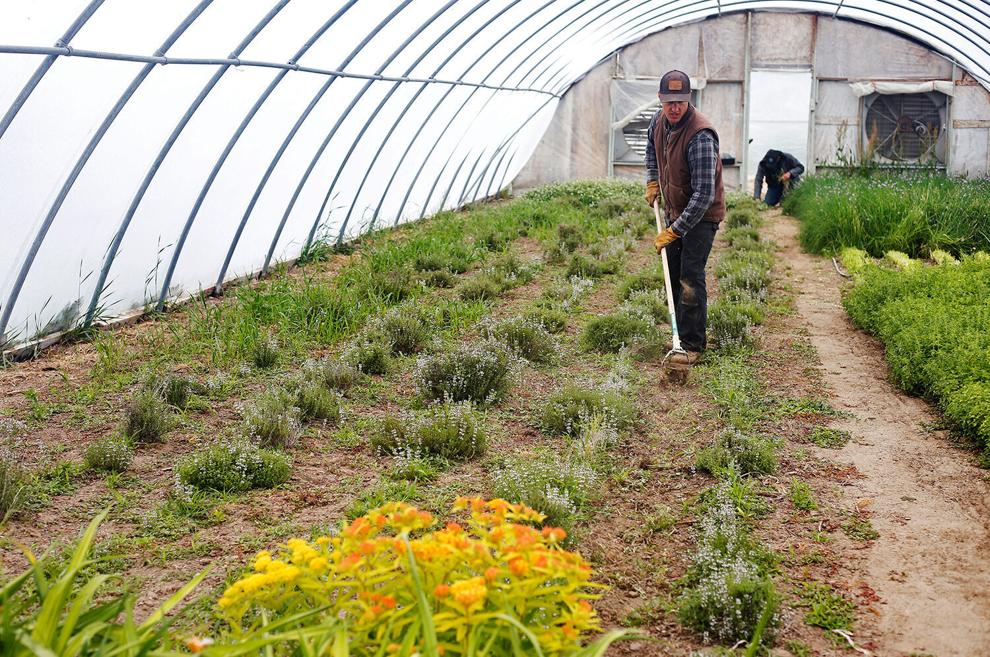 ---
Herbs for all seasons
It may be called the Gem State, but Idaho is also known for its agricultural heritage. The Treasure Valley produces alfalfa, hay, onions, sugar beets and, of course, potatoes, but herb-dedicated farms aren't exactly a common sight.
The Sommers invested in organic herb farming specifically for that reason. It's not a dominant crop around these parts, and Purple Sage's unique offerings and herb-drying operations help distinguish it from other Pacific Northwest and West Coast herb farms. While California has the advantage of a year-long growing season, the Sommers are able to supplement their Purple Sage Farms income through the winter with sales of Miner's lettuce and dried herbs.
"We tend the farm year-round and start planting next season's crops in December and January in our germination room inside the packing house," Jackie explains. "We can typically start harvesting fresh products from our greenhouses in February, and we have fresh products available from February to December most seasons."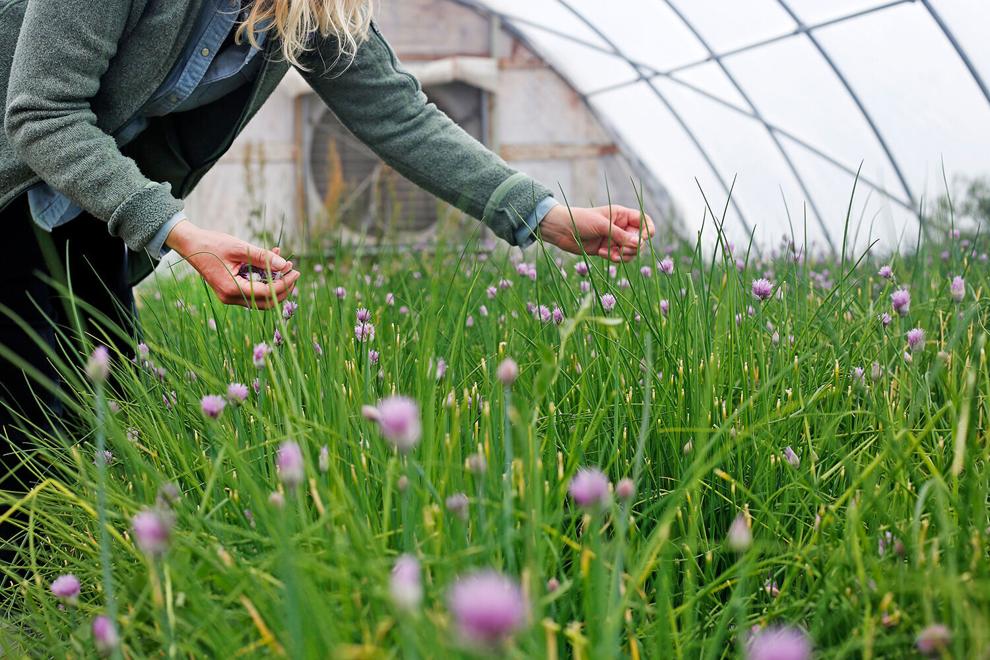 When the weather warms, trays of seedlings are moved to a greenhouse or placed outside under a protective cover. March sees perennials and overwintered greens rousing from their winter dormancy as the seedlings begin to sprout. Summer and fall support the crops that grow best during those seasons, with the biggest harvests typically taking place from September through December.
Once the growing season stops, herb drying ramps up in a refurbished commercial walk-in cooler that the Sommers acquired with the help of Alex Cardoza, a Boise chef who enjoys using Purple Sage Farms products.
"We can't grow enough crops for drying," Mike notes. "Last year, approximately 3,500 pounds of herbs were dried, yielding 300 pounds (of dried product). This year, we are on track to do more."
The Sommers dry and sell their herbs whole on the stem, as close to fresh as possible. Tim and Mike enthusiastically tout the advantages of drying your own herbs at home, especially in states like Idaho where a lack of humidity prevents molding and speeds the process. They encourage others to harvest and dry their own garden herbs. With a little effort, herbs can be a constant presence in your spice rack or kitchen cabinet all year long.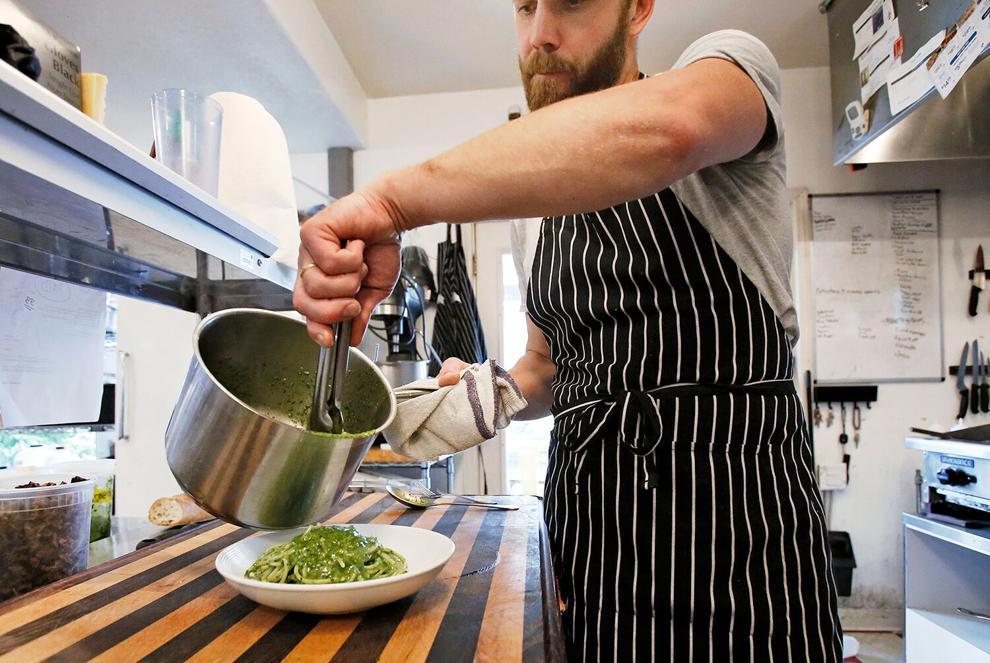 ---
Herbs in the community and the kitchen
As the owner of Wild Plum Events, Cardoza has been working with the Sommers and Purple Sage Farms for a long time, praising their salad greens and unique lettuce varieties.
"It's really about people for us," says Tara Morgan, Cardoza's wife and Wild Plum co-owner. "(Herbs) grown by people passionate about what they're doing make the best produce, which makes the best food."
"Relationships are heartening," Alex adds. "They're excellent people and I love being able to support them."
The Sommers and their farm benefit in large part from the Boise area's demand for creatively seasoned cuisine. They also credit the greater community for recognizing the importance of shopping locally and supporting regional food producers.
"Landing on herbs turned out to be a really good move for us," Tim says.
Sheep manure from the farm's 300-head herd helps fertilize the crops, and lamb meat, kombucha, tea blends and plant byproducts also contribute to Purple Sage Farms' revenue. 
"I think it's harder to get into value-added processing (with herbs)," Tim says. "You have to be oriented in the entire process."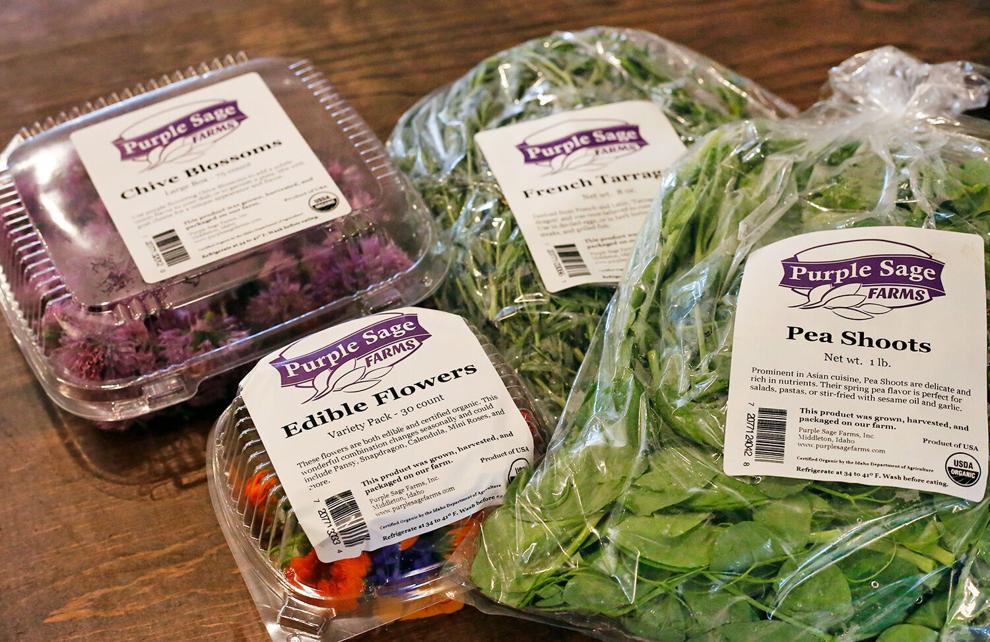 ---
Giving back to the earth, and the customers
Purple Sage Farms herbs are certified organic through the Idaho State Department of Agriculture, a program Tim helped to establish.
For the Sommers, organic practices also mean incorporating elements of good soil health; sustainable pest and disease management; a lower carbon footprint than conventional agriculture; and produce free of genetically modified organisms, synthetic chemicals and fertilizers. When farming, the Sommers promote soil diversity and abundant microbe communities by tilling as little as possible. The plant beds rest between harvests with restorative cover crops.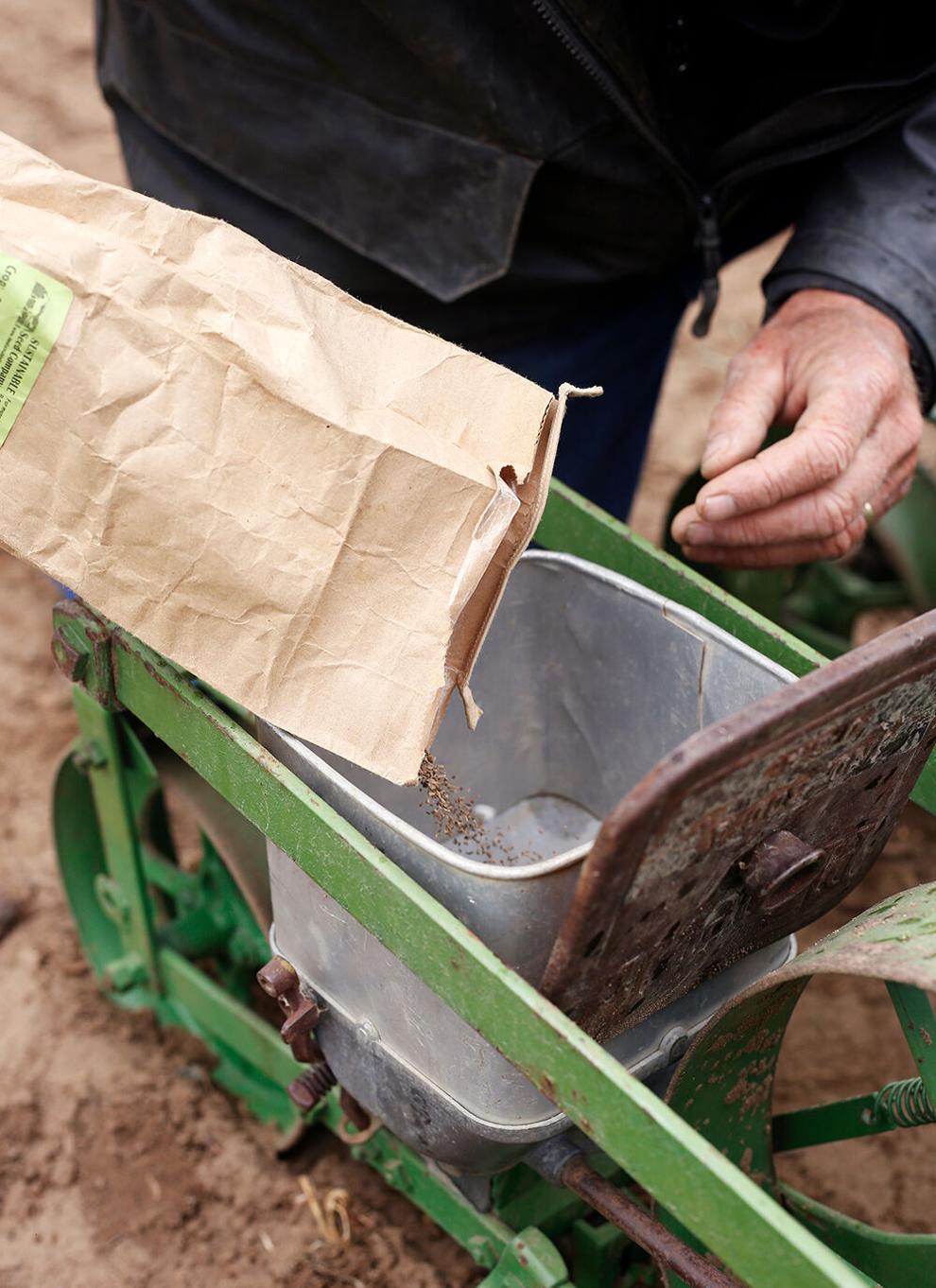 The Sommer family is proud not only to promote organic agriculture, but also to give back to the community by mentoring new farmers and speaking at organic farming conferences.
"We are an important asset to new operations; we are proud to help them," Tim says. "You'll find people are free with their information, help and support."
Purple Sage Farms also grows seeds for the Snake River Seed Cooperative, which seeks to provide farmers in the region with locally adapted and sourced seeds. 
"Mike served on the board of the Boise Farmers Market and helped found it," Jackie adds. "We participate in the market every weekend during the season, April through December, with a booth to sell our products. The entire family volunteers at the market in various capacities."
With each passing season, just as their herbs grow, so does the Sommers' impact.