Zachary Hurdle, guest chef once a week at Eureka Compass Vegan Food in St. Paul, Minnesota, prepares this popular tofu recipe below for his customers who regularly request the richly flavored Chinese dish. He checks most of the taste-receptor buttons with his balance of salt, sweet, spice, acid and umami, characteristics core to Chinese cooking. The sauce isn't overly spicy, and the hint of Sichuan peppercorns elevates the dish by adding complexity and a subtle tingling effect.
Fermenting the shiitake mushrooms requires a bit of advance planning for the entrée, but Hurdle feels you will be rewarded. He considers these mushrooms a staple to always have on hand. "I double this recipe and almost use it as a condiment to add to wraps, stir-fries, salads, fried rice, soup. I add both the liquid and the mushrooms for a salty-sweet component," Hurdle says.
The fermentation process acts almost like a mini food science experiment. Hurdle explains, "Eventually, if you shake the jar a little, you'll see bubbles rise to the top and hear the carbonation." Hurdle adds that it's important to "burp" the jar. "If you don't burp it, it'll be like opening a can of soda. The end goal is to see opacity and the carbonation."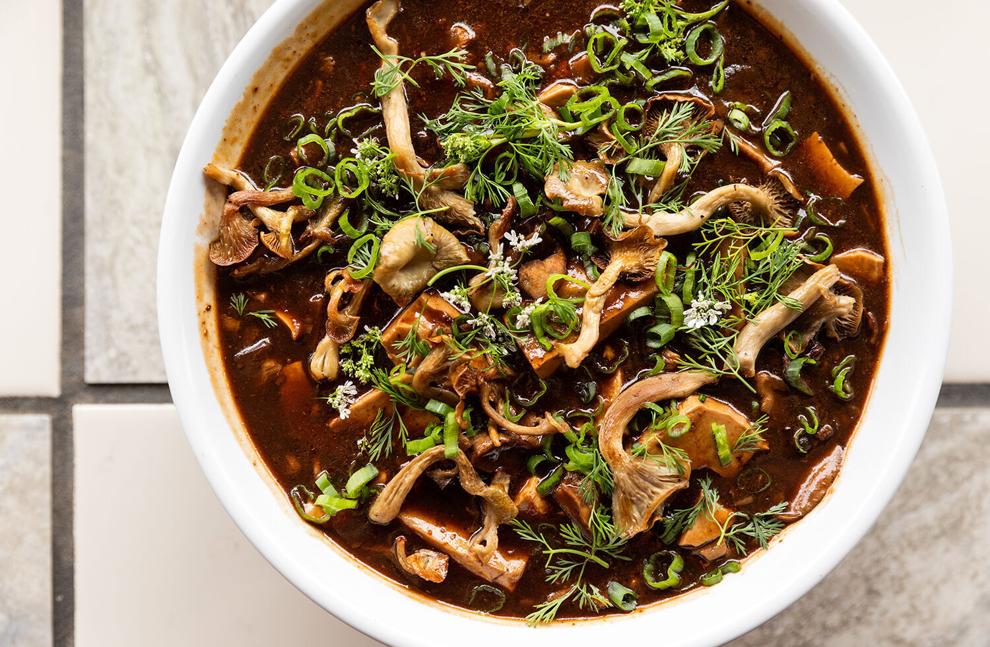 ---
Mushroom Mapo Tofu
Fermented Shiitake Mushrooms
4 ounces fresh shiitake mushrooms including stems, sliced
2 Tbsp granulated sugar
1 Tbsp salt 
8 oz fresh shiitake mushrooms, stems fermented or discarded
1 package (1 lb) soft tofu
1 Tbsp plus 2 tsp salt, divided, plus additional salt, to taste
8 oz fresh oyster mushrooms, preferably golden oyster mushrooms
4 Tbsp vegetable oil, divided
1 tsp ground black pepper
3 cups short-grain rice, such as sushi rice
½ tsp finely ground Sichuan peppercorns
4 garlic cloves, minced
2 tsp minced peeled fresh ginger
2 Tbsp black bean paste
1 Tbsp spicy chili crisp
1 Tbsp cornstarch or potato starch
fresh cilantro leaves and sliced green onion, for garnish
Prepare Fermented Mushrooms: At least 2 days before serving, add all ingredients to jar with tight-fitting lid. Add enough water to cover. Secure lid, then shake until sugar and salt dissolve. Set aside at room temperature. After about 24 hours, "burp" jar by opening jar to release any gas. Secure lid again. Allow mushrooms to sit another 24 hours before using. Liquid should become opaque, and there will be slight carbonation. If not serving right away, cover and refrigerate to use within 1 month. Yields about 1¼ cups.
---
Prepare Mushroom Mapo Tofu: Preheat oven to 425°F. In small saucepan, heat 6 cups water to boiling over high heat.
Place fresh shiitake mushrooms in stainless steel or other heatproof bowl. Pour 3 cups boiling water over mushrooms; let stand 30 minutes. Cut tofu lengthwise in half, then cut crosswise into 3 pieces. Place tofu in second heatproof bowl; sprinkle with 1 tablespoon salt. Pour remaining boiling water over tofu; let stand 10 minutes. Drain tofu, discarding liquid.
Meanwhile, in bowl, toss oyster mushrooms with 2 tablespoons oil, black pepper and remaining 2 teaspoons salt. Spread mushrooms evenly in large rimmed baking pan and roast 25 to 30 minutes or until crisp. While mushrooms roast, prepare rice as label directs.
With strainer set over bowl, drain fresh shiitake mushrooms, reserving mushroom liquid to use later. Finely chop mushrooms.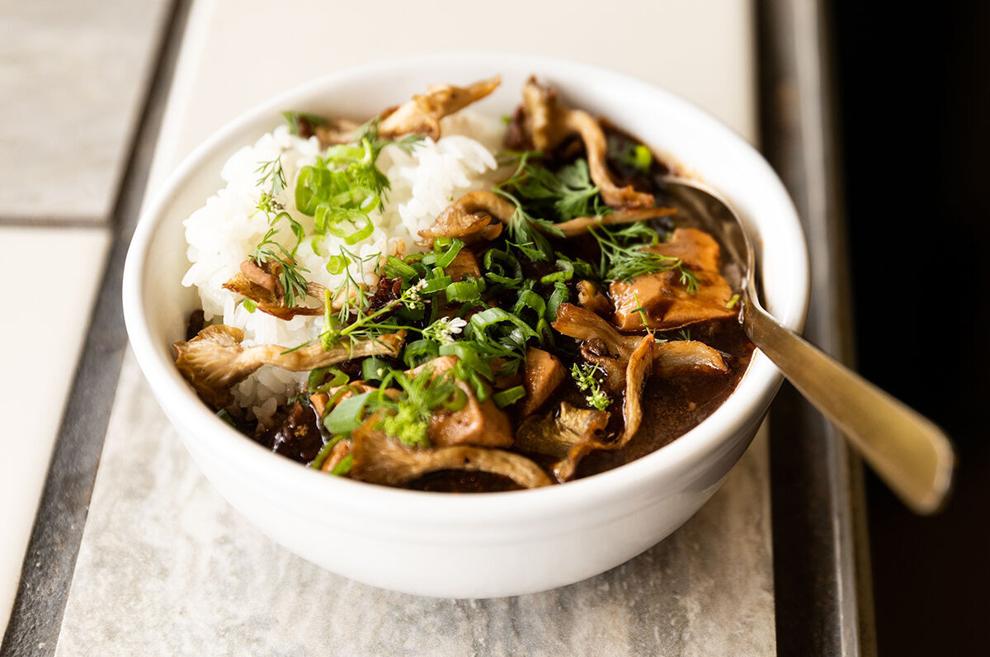 Heat 12-inch skillet over medium-high heat; add remaining 2 tablespoons oil, swirling pan to coat. Add Sichuan peppercorns and cook 30 seconds, stirring constantly with rubber spatula. Add garlic and ginger, and cook 1 minute or until fragrant. Add fresh shiitake mushrooms and cook 3 to 4 minutes or until they begin to brown, stirring frequently. Stir in black bean paste and chili crisp and cook 1 minute, stirring. Add 3 tablespoons liquid from fermented mushrooms; deglaze skillet, scraping up any browned bits in bottom of pan.
Add 2½ cups reserved mushroom liquid; heat to boiling. Reduce heat and simmer 5 minutes. Meanwhile, stir cornstarch into any remaining mushroom liquid; add mixture to sauce and heat to boiling, stirring frequently. Gently add tofu to skillet; cook about 2 minutes or just until heated through. Add salt to taste if necessary.
Divide rice between each of 4 bowls; top evenly with tofu mixture, fermented mushrooms and oyster mushrooms. Sprinkle with cilantro and green onions to serve.