Editor's note: Elizabeth Smith, who has begun writing about food for the Napa Valley Register, hails from Asheville, North Carolina, and after a holiday visit home, she offered up this insider's view of an East Coast food destination.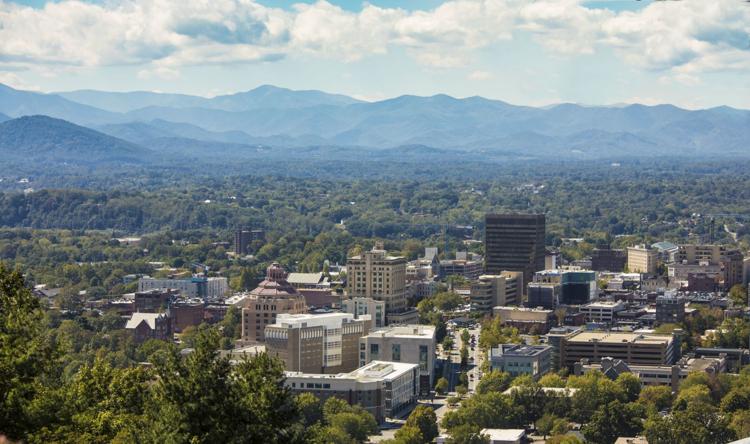 Asheville, North Carolina's culinary scene is fondly referred to as Foodtopia by ExploreAsheville.com, the local convention and visitors' bureau — and for good reason. Asheville has been recognized as The Daily Meal's 2019 Best Foodie Town, Lonely Planet's 2017 top U.S. travel destination, and a Frommer's 2015 top Places to Go. Asheville is also is home to a number of James Beard Foundation Award winners and nominees.
Over the last 25 years, this small city tucked away in the Blue Ridge Mountains has evolved into one of the East Coast's leading food and beverage destinations, with hundreds of restaurants, as well as cideries, distilleries, meaderies, and farmers' markets. According to C+R Research, Asheville ranks second in its list of more breweries per capita in the United States, 17 breweries per 50,000 residents, and the winery at Biltmore is the most visited in the country.
Asheville also has two forthcoming food celebrations in 2020: Restaurant Week Jan. 21-26 and Chow Chow Sept. 10-13. Here are six recommendations to whet your appetite for tastes of Asheville.
125 South Lexington Ave.
828-505-8560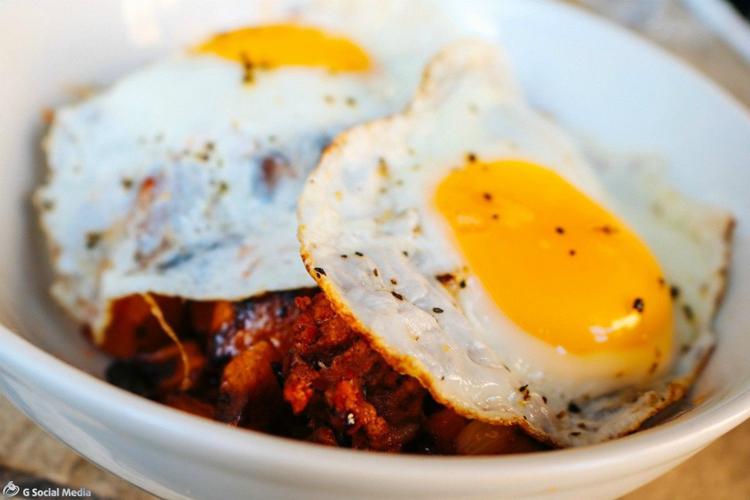 Storm Rhum Bar and Bistro, under new ownership, recently began serving brunch and lunch in addition to dinner. While the website describes Storm as a "new world approach to classic food and drink," new proprietor and chef, Asheville native Jay Medford prefers "a fun approach to 'New American.'" However, he vows not to limit the restaurant's menu to any particular category, but rather, allow his creative juices to flow when developing new menu items.
His mantra is simple: to create and serve dishes he "gets a kick out of making" with ingredients sourced from local farmers. For brunch, try Medford's twist on biscuits and gravy – square-shaped, buttermilk-cheddar biscuits topped with sausage gravy, two eggs sunny side up, and three slices of pork belly – or the chorizo hash (both gluten and dairy free) – a blend of sweet potatoes, fresh chorizo from a local Mexican market, and two eggs sunny side up. For lunch, both customers and staff recommend the chef's daily special tacos. Medford's latest dinner menu includes 'Gator and Grits. Says Medford, "I mean, they had gator available, so why not?"
WakuWaku Eatery674 Merrimon Ave., Suite 105
"I was very sick when I was little, and my family supported me a lot. I recovered because of foods and their love. Now I am thinking it's my turn to return to society," says Naomi Mikami, former athletic shoe company executive turned owner and chef of WakuWaku Eatery.
The restaurant offers Asheville both Japanese home-style cuisine and a gathering place for all things Japanese, like Mikami's weekly Japanese culture meetup on Thursdays, and the forthcoming Setsubun New Year (February 3), Jizo-bon Buddhism Festival (late August), and Japanese culture day (Nov. 3) events. Mikami describes her cuisine as "inspired by the wisdom of Washoku" – a term used to refer to traditional Japanese cooking.
A fusion of Japanese flavors and locally sourced ingredients, the menu at WakuWaku is extensive. Begin your dining experience with a sampling of Mikami's authentic, seasonal Obanzai (side dishes), such as Gobo (Burdock root), Hijiki (a brown sea vegetable native to the Japanese, Chinese, and Korean coastlines), or her Grandma's potato salad (recipe below). For a main course, her spicy, stew-like Karaage, deep-fried curry chicken (or other protein) with rice, is a warm, comforting delight. Her Katsudon, deep-fried meat made with egg, onion, and a savory sauce over rice, is sure to please.
121 Biltmore Ave.
828-552-3335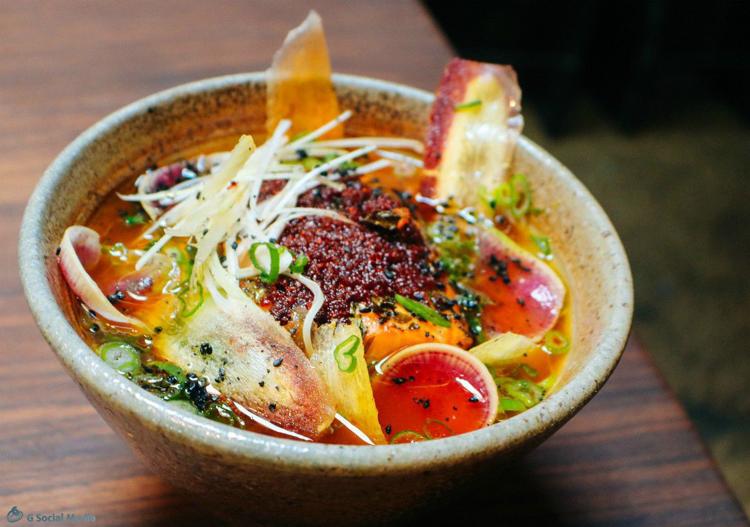 Futo Buta, which means "Fat Pig" in Japanese, a primary ingredient in traditional ramen, is one of Asheville's newest restaurants. It opened Nov. 12, 2019. The Asheville location is Futo Buta's second, the first being in Charlotte, North Carolina. The Asheville team – Executive Chef Ryan Miller, Director of Operations Kevin Blonshine, and General Manager Julie Chapman – confirmed that the name also signifies that while the company is serious about food, the brand itself does not take itself too seriously. The restaurant atmosphere is downright fun and funky, from the colorful, artsy décor to the loud rock music playing in the background.
The Asheville location is also a satellite tasting room for Charlotte's Resident Culture Brewing Company, boasting 24 taps of beer. What sets Futo Buta apart from other restaurants is the synthesis of Japanese cuisine, local craft beer, and Southern ingredients, primarily from North Carolina purveyors. For example, the restaurant uses pork from Hickory Nut Gap Farm in nearby Fairview, makes noodles in house with North Carolina flour from Lindley Mills, sources miso from Rutherford, North Carolina's American Miso Company, and serves ramen in porcelain bowls made by local artist, William Baker.
The restaurant also offers sushi, one being North Carolina King Mackerel with Ginger Turmeric Pickle and Fresno. Do not miss the Rice Crispy Squares on the Izakayas menu – the build-it-yourself small dish of spicy tuna, blocks of crispy fried rice, and wasabi soy – nor the minty and spicy Fire + Ice Ramen with a kimchi and dashi broth, hot smoked salmon, fresh mint, bok choy, shaved carrot, radish, black sesame, julienne leeks, and scallions. For vegans, the restaurant serves Niwa, a ramen made with vegan broth, organic mushrooms, bok choy, roasted and julienne leek, arugula, sesame, sprouts, scallions, golden pea shoots, and watermelon radish.
The Underground Café with DoughP Doughnuts
22 South Pack Square
LL 100 in the Historic Jackson Building
828-412-5718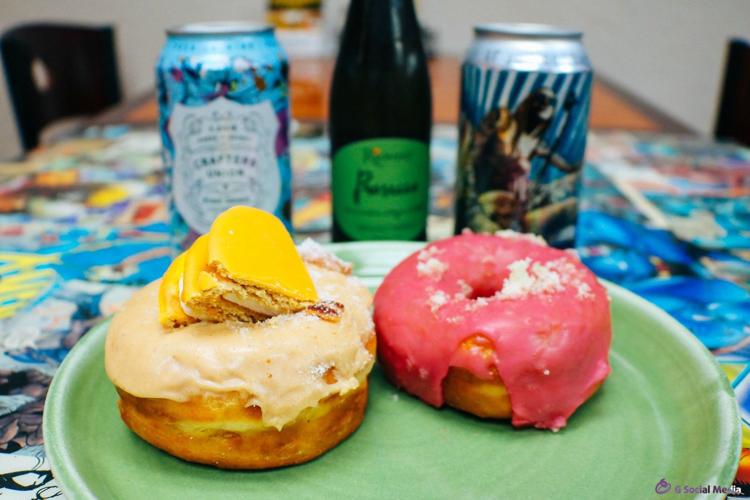 Another culinary creation of owner and chef, Jay Medford, The Underground Cafe with DoughP Doughnuts, is the quirky sibling of Storm. The underground location – in Western North Carolina's first skyscraper, the 1924-era Jackson Building on Pack Square – was not Medford's first choice because there is not a storefront, but he found a way to use the space to his advantage: it is his rendition of a New York City doughnut shop and bodega, reminiscent of his time spent in culinary school there. The name, DoughP, came from Medford's former stint as an executive chef, where restaurant patrons and staff alike repeatedly described his dessert doughnuts as "Dope!"
Medford's doughnuts, whose flavors change and evolve frequently, are made fresh daily with local ingredients and his proprietary dough recipe. Recent creations include Trailer Park Elvis – topped with a peanut butter-banana glaze, bacon sugar, chocolate, a slice of an authentic banana moon pie, and maple bacon – and Cranberry-Jalapeño – coated with a bright pink cranberry glaze and finished with jalapeño sugar. Medford also serves a variety of breakfast and lunch items like the breakfast scramble bowl, French toast sandwich, chilaquiles, chicken pesto and buffalo chicken paninis, and turkey Reuben.
5 Broadway St.
828-252-4450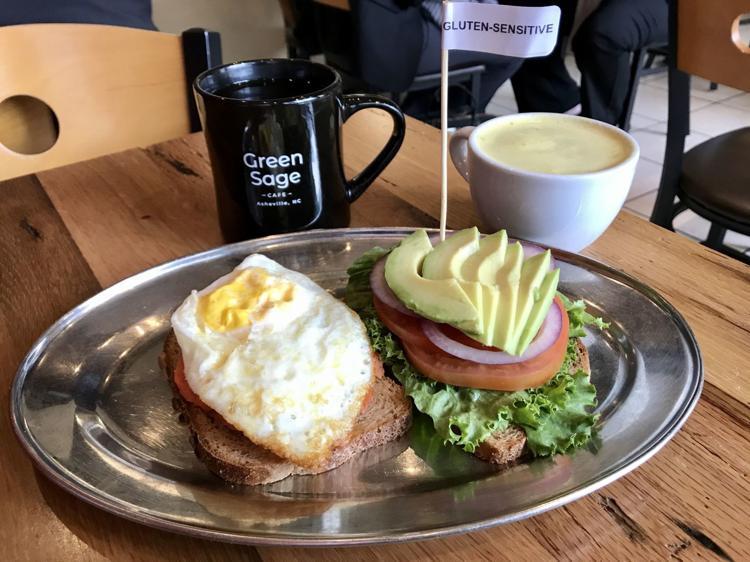 Green Sage Café, a favorite in Asheville since the downtown location opened in 2008 in a remodeled, 1930s era building, now has four locations around the city. The restaurant's popularity and growth stems from its philosophy of serving foods that are "nutrient-rich, chemical-free, 95% organic, and thoughtfully-sourced." If you follow an alternative eating lifestyle, such as gluten-sensitive, organic, vegetarian, vegan, paleo, or keto-friendly, this is the restaurant for you.
Green Sage sources the ingredients for its dishes within a 150-mile radius of Asheville, ensuring freshness and supporting local farmers and producers. The restaurant is especially careful with regard to its gluten-sensitive options, requiring its cooks and food handlers to change gloves and utensils when preparing and serving these foods.
Green Sage's menu has breakfast and brunch bowls, plates, pancakes, and sandwiches, as well as lunch and dinner appropriate sandwiches, wraps, soups, salads, and plant-based bowls. If you like avocado, must-tries include the Avocado Wild Lox Round – cold-smoked Alaskan salmon, avocado, lettuce, tomato, red onion, and chimmimayo (vegan mayo made with cilantro, parsley, and garlic) on a thin, whole-wheat bun or gluten-free bread – or a generous serving of Everything Avocado Toast – sliced avocado, everything seasoning, and olive oil on sourdough or gluten-free bread. Salad lovers will enjoy the vegan and gluten-free Sage House – bay greens, chickpeas, red peppers, cherry tomatoes, cucumbers, carrots, toasted sunflower seeds, pumpkin seeds, and lemon tahini dressing – also made with salmon or chicken for those who eat fish or poultry.
One Lodge St.
800-411-3812
821 Riverside Drive Suite 199 (Factory & Café)
10 South Pack Square (Chocolate Lounge & Boutique)
828-348-5321
A taste of Asheville is not complete without a visit to Biltmore, billed as "America's Largest Home." An estate pass includes a complimentary tasting at the winery, which it says has about 600,000 visitors annually. Formerly Biltmore Dairy Farms, the winery, which opened in 1985, produces about 150,000 cases of wines with grapes from the estate, North Carolina, California, and other states.
Grandma's Potato Salad from Naomi Mikami at WakuWaku EateryOne pound of russet potatoes
A tenth of a pound of carrot
A tenth of a pound of cucumber
Two-tenths of a pound of onion
3 tablespoons of mayonnaise
Put the potatoes in the large pot and add water until it covers all the potatoes. Boil the whole potatoes on high heat. After the water boils, lower the heat to medium and cook 30 to 40 minutes until a skewer goes through the potatoes smoothly. Drain the water and allow to cool.
Peel the potatoes and cut each into six to eight pieces. Mash the potatoes but leave some small chunks. Transfer the potatoes into a big bowl and allow them to cool completely.
Cut the onion into half and slice thinly, then stir fry with olive oil (or any vegetable oil) until they are soft.
Cut the carrot into halves or quarters and slice thinly.
Cut the cucumber into quarters and slice thinly.
Cut the apple into eight thin slices and add them into salty water (1 teaspoon of salt plus water to cover all sliced apples) for 10 minutes, then drain and rinse. The salty water prevents discoloration.
Mix all vegetables in a bowl. Blend another teaspoon of salt, one teaspoon of soy sauce, and three tablespoons of mayonnaise with the vegetables.
Satisfy your cravings
With our weekly newsletter packed with the latest in everything food.