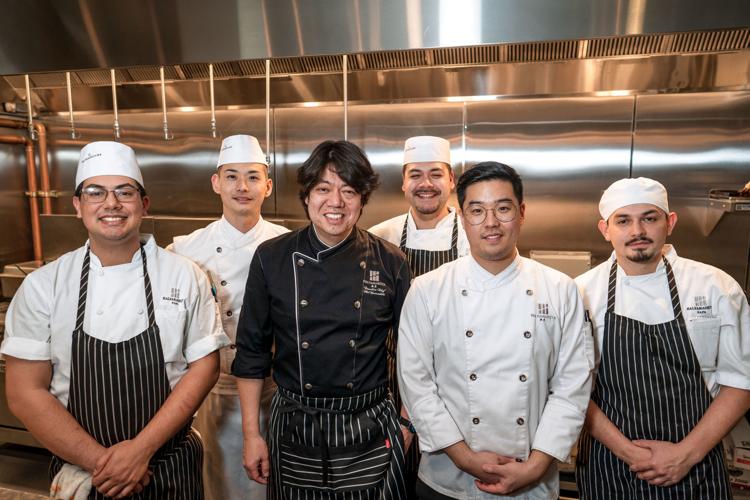 One of Napa's newest eateries on north Main Street houses a celebration of Japanese cuisine.
The restaurant, which opened last fall, serves as a canvas for Chef Haruyuki Yamashita at this, his eponymous United States location, Hal Yamashita Napa.
Born in Kobe, Japan, Yamashita holds a long list of awards and accomplishments but probably his most important contribution to the culinary world is his "Shin-Washoku" techniques referring to New Japanese cuisine.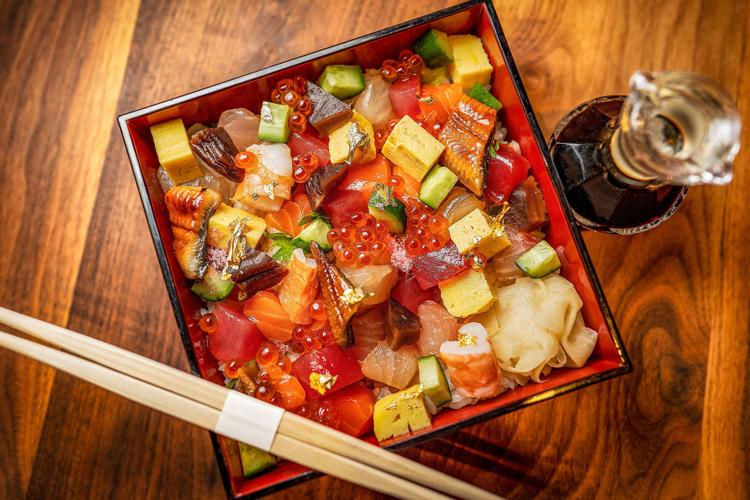 "Chef Hal focus on potentiality of ingredients for his cuisine," said Michiyo Hagio, the partner in Hal Yamashita Napa. "His cooking philosophy is to emphasize the natural flavors of the ingredients through a careful selection of flavor combinations and condiments."
An accomplished restaurateur, Yamashita has more than a dozen restaurants throughout Japan and one in Singapore. In addition he has consulted for a number of projects including a series of Hello Kitty restaurants located in Awaji Island in Hyogo, Japan.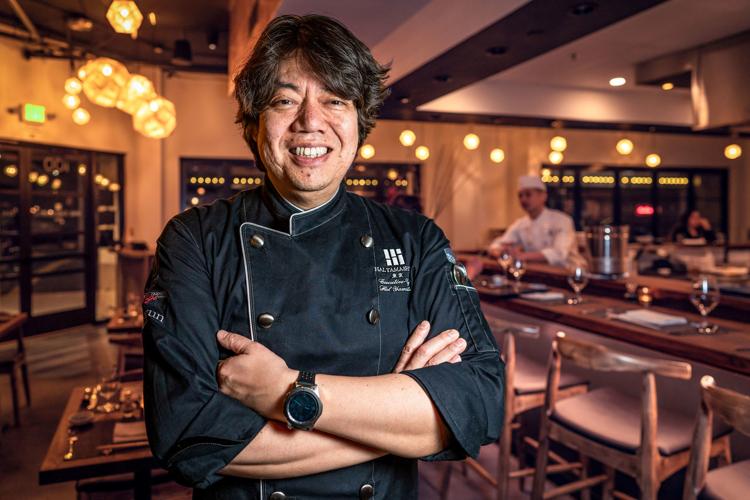 His first owned restaurant, Nadaban Dining, opened in 2003 at his native Kobe, followed by Hal Yamashita in Roppongi. Later on, he opened more casual locations under the Tokyo Entotsu Cafe brand.
I dined at his celebrated Hal Yamashita Tokyo, which opened its doors in 2007 in mid-town Tokyo in Roppongi. The experience was unique, the location was quaint and welcoming with an outdoor area available weather permitting. The service and cuisine were elevated with an omakase (tasting menu) that delivered an aesthetically captivating and Umame-driven dishes that often come to mind.
One of the highlights of the evening was the incredibly decadent Hokkaido Uni wrapped inside A5 Wagyu and dressed with caviar and ponzu sauce. The multi-course experience had a balanced cadence, which I dare to compare to the 1990 Three Tenors concert in Rome.
At Hal Yamashita Napa, the chef incorporates the magic of his omakase offerings with the addition of sushi, robata (grilled) dishes and tempura.
For the Napa location, Yamashita enlisted two high-caliber chefs, with whom I have had the pleasure of working in the past. Seijun Okano, a talented sushi chef, honed his skills working for Chef Morimoto and learning from two masters at their craft, Goto San (Morimoto Maui) and Ichiro San (Morimoto Napa).
As head chef and orchestrator Chef Yoon, Lee has an eye for detail and precision are palpable on every dish. Chef Lee's trajectory includes Morimoto New York, Thomas Keller's Bouchon Yountville, Morimoto Napa and Miminashi.
Chef Hal and team made their debut in the valley last year at BottleRock Napa Valley where they showcased the decadent Wagyu sushi roll and Chicken Karaage (Japanese fried chicken) with a secret recipe that elevated the crunchy texture and flavors.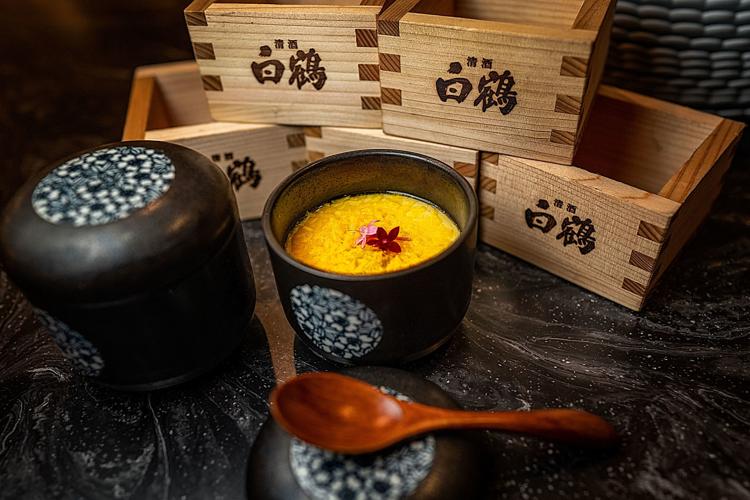 Later last fall, the restaurant opened. The decor is minimalist, balancing a gray tone with the dark wood chairs and tables. On the walls are paintings that Yamashita found in Kobe.
For the first few months, the menu was dedicated to Omakase dining, which serves a multi-course, prix fixe menu. Since then, the restaurant has expanded to allow diners to choose a la carte options. Although it currently is open for dinner only, the plans are to expand soon to serve lunch.
During a couple of visits, I explored the Omakase menus. Characterized by a seasonal approach and delivery, this traditional Japanese style progression began with a classic Chawanmushi (egg custard) with a dashi glaze; both elements were creamy and full of complexity.
The next course presented a lively and perfectly seasoned Toro (medium fatty tuna) carpaccio with sesame and ponzu, a citrus based sauce.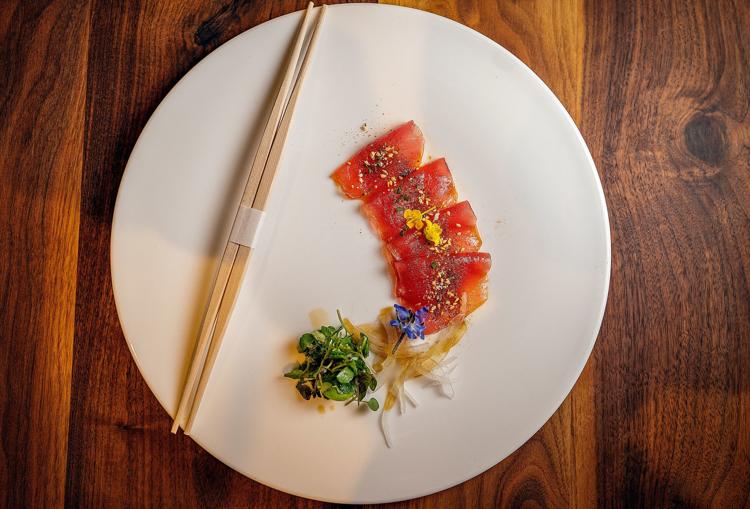 The next course was the one that often visits my dreams: A5 Miyazaki Wagyu with Uni and Osetra caviar. It is served on a porcelain spoon and best enjoyed with your eyes closed and paired with a Genshu style sake.
Moving on, we were served a crisp and light tempura shrimp and vegetables served with an exquisite matcha salt and citrus, a level I have found only in Kyoto.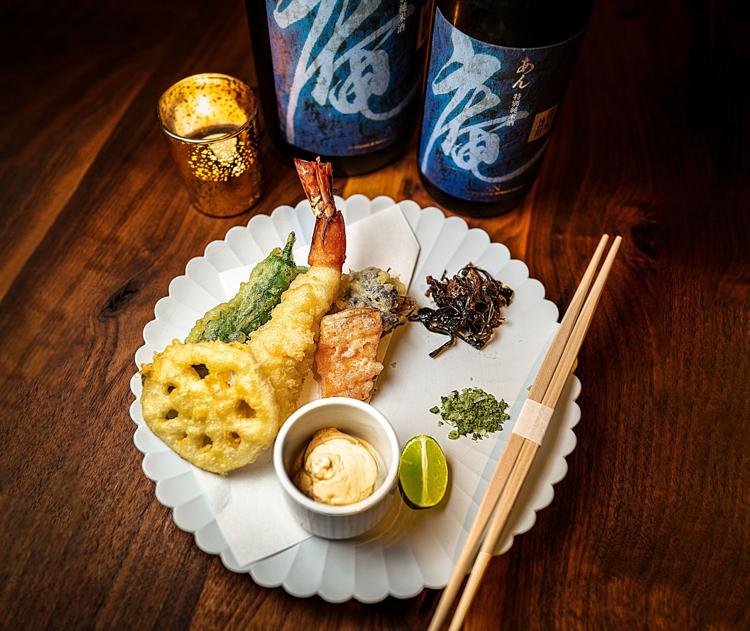 The next dish is one of Chef Hal's most talked about signatures. Robata grilled black cod with Saikyo Miso marinade, Yuzu miso, Parmesan cheese and bottarga (fish roe) powder. It is an explosion of elements that work extremely well together, like Leonardo DiCaprio and Brad Pitt on "Once Upon a Time in Hollywood."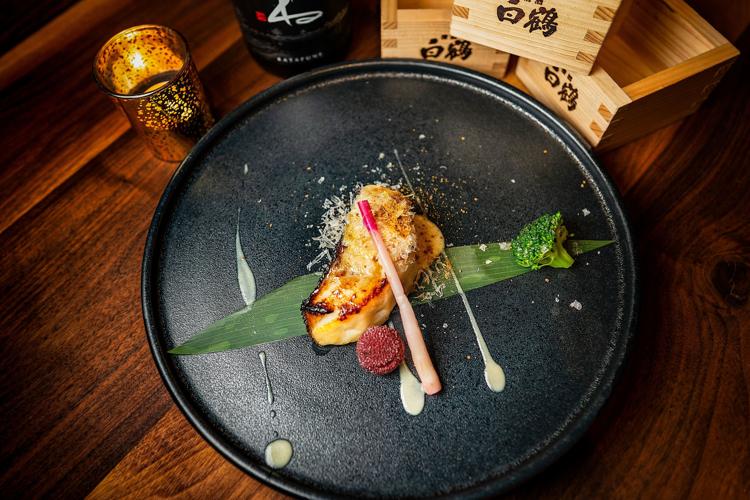 The next move from the kitchen consisted of a cozy and heartwarming clear shiitake mushroom broth with ginger juice and chives. Once again, a majestic orchestration of ingredients delivering a memory of time and place.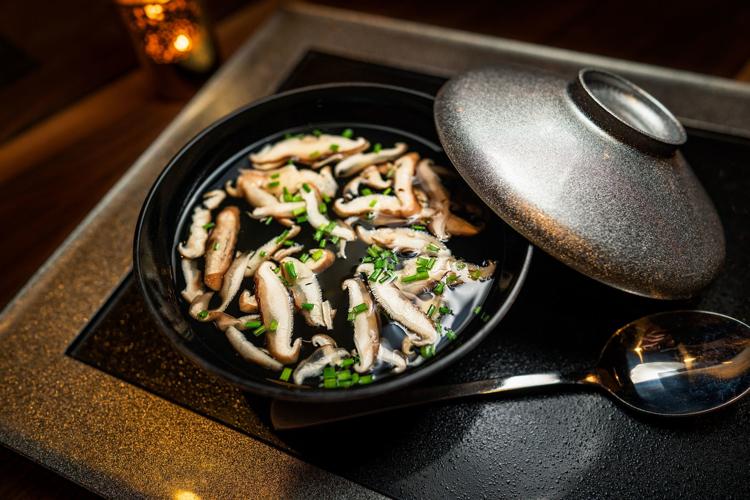 Following in the parade was an array of Nigiri, a type of sushi that is a slice of raw fish over pressed rice with vinegar. Chef Okano showcased the most recent catch with their signature sushi rice.
Next, a grilled Snake River Farm Steak was soft textured and full of umami.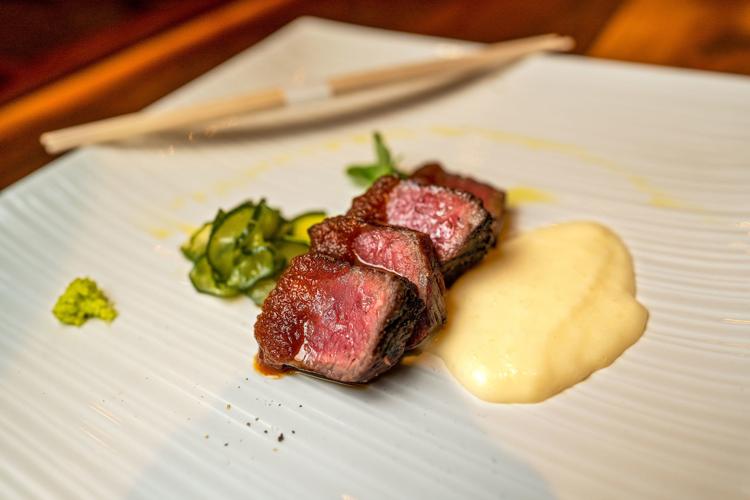 This gave way to a seasonal fruit-sake compote sorbet that was very appreciated as a palate cleanser before a traditional Matcha green tea.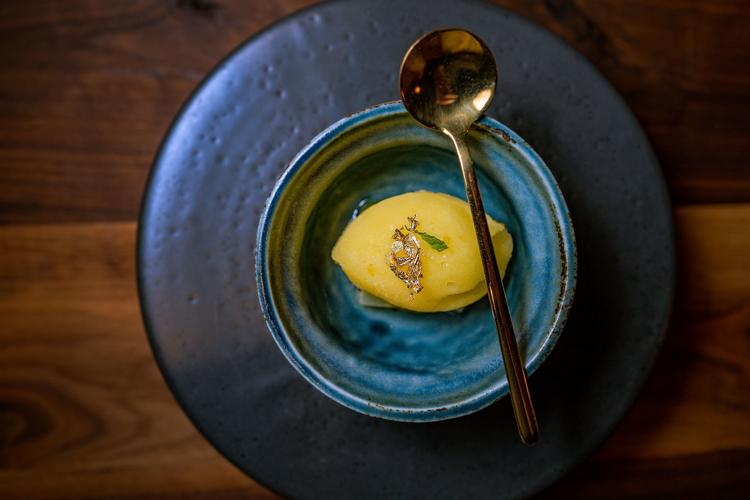 The restaurant recently launched four different Omakase menus, ranging from eight courses for $88 to 11 courses for $188, and all celebrating seasonality and chef's techniques.
A la carte options
Aside from the seasonal Omakase menus, there is a bountiful a la carte menu that offers a range of choices.
Among these are a chef's specialty, uni-maki ($25), Wagyu beef rolled around a sea urchin and garnised with Osetra caviar. Tuna, salmon and white fish carpaccio is served in two sizes for $14 or $28.
From the Japanese robata yaki (charcoal grill), offering include grilled edamame ($7); foil-wrapped mushrooms with ponzu ($28); grilled salmon with teriyaki ($34); classic Japanese Chicken Yakitori ($14 for two pieces) and grilled chicken with spicy sauce ($22). Also from the grill also is another Yamashita's specialties, grilled black cod with Saikyo miso ($18 and $33).
Wagyu beef, both American and Japanese, ranges from $65 to $180.
Tempura options include a bowl ($28), shrimp tempura ($22) and vegetable tempura ($15). Shrimp and vegetable tempura is $25.
During one of my last visits, we enjoyed a thoughtfully concocted dish with razor clams, yuzu butter and osetra caviar that became an instant favorite with the table.
And the sake
As part of promoting Japan in the Napa Valley, the restaurant features a comprehensive sake list that makes an emphasis on small batch sake from throughout the country.
Some of the most popular selections include Nagano micro brewery, Misuzu, a brewery that operates with fewer than 6 workers including the Toji (brewmaster), the hard-to-find Takachiyo from Niigata, Fukuju from Hyogo Prefecture and celebrated brewery Yuho from Ishikawa Prefecture.
"Although sake is a big focus of the program we are in Napa Valley so we try to promote local wine' Hagio said. The wines offered include Miner Vineyards, Rolando Herrera's Mi Sueño wines, Twomey and Schramsberg Vineyards amongst others.
'Hal Yamashita Napa aims to be a celebration of Japanese culture' said Hagio. "From sushi classes to Taiko drumming, the sky is the limit."
Hal Yamashita Napa currently offers an Industry Happy Hour each night it is open, along with a monthly Sake Night on the last Thursday of the month in which a special flight is available.
The restaurant is open from 5:30 to 10 p.m. nightly with the exception of Tuesdays when they are closed. Hal Yamashita Napa is at 1300 Main St., the corner of Main and Clinton streets. For information and reservations, visit halnapa.com or call (707) 699-1864.
Satisfy your cravings
With our weekly newsletter packed with the latest in everything food.