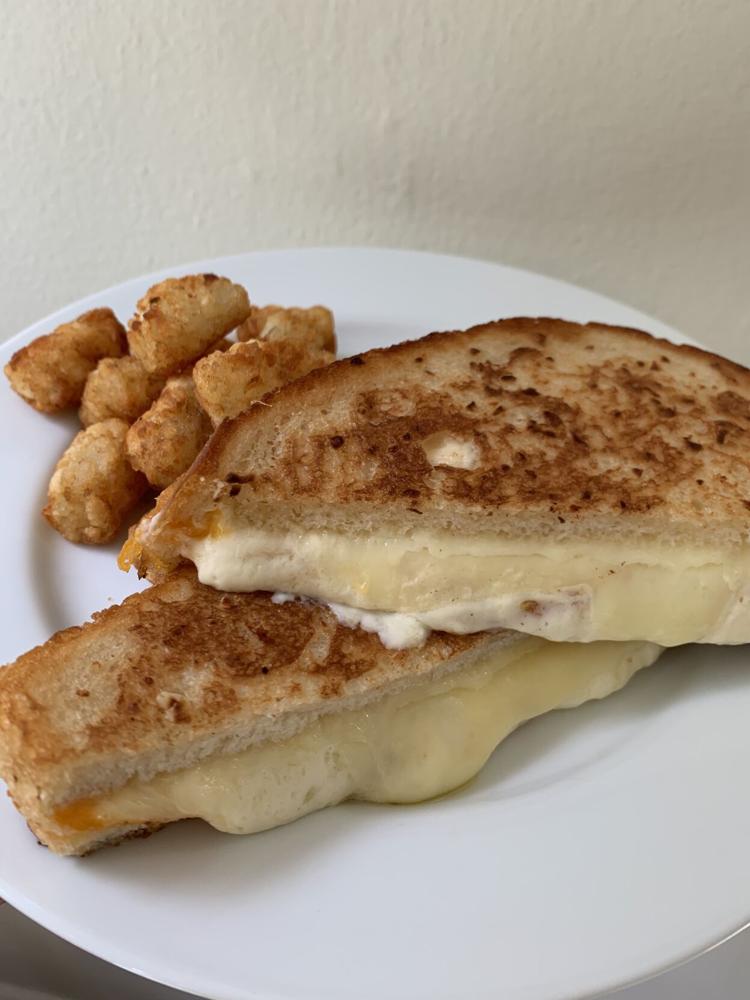 Armchair travel is about the only type of travel we're going to do this summer, but that hasn't stopped my 7-year-old daughter from asking when we can go to Disneyland or on a Disney cruise. Although some of the parks have opened, those of us who aren't planning to go to the most magical place on earth quite yet can travel through our kitchens instead. I decided to give Disney's recipe for a decadent grilled cheese a whirl to see if their kitchens were serving something worth making at home.
How to make Disney's grilled cheese
This grilled cheese hails from Woody's Lunch Box concession in Toy Story Land at Walt Disney World. While there's a simpler kid's grilled cheese on the menu, this one is more for grown-ups, using three different kinds of cheese (four if you count cream cheese). It's served with a choice between potato barrels (aka tater tots), macaroni salad or tomato-basil soup.
I chose tater tots because I love them dearly, and while they were in the oven I made the grilled cheese. I started by buzzing cream cheese, shredded double Gloucester or cheddar cheese, cream and salt together in a food processor until it formed a paste. Double Gloucester is an English full-fat, semi-hard orange cheese from England, but I couldn't find it locally, so I substituted some aged English cheddar instead.
Next, I spread French sandwich bread (the menu lists sourdough, but the recipe says artisan bread) with a garlic spread made by stirring together mayonnaise, minced garlic and salt (the side with the garlic spread hits the pan to crisp the bread). For each sandwich, I spread the cream cheese mixture between two slices each of cheddar and provolone cheese. Finally, I grilled the sandwiches in a pan on the stovetop over medium heat until golden-brown. The outside of the sandwiches browned up beautifully, but upon cutting them open, I found that the sliced cheeses were not fully melted. The cream cheese spread did ooze out all over the plate, though.
The whole process wasn't too hard, although I was annoyed that I had to haul out my food processor for grilled cheese. My guess is that you could get a decent cream cheese mixture by just smashing softened cream cheese with the other ingredients. Making the garlic spread was easy too, although I had to look at the recipe twice to make sure I read the amount correctly: one cup mayonnaise for four sandwiches! That seemed like way too much, but maybe Disney had some grilled cheese secret I was about to learn?
The richest grilled cheese
It was time for lunch, and my husband and daughter came eagerly to the table. I took a bite and my first thought was that the bread was delicious; a bit too rich, but the mayonnaise browned up beautifully, and the generous amount of garlic took it into garlic bread territory. But the rest of the sandwich was way too rich. It wasn't balanced and all I could taste was cream cheese and barely melted sliced cheese.
It was so rich I could only eat about half before I gave up and just picked the cheese off the bread so I could eat the bread by itself. And no wonder, as each sandwich contains 1 ounce cream cheese, 4 slices cheese, a little shredded cheddar, 1/4 cup mayonnaise and a little cream. My husband and daughter also gave it the thumbs-down review and I actually had to make my daughter a regular grilled cheese instead. After lunch, I chewed on some minty gum to get rid of the slick of grease that I felt was coating my mouth.
Unfortunately, this recipe wasn't a winner in our house. But I will use that garlic spread on the outside of future grilled cheeses, just maybe not in such generous quantities. We all agreed that tater tots are a great pairing to grilled cheese, although a side of tomato soup would do a great job of cutting through all the richness.
If this decadent, cheese-filled sandwich sounds right up your alley, here are a few things I would recommend doing.
1. Halve everything except the bread. Half the amount of cream cheese spread (and you can probably skip the heavy cream altogether), half the amount of garlic spread, and just a slice each of cheddar and provolone in each sandwich would still yield a tasty grilled cheese without the gut-bomb feeling after.
2. Get good bread. Sliced French or sourdough bread has the best flavor for this sandwich, as they don't contain the hint of sweetness that some white sandwich breads have.
3. When building the sandwich, just layer everything onto one slice of bread. Skip the slightly confusing instructions for building the sandwiches. Start with provolone, spread on the cream cheese mixture, then top with the cheddar before closing the sandwich.
4. Grill the sandwich longer. Two minutes per side just wasn't long enough to get that signature cheese pull you want in a grilled cheese. Use medium-low heat and be patient, or put a lid on the sandwich for the half the time if you want to stick with medium heat.
Recipe note: For a complete list of ingredients and instructions, check out this post on the Disney Parks Blog.
(Christine Gallary is food editor-at-large for TheKitchn.com, a nationally known blog for people who love food and home cooking. Submit any comments or questions to editorial@thekitchn.com.)
Satisfy your cravings
With our weekly newsletter packed with the latest in everything food.