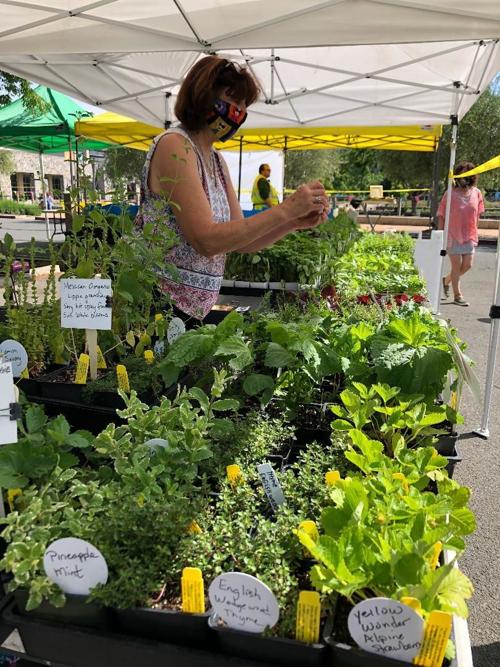 As Robin Williams said, "Spring is nature's way of saying, Let's party!" The earth comes alive after winter hibernation. New animals are born, flowers pop up out of the ground, and the sun stays out longer. Ever since I was a young girl, I have looked forward to spring, the sights, the colors, the sounds, and smells. There is nothing better than days filled with fresh rain showers, brilliant sunshine, and laughter.
Spring brings new beginnings and the time we look forward to planting our summer herb and vegetable gardens. The best place to go for your herb and veggie starts is at Morningsun Herb Farm at the Napa Farmers Market.
Rose Loveall operates the farm she grew up on with a staff of very passionate, energetic, and knowledgeable people. They can provide you with the information you need to create and maintain a beautiful garden that combines culture, creativity, and agricultural uniqueness.
I took a drive out to the farm last week. Following the winding roads through the serene orchards of Pleasants Valley, I embarked on an unexpectedly wonderful afternoon.
As I walked into the farm, I was immediately immersed in the splendor of the nursery and garden settings.
A gentle breeze flowed through the wind chimes and bees were buzzing everywhere. There is an array of funky, fun and ecliptic sculptures, water features, and intriguing artwork all over the property. They even have a petting zoo with roosters, donkeys and Goose the Goat. Everywhere I turned there was something new to discover.
Rose and I had a delightful conversation. We toured the farm and talked about the starts Morningsun has to offer at the farmers market. Seeing all the basil tomatoes and pepper starts made me look forward to seeing them in the market soon.
Rose's one word for May is basil. There are countless varieties to add a little spice to your herb garden. You can use it to add color in your garden, an ingredient in food or drinks, for medicinal purposes, or to attract pollinators. Rose likes to add little basil to the farm's spa water. The spicy tones really add a nice kick and the water tastes ridiculously good.
After leaving, I was super enthused about getting my garden started. As a newbie to plant cultivation, I called a good friend who is a Master Gardener. She gave me some great advice "Start small with a few herbs and veggies you like and experiment along the way."
She also shared tips for a long harvest and good-looking plants. Garden vegetables flourish in warm, nutrient-rich soil, and enjoy basking in the sun. Planting in a raised bed is advantageous as it warms soil earlier in the season for strong root growth. Use a good organic soil booster and fertilizer. Composting and mulching are also beneficial. Water until your plants until established and then set up a watering schedule based on your plant's needs. Follow these simple tips and your garden will flourish with a tantalizing and extraordinary abundance of colors and flavors.
Longer days, warmer temperatures and plenty of fresh food make spring a wonderful time of year. Get out and plant early to take advantage of the best growing season for delicious, homegrown herbs and vegetables. Come visit Morningsun Herb Farm at the Napa Farmers Market on Saturdays. If you love herbs and cooking with fresh vegetables this is the place to be. That's where I'll be picking up my spring garden starts.
Basil and Eggplant Pesto
A delicious variation on traditional pesto, used with permission from Morningsun Herb Farm.
1 large eggplant (about 1 ½ lbs.), halved lengthwise
½ cup plus 2 tablespoons extra-virgin olive oil
1 clove garlic, finely chopped
2 tightly packed cups of basil
½ cup freshly grated Parmesan cheese
½ cup freshly grated Pecorino cheese
Preheat the oven to 400 degrees. Lightly score the cut surfaces of the eggplant halves, brush with 2 tablespoons of the oil, and sprinkle generously with salt. Place in a baking pan face up and bake until very soft and tender, 30 to 45 minutes.
Scoop out the roasted eggplant flesh and set aside; discard the peel. In the bowl of a food processor or blender, combine the garlic, pine nuts, and a pinch of salt.
Process or blend to make a smooth paste. Add the basil leaves a few at a time, and continue to process.
Drizzle in the remaining ½ cup oil, and gradually add the cheeses, continuing to process, until the oil, cheese, and basil are incorporated and no large pieces of basil are visible. Add the eggplant and process to a smooth puree. Store covered in the refrigerator. To serve with pasta, dilute the pesto with 1 to 2 tablespoons of hot pasta cooking water and toss.
Catch up on Napa County's top news stories
Get unlimited digital access to the Napa Valley Register for just $3 for your first 3 months! Enjoy every article without restrictions and find tons of subscriber-only perks, such as access to our daily eEdition. Click here for details!
Find the Napa Farmers Market at 1100 West St. (at Pearl Street) in downtown Napa, Saturday (year-round) and Tuesday (April to December), from 8 a.m. to noon. Face coverings are required for entry (no exemptions) for everyone over 2 years old. Check www.napafarmersmarket.org for and follow the Napa Farmers Market on social media for updates.