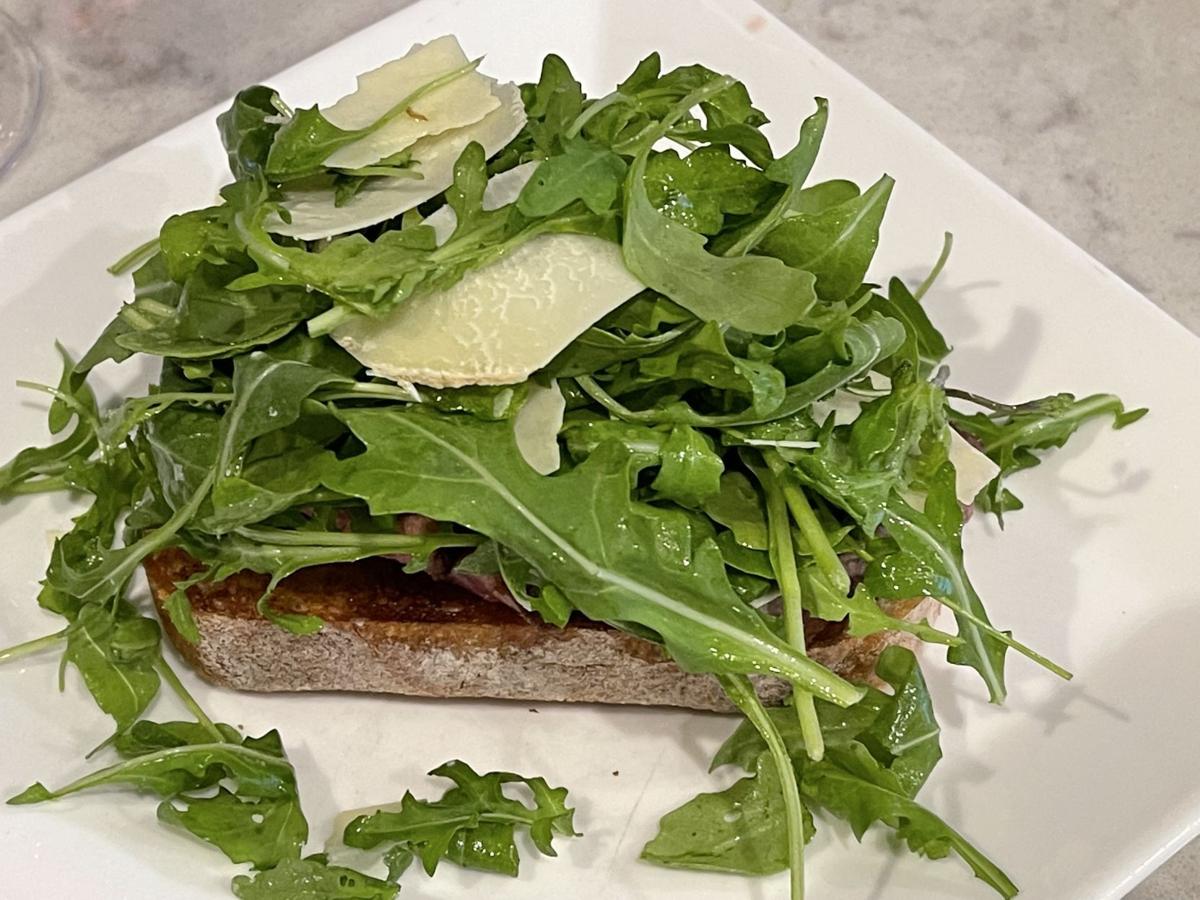 For a recent weekend meal, we invited Janet Fletcher and Ken Morris and their spouses. Janet is the author of many cookbooks, including "Fresh from the Farmers' Market", and the winner of three James Beard Awards. Ken is not a professional chef, but he has taken cooking classes in many countries and writes a weekly column in the Napa Register, Cooking for Comfort.
So how do we cook for these culinary stars when we entertain them in our home? One tip is to stick with dishes you know and feel comfortable executing in front of company. This is not the time to try new techniques or recipes for the first time.
Support local news coverage and the people who report it by subscribing to the Napa Valley Register. Special offer: $1 for your first 3 months!
Another tip, buy the best ingredients you can find. For this recent meal, we were able to buy virtually all our ingredients from the Napa Farmers Market.
The appetizers were deviled eggs and veggies with hummus. We love the eggs from Sun Tracker Farms and Long Meadow Ranch.
Our other appetizer was easy, but beautiful. Hummus from the Hummus Guy and raw carrots, celery, snap peas, and radishes. Almost all the farmers at the market offer these beautiful veggies and the bright colors on a white or black plate really pop.
For the first course, we served fresh melon with prosciutto. Sun Tracker has the sweetest melons and we mixed slices from two different varieties. For prosciutto, we visited Contimo Provisions. This is such an easy company dish as you can slice the melon in advance and then just plate it at the last minute. A quick squeeze of lime was all that was needed to complete this course.
The main course was a dish we had several years ago at Oenotri and its been a staple in our cooking repertoire ever since. It's basically grilled steak, sliced and served on garlic toast with a topping of arugula salad and parmesan cheese.
For our dinner we chose a hanger steak from Sonoma Mountain Beef Company. The steak came frozen in a vacuum pack. Given that it was already vacuum-packed, we decided to sous vide the beef and then sear it on the grill after it was cooked. The advantage of this technique when entertaining is that Steve doesn't have to spend a lot of time standing at the grill - just enough time to get a sear for flavor and color as the steak is already cooked in the sous vide water bath.
While Steve grilled, I prepared the garlic toast using bread from West Won. The arugula came from J & M Ibarra Farms and we bought cheese from Achadinha Cheese. True Parmesan cheese only comes from Italy, but Achadinha has a similar hard cheese called Cowpricous, which is a hand-rolled, aged cheese made of pasteurized cows & goats' milk.
We were lucky enough to have Ken Morris offer to make a fruit tart for dessert. He made a beautiful tart with Rodriguez Farms strawberries and Triple Delight blueberries. We provided some vanilla ice cream and it was a perfect ending to our meal.
I hope this article gives you the inspiration to cook with ingredients from the Farmers Market - whether you are having chef friends over or just cooking for yourself.
Grilled Steak on Garlic Toast with Baby Arugula and Parmesan Salad
2 8 oz. Steaks - Ribeye, Hanger, Flat Iron - any steak can work
4 slices of rustic bread cut 3/4" thick
1- 2 cloves of garlic — chopped
4 cup loosely packed baby arugula
¼ cup shaved Parmesan-Reggiano cheese or other hard, aged cheese
Add garlic to olive oil to make garlic oil. This can be done in advance to increase the flavor of the garlic. Toss the arugula with some of the garlic oil. Season steaks with salt and pepper and a little olive oil.
Grill steaks to your preference of doneness. Loosely cover steaks with foil to keep warm while finishing the next steps. Toast bread lightly and brush with garlic oil. Cut steaks crosswise into ½ inch slices and lay on the toast. Top steak with arugula and top with cheese.
Catch up on Napa County's top news stories
Get unlimited digital access to the Napa Valley Register for just $1 for your first 3 months! Enjoy every article without restrictions and find tons of subscriber-only perks, such as access to our daily eEdition. Click here for details!
Cindy Deutsch is a member of the board of the Napa Farmers Market.