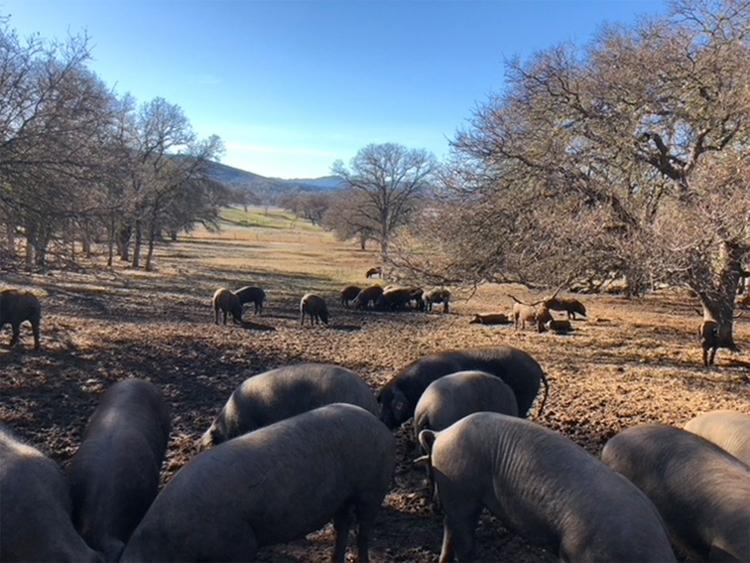 I fell in love in Barcelona – with jamón. This wasn't just any jamón, but the delicacy known as jamón iberico de bellota. Raised in the forests and meadows of southern Spain and finished on acorns (bellotas), this black-hoofed porcine provides some of the most delectable ham in the world. Creamy, mouthwatering, nutty, rich, savory and unbelievably delicious, it has been described as the Kobe beef of pork.
So when Encina Farms, the only producer of the Iberian breed in California (and one of only a few in the U.S.), wanted to join the Napa Farmers Market family, I was more than thrilled. And so were many others, as the products have quickly developed a following.
Encina Farms (encina means "live oak" in Spanish) was born when Alberto Solis and Helmut Drews discovered they had a shared passion for farming and for the Iberian breed. But to realize their passion they had to overcome several major challenges. First, they had to source the breed, which is chiefly raised in Spain, and then find suitable land to raise the animals free-range. They needed pastureland primarily, but they also needed oak trees – lots of oak trees.
Alberto, a native of Madrid who has been in the food business for over 30 years, first became involved with Iberico pigs while running U.S. sales and marketing for Fermín, the first company to import jamón iberico de bellota. He later joined Acornseekers, a company that, in 2014, was the first to import the Iberico breed into the United States. This ultimately opened doors to other producers, including Hines Boyd, a Florida rancher who was so impressed with Alberto and Helmut's knowledge and passion he agreed to sell them 83 purebred hogs.
Helmut grew up on his grandfather's dairy farm in Colombia and felt a strong pull to get back to the land. His career and connections in the tech-investment world would lead him to Peter and Emily Luchetti, whose family's 650-acre ranch in Lake County provided the ideal spot to raise Iberico pigs.
This bucolic ranch not only offers access to water and plenty of certified organic pastureland, but also the acres of oak trees needed for the montanera, the months-long acorn finish, that makes this meat so exceptional. During the montanera, each pig can eat as much as 20 pounds of acorns per day. Similar to olives, acorns are 70 percent oleic fatty acid (hence iberico de bellota's nickname "olive oil on legs"), which enhances the marbling and provides the nutty taste.
Alberto and Helmut take as much pride in managing the land as in raising the breed. Practicing regenerative farming — rotating the animals across pastures to allow the soil to rest and renew — they are striving to continually enrich the pasture. They also plan to prune and care for the oak trees so they remain healthy and acorn-rich.
The other resource required to successfully raise this breed is time. It takes more than twice as long to raise these free-range pigs to market weight as it does the commercial white pig. They also have fewer litters — two per year compared to almost three for industrially raised pigs — with half the number of piglets in each. This spring, Encina Farms will receive its second delivery – 20 sows, two boars and over 100 piglets.
Given the aging requirements, the famous cured jamón is a future project for Encina Farms. However, you can purchase many delicious fresh cuts, including ribs, chops, tenderloin and cheeks as well as bacon, fresh chorizo and butifarra sausages, each Saturday at the Napa Farmers Market.
Encina Farms' meat is not only truly free-range, the fat is high in healthy fatty acids. And, because of the intense taste and lushness, a little goes a long way. Recently, when I was purchasing rib chops, Alberto advised me that one was plenty for two people. It wasn't the size of the chop he was referring to, but its richness. You will pay more per pound for this delicacy, but you will get your money's worth in great taste and knowledge that the animals were raised well.
Alberto and Helmut say the pork is best prepared simply. Grill the meat to medium or medium rare, and finish with a high-quality salt. I chose to get out the sous-vide wand and finish it with a pan sear. If you don't own a sous-vide device, I would suggest the following approach as it reduces the chance of overcooking a bone-in chop on the grill.
Grilled Encina Farms Rib Chop
Bring the meat to room temperature. Preheat the oven to 350 degrees and preheat a gas grill to high or prepare a hot charcoal fire.
Season the meat with salt and pepper. Bake until the internal temperature reaches 125 degrees, 15 to 20 minutes depending on thickness. Transfer the chop to the hot grill and sear on both sides, 2 to 3 minutes per side. Let rest for 5 to 7 minutes. Sprinkle with a coarse sea salt, like Maldon salt, before serving.
Kids activities at the Napa Farmers Market
Bring your youngsters to the market Education Station on Saturdays for Story Time at 10:30 a.m. There might be coloring, matching games or other fun activities too.
On the KVYN Music Stage: On Saturday, February 1, Bruce Kenyon will be performing.
Harvest of the Month: Through January, enjoy comparative tastings of citrus and chard at the market's Education Station at 11 a.m.
Napa Farmers Market is Moving! As of Saturday, Feb. 8, the Napa Farmers Market will be held at Napa Valley Expo, 575 Third Street, in Napa. Find the market next to Zinfandel Hall.
Hours remain 8:30 a.m. to 1 p.m. with all the same great vendors and activities.
Marilyn O'Connell is the president of the board of directors of the Napa Farmers Market. The Napa Farmers Market takes place on Saturdays from 8:30 a.m. to 12:30 p.m., in the parking lot of the South Napa Century Center, 195 Gasser Drive, Napa. The market also participates in the Market Match program, doubling the value of CalFresh benefits purchasing power for all eligible food products. For more information or a schedule of upcoming events, visit napafarmersmarket.org.
Satisfy your cravings
With our weekly newsletter packed with the latest in everything food.