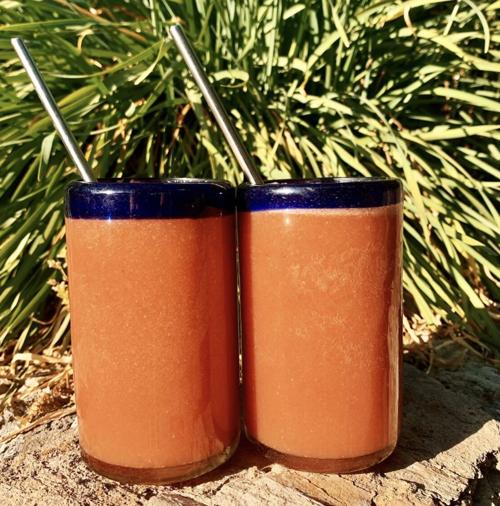 With the summer heat comes, we need to stay hydrated and, fortunately, juicy stone fruit like apricots, plums, and peaches, which you'll soon find aplenty at the Napa Farmers Market, will help. 
If you ever want to learn what foods are in season for our region, visit our Napa Farmers Market. Eating food that is organically grown locally or regionally, reduces our carbon footprint and supports Mother Earth's regeneration.
Fruit is an essential summer cooler cool and a delicious way to stay quenched this summer. Strawberries, for example, are made up of about 90% water. 
Strawberries or fresas, as we call them in Spanish, remind me of my childhood favorites: chocomil and fresas con leche. My mama, Isabel, would make us a chocomil (milkshake) with strawberries, banana and dairy milk topped with cinnamon powder.
Throughout mercados (markets) in México, chocomiles are a staple drink you'll find blended with ice using the iconic aqua-colored Oyster mixer with the individual motorhead and stainless-steel cup. Just describing this scene has my mouth-watering. After blending the chocomil to perfection, it's served either in the same cup or to-go using a plastic bag that's knotted with a straw poking out. Since ice cream is not used in this milkshake, it is a light and refreshing treat.
While traveling in my home state of Jalisco, México in 2019, I yearned for a chocomil from a mercado in Guadalajara. To satisfy my craving, I went to a grocery store and purchased non-dairy soy milk.
When I became vegan at the end of 2017, I thought it meant a long list of limitations, but it really means changing the ingredients, not the meal. At the mercado, I ordered a chocomil de fresa and requested they kindly use my store-bought milk carton. I cannot put my joy into words when my drink was ready.
Another way my family used strawberries was in fresas con leche, and oh, is all this making me hungry. My mamá would lightly smash diced strawberries with a hand-held tool or blender, ensuring it didn't purée. The bright red-hued fruit pieces were mixed with sour cream and sweetened condensed milk for a refreshing delight in a bowl. I realize that combination may sound odd, but it becomes like a rich and delicious whipped cream.
I also make a vegan version of this dessert using coconut cream and a sweetener such as agave or maple syrup. This is a great way to use the strawberries that aren't as plump as the day they went into your fridge. 
Another tasty way to beat the heat is to blend fruit in a smoothie or agua fresca (fresh fruit water). I offer you an energizing agua fresca recipe using strawberries and basil, an anti-bacterial and anti-inflammatory herb. To garnish your Agua de Fresa, I recommend using antioxidant chia seeds indigenous to Mesoamerica or lime wedges. I hope you enjoy!
Energizing Agua Fresca de Fresa
4 cups of strawberries, hulled
1 cup of fresh basil leaves
4 tablespoons of lime juice
8 cups of filtered room temperature or cold water
Optional: Chia seeds or lime wedges for garnish, ice, and sweetener of choice like agave, maple syrup, or dates
Add the strawberries, basil leaves, lime juice, and optional sweetener to taste in a blender until a smooth liquid.
Add 2 cups water to the blender and puree. Pour the mixture into a large pitcher and stir in another 6 cups of cold water.
Serve agua fresca over ice or blended with ice (optional). Garnish with suggested ingredients (optional).
Store leftover agua fresca in the refrigerator.
Catch up on Napa County's top news stories
Get unlimited digital access to the Napa Valley Register for just $1 for your first 6 months! Enjoy every article without restrictions and find tons of subscriber-only perks, such as access to our daily eEdition. Click here for details!
Karla Enedina Gómez-Pelayo is chairwoman for the marketing committee of the Napa Farmers Market board.