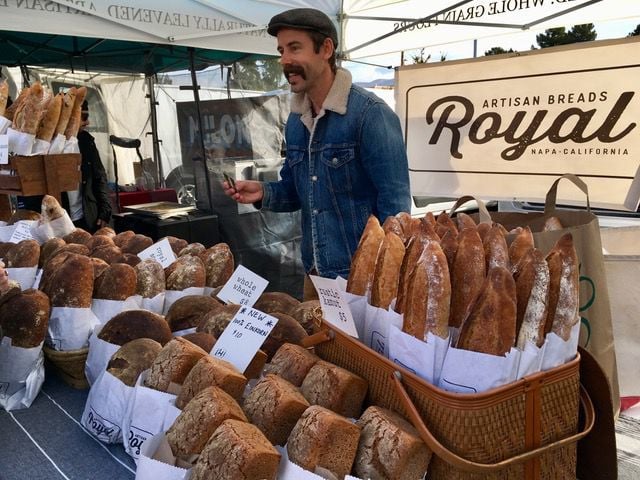 Flour. Salt. Water. Add wild yeast and the alchemy of bread making begins. Both the simplicity and complexity of this life-giving food are what attract and intrigue Kyle Kuehner, owner and head baker of Royal Artisan Bread, a vendor at the Napa Farmers Market.
Life is full of surprises. What appears to be an everyday moment can end up setting you on a new course. For Kyle, that moment came when a co-worker shared a loaf of sourdough bread. It wasn't so much that the bread tasted out of this world, but that his co-worker had actually baked it himself. In that moment, Kyle's curiosity was piqued.
This interest evolved into a passion and ultimately a business making and selling beautiful, delicious, naturally leavened and hand-formed loaves of bread. After spending time in his own home kitchen learning the art of bread making, followed by apprenticeships at local bakeries (including three years at Firebrand Artisan Breads in Oakland), Kyle was ready to go out on his own.
What made his enterprise possible is the combination of the California Cottage Food Operations license and the Napa Farmers Market. The Cottage Food Operations license allows Kyle to make and bake his bread at home, while the farmers market provides a welcoming and low-cost place to sell.
Farmers markets everywhere act as small-business incubators, venues where sellers can test, get feedback, retool and grow their businesses. The Napa Farmers Market has played this role for many local entrepreneurs, including Steve Sando of Rancho Gordo, Derek Bromley of Ohm Coffee Roasters and Sally Latimer of Monday Bakery.
Kyle's bread making begins on Thursday afternoon, when he mills the flours himself to ensure freshness. By the evening, he has mixed his wild yeast starters to begin the fermentation. On Friday morning, he mixes and shapes the dough by hand to begin proofing. Baking starts Friday night and doesn't end until the wee hours of Saturday morning. After a couple of hours of sleep, Kyle packs up his loaves and heads to the farmers market.
His fresh, high-quality breads made with wild yeasts and heritage flours such as einkorn and Khorasan wheat have drawn quite a following at the Napa Farmers Market — so much so that Kyle can envision a future brick-and-mortar bakery for Royal Artisan. In his ideal shop, the bakery prominently features the bread ovens and the flour mill so the baking process can be transparent. Kyle wants to share his passion and plans on offering bread making classes as well.
For Kyle and his family — wife Elise and sons Otto and Rollie — the Napa Farmers Market is not just a marketplace, but a community. When they were new to Napa, the farmers market provided a place to plug into the community and meet people who share his passion for healthful food and innovation.
So, stop by Kyle's Royal Artisan Breads booth on Saturday and check out his bread repertoire. I recommend shopping early as he often sells out before noon.
There are limitless options for enjoying Royal Artisan Bread, but here are some of my favorite easy tartine combinations that feature several other Napa Farmers Market food innovators.
Sprouted Rye and Smoked Salmon Tartines: Slice and toast Royal Artisan Sprouted Rye and Sesame Seed bread. Slather with Dacheva Son's fresh goat cheese. Top with flakes of Freshway Fish smoked salmon. Garnish with Golden State Pickle Works' Red Beet & Horseradish Slaw.
Durum Sesame, Cashew Butter and Apple Tartine: Slice and toast Royal Artisan Durum Sesame bread. Slather with Handsome Carver Cashew & Coconut Nut Butter. Top with thin slices of Devoto Gardens Mutsu apple.
Sourdough and Wild Mushroom Tartine: Slice and toast Royal Artisan Sour or Whole Wheat Sour bread. Pile on sautéed Far West Fungi mushrooms. Top with grated Achadinha Broncha cheese and chopped parsley.
Chef Demonstration at the Napa Farmers Market: On Saturday, Nov. 16, at 10 a.m., Dianna Robinson will demonstrate a roasted pumpkin curry. The demonstration is free and recipes and tastes will be provided.
Kids activities at the Napa Farmers Market: Bring your youngsters to the market Education Station on Saturdays for Story Time at 9:30 and 10:30 a.m. There might be coloring, matching games or other fun activities too.
On the KVYN Music Stage: On Saturday, Nov. 16, Scott Pullman will be performing.
Marilyn O'Connell is on the board of directors of the Napa Farmers Market.
The Napa Farmers Market takes place on Saturdays from 8:30 a.m. to 12:30 p.m., in the parking lot of the South Napa Century Center, 195 Gasser Drive, Napa. The market also participates in the Market Match program, doubling the value of CalFresh benefits purchasing power for all eligible food products. For more information or a schedule of upcoming events, visit napafarmersmarket.org.