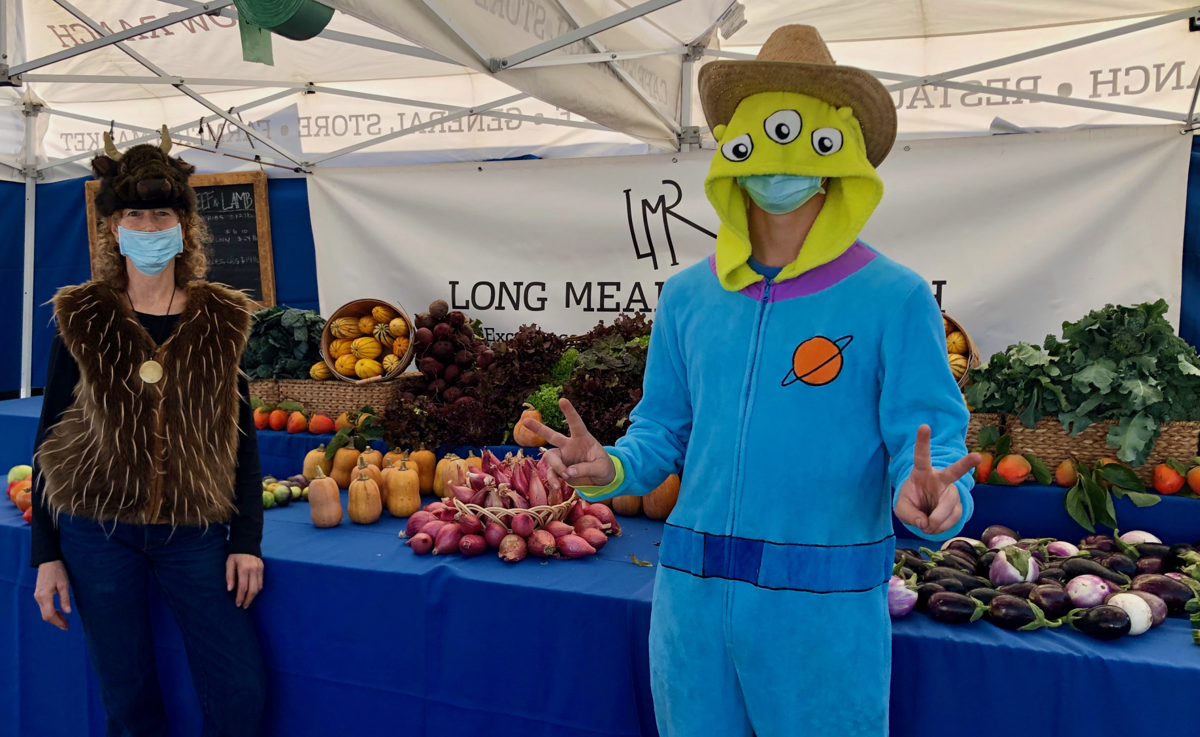 Fall has officially arrived, and we are getting into the spirit at the Napa Farmers Market. Halloween is my favorite holiday, but last year during the pandemic I didn't have extra energy to muster up much enthusiasm for the occasion. This year I'm feeling recharged and ready: the decorations at home are already up and I'm working on my shopping list of treats from the market.
Mark your calendars: Saturday, Oct. 30 is our annual Halloween Market. Dress in your spooky best and take a selfie at our Haunted Photo Booth, located near the corner of Pearl and Yajome Street. Show off your costume and all ages will be entered into a drawing for frighteningly fabulous prizes! Don't forget to vote for your favorite farmers or vendor costume and help them win a free stall fee.
Support local news coverage and the people who report it by subscribing to the Napa Valley Register. Special offer: $1 for your first 6 months!
Fall is also the start of flu season. We are very excited to announce that St. Helena Hospital Foundation Mobile Health Program will have free flu (influenza) vaccine, in addition to COVID vaccines (all three types). Anyone who receives the COVID vaccine will get $10 Market Bucks: good for anything at the market. The mobile clinic will be at the market Saturday, Oct.9 and Tuesday, Oct 19.
October's Harvest of the Month featured fruit are apples. At one time there were more than 16,000 types of apples grown in the US.
In neighboring Sonoma County, Stan Devoto farms over 80 varieties of heirloom apples. During October, Devoto Gardens & Orchards will have Arkansas Black, Black Twig, Davisson, Fuji, Golden, Granny Smith, Jonathan, Pink Lady, Pippins, Sierra Beauty, Winesap, and Winter Bellflower.
Not sure which to choose? From sweet to tart, baking or snacking, ask Doug which varietal of apple will suit your needs. You can also pick up some fresh-cut marigolds from their stand to decorate your altares for Día de los Muertos.
Apples stay fresh for five to seven days at room temperature or two to three weeks in the refrigerator. Be sure to promptly compost any apples that spoil, since they will cause the others to spoil, too.
This fall "stay cool as a cucumber" with our refreshing featured veggie. Originally from southern Asia, cucumbers reached other parts of the world by being pickled and surviving the long trade routes. Cucumbers grow on vines and come in many varieties, from smooth dark green to white, yellow, and even orange colored all with uniquely textured skin. Choose firm, crisp cucumbers without marks that feel heavy for their size.
Apple Enchiladas
This recipe is adapted from EatFresh.org, an online recipe and nutrition resource developed for CalFresh eligible individuals and families, and an excellent tool for anyone interested in eating healthier on a budget.
For autumn celebrations, try apple enchiladas instead of a more traditional dessert. With more nutrients and flavor, they will be spook-tacular treat!
6 whole wheat flour tortillas, 8 inches
1 tablespoon butter softened
1 teaspoon ground cinnamon
1 1/2 teaspoons brown sugar
4 tablespoons butter softened
1 teaspoon ground cinnamon
Peel, core, and slice apples. Preheat oven to 350°F. Coat an 8 by 8-inch baking pan with butter or oil.
Prepare filling
In a frying pan over medium heat melt one tablespoon of butter. Add sliced apples, cinnamon, and sugar; cook for five minutes. Set aside.
Prepare sauce
In a medium saucepan over medium heat add butter, brown sugar, water, and cinnamon; bring to a boil. Reduce heat and simmer for three minutes, stirring constantly.
Soften tortillas by heating them up for a few seconds in a skillet or shallow pan. Place soft tortillas on a flat surface; one by one spread a small amount of sauce on the tortilla and fill evenly with apple filling.
Roll up tortillas and place side by side, seam side down, in the baking pan. Pour remaining sauce evenly over rolled tortillas.
Bake for 20 minutes. Serve warm.
Catch up on Napa County's top news stories
Get unlimited digital access to the Napa Valley Register for just $1 for your first 6 months! Enjoy every article without restrictions and find tons of subscriber-only perks, such as access to our daily eEdition. Click here for details!