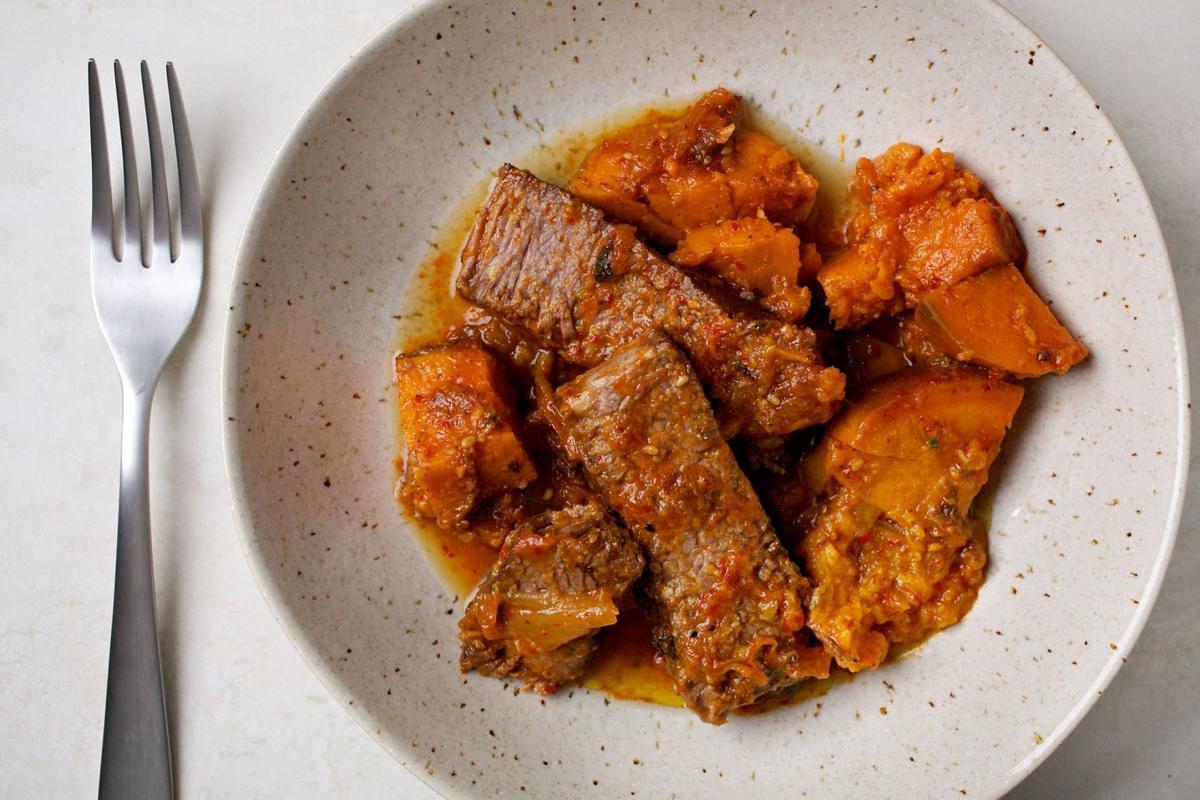 This one-pot meal is as flavorful as it is satisfying.
Serve with steamed greens or a simple salad dressed with toasted sesame oil, rice vinegar and soy sauce.
If the chuck roasts you find are larger than 2 pounds, ask the butcher to cut a roast down to the right size.
The dish tastes even better after a day's refrigeration.
One 2-pound boneless chuck roast (see headnote)
Freshly ground black pepper
You have free articles remaining.
2 tablespoons extra-virgin olive oil
One 16-ounce jar cabbage kimchi, including the juices
1/2 cup low-sodium chicken broth or water
2 pounds (about 2 large) sweet potatoes, peeled and cut into 2-inch pieces
Preheat the oven to 300 degrees. Pat the roast dry with paper towels and season all over with 1 1/2 teaspoons salt and 1/2 teaspoon pepper.
Heat the oil in a large, heavy, ovenproof pot over high heat. As soon as the oil shimmers (before it starts to smoke), add the roast and sear for about 15 minutes total, turning to brown it on all sides. Transfer the meat to a plate.
Add the kimchi, along with its juices, and the broth or water to the pot. Bring the mixture to a boil over medium-high heat, using a wooden spoon to dislodge any browned bits on the bottom of the pot. Turn off the heat and nestle the roast back into the pot. Cover and transfer to the oven; slow-roast (middle rack) for 1 1/2 hours.
Uncover the pot, turn the meat over and add the sweet potatoes around the sides. Re-cover and return to the oven; slow-roast for 1 1/2 hours, or until the sweet potatoes and the beef are very tender.
Transfer the meat to a cutting board. Cut it (against the grain) into 1-inch-thick slices. Serve warm, with the sweet potatoes and kimchi sauce.