Chefs, restaurateurs and food-industry entrepreneurs recently gathered in Napa to attend the Culinary Institute of America's reThink Food conference, where they explored the changing nature of how food is grown, processed and delivered to the world's expanding population.
Heavily focused on new technologies, the three-day series included presentations from experts, most of whom emphasized how innovations within the worlds of food farming, preparation, distribution and consumption have become one of the keys to helping solve some of our most pressing challenges, such as environmental degradation, undernourishment and even climate change.
"We have a real opportunity to transform food beyond something we just eat into something that helps transform the world into a better place," said John Mitchell, one of the conferences presenters and a new-product innovator for the natural foods industry, including Whole Foods Market.
"New technologies are important, but also using organic and natural farming techniques is just as important. Bringing these different aspects together toward a single goal is turning out to be a powerful combination."
The annual conference was held in the CIA's Napa Copia complex. Daily lectures were followed by breakout sessions where participants could have such experiences as eating within a virtual-reality world or brainstorming on how, beyond flavor and nutrition, newly developed food products might also include considerations of " scalable food justice" ("anchoring institutions as hubs of food-system reform") and "augmented sensorium" (using data gathered from the new field of "neurogastronomy… to explore the dynamic processes of flavor perception in the brain") to better improve outcomes and likability. On the last day participants were treated to lunch provided by a host of mechanical devices that both made and dispensed food.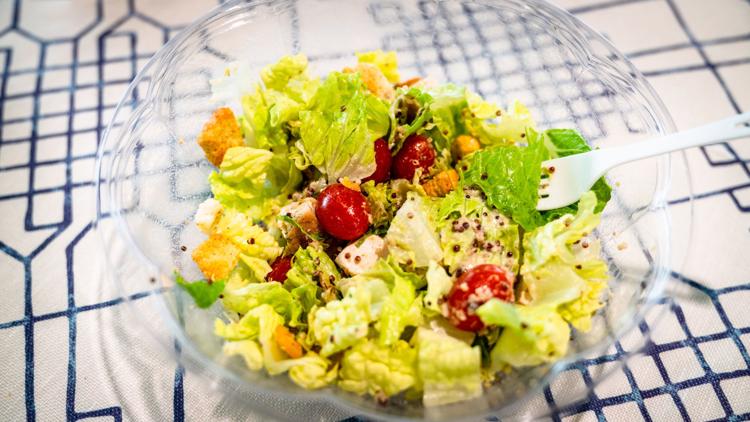 Plant forward
Although "foodtech" has become a buzzword in the last few years, of central concern for many of these innovators is how better to integrate plants into the world's daily food consumption, so much of the conference focused on plant-based or "plant-rich" foods.
The rationale for encouraging plant-based diets comes from studies suggesting that switching from animals to plants for nutrition would have positive health, environmental and economic impacts. Researchers at Oxford University calculated that if the entire population were to eat only plant-based food (vegan) the annual worldwide savings by 2050 would be $1.6 trillion (a function of reduced healthcare, farming, utility and other such costs).
Another study conducted by a team of scientists from Oregon State University, Bard College and Loma Linda University calculated that if everyone in the U.S. had substituted eating beans for beef in 2017 the U.S. could come close to meeting the 2020 reduced greenhouse-gas emission goals pledged by President Barack Obama in 2009.
During the conference nearly every session touched on incorporating and communicating plant-rich diets into every aspect of the future of food. Presenters used examples such as the widely available Impossible Burger, which is a plant-based alternative to hamburger that actually "bleeds" when cooked, or "clean meat" that doesn't require the slaughter of animals because it's grown from stem cells in petri dishes, or plant-based 3D-printing technology that is printing plant-based items that resemble a chicken breast or beefsteak.
While nearly all presenters touched on the growth of plant-based food, others warned that the overuse of words such as "vegan" and "meat-free" can have a stifling effect on consumer preference.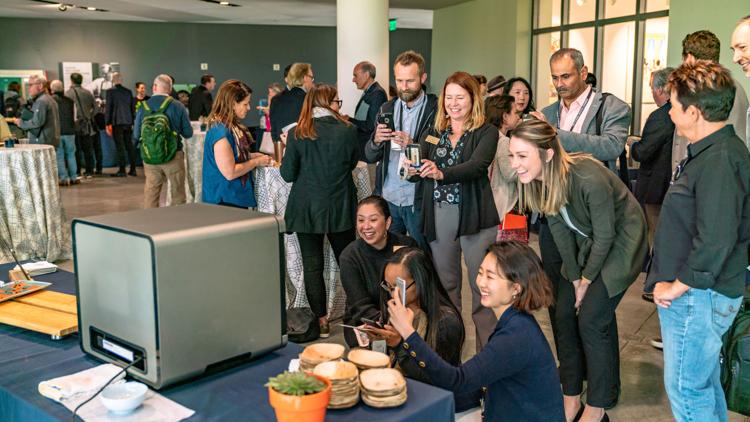 Here come the robots
Although we are not at the point when robots can eliminate the need for human cooks and food servers just yet, there have been recent advancements in that direction. Today mechanized cooking and service technology can cook a $6 hamburger (at Creator in San Francisco) with just a few clicks of a button. Or take Zume's robotic pizza-maker that has the potential to make, cook and deliver pies while in transit.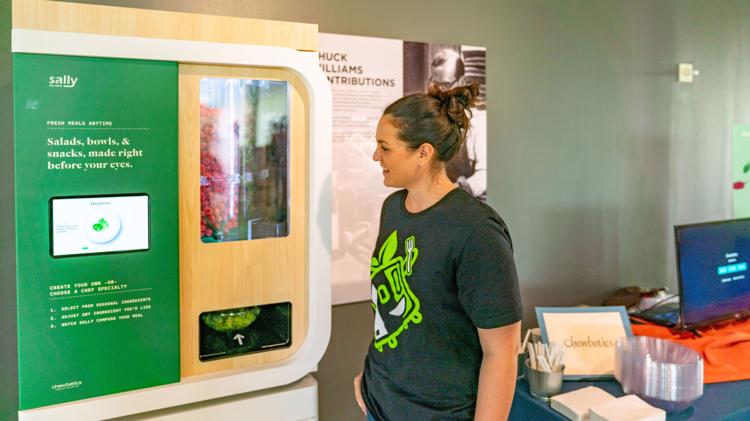 Want a quick custom-made salad from a vending machine? Press a few buttons on the Chowbotic's Sally the Salad Robot and within a couple of minutes out pops your customized creation.
Although many of the robot examples were only discussed at the conference, a few made appearances, including Sally the Salad Robot that processed salads for the eager participants, including this one. My experience, a Caesar with croutons, quinoa and tomatoes, tasted fresh with crisp lettuce and tangy dressing and was comparable to those you might find at any Whole Foods market. My salad was free, but this "robot" (much more like a souped-up, high-tech refrigerator than a futuristic robot) costs around $30,000 and up, according to the company representative.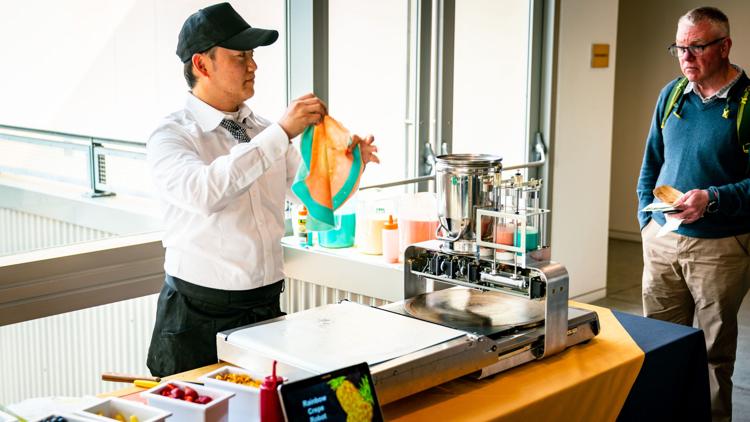 Another one, the multicolor-crepe-making robot Morirobo (and its inventor and namesake, Hirofumi Mori) spun out thin crepes that were then filled by humans before being served to guests.
Everything you consume is a vote.